US Navy to Receive New $13 Billion Aircraft Carrier in April (Maybe)
The U.S. Navy's new supercarrier is "99 percent overall complete with 93 percent of the test program complete."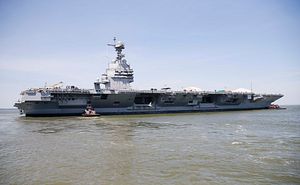 The U.S. Navy has announced that the lead vessel of its new class of supercarriers, the nuclear-powered Gerald R. Ford-class aircraft carrier USS Gerald R. Ford (CVN-78), will likely be delivered in April.
According to a U.S. Navy statement from January 12, the ship's schedule foresees an April 2017 delivery date, pending the results of sea trials. "Gerald R. Ford (CVN 78) is 99 percent overall complete with 93 percent of the test program complete (93 percent Hull, Mechanical & Electrical, 92 percent propulsion testing, and 93 percent electronics testing)," the statement reads.
"Over the past few months, we have made significant progress resolving first-of-class issues associated with these critical systems and have resumed critical path testing in support of Builder's Sea Trials. This progress enables us to forecast our sea trials and delivery schedule.
Specifically, we have updated the ship's schedule to reflect Builder's Sea Trials in March 2017, Acceptance Trials in April 2017, and Delivery in April 2017, pending the results of sea trials."
As I explained previously (See: "Is the US Navy's New Supercarrier Facing Additional Delays?"):
The carrier USS Gerald R. Ford was supposed to be commissioned in 2016. However, the U.S. Navy's most expensive warship faced a number of technical problems with many of its new and unproven systems including the two main turbine generators and the so-called the Advanced Arresting Gear (AAG) on the flight deck.
The U.S. Navy plans to commission a fleet of ten Ford-class carriers. The 100,000-ton Ford-class constitutes the first new carrier design since the USS Nimitz over 40 years ago. It will be able to accommodate over 90 aircraft.  Once commissioned, the lead ship of the Ford-class will be the U.S. Navy's most expensive warship in its history. According to the Congressional Research Service:
CVN-78 was procured in FY2008. The Navy's proposed FY2017 budget estimates the ship's procurement cost at $12,887.0 million (i.e., about $12.9 billion) in then-year dollars. The ship received advance procurement funding in FY2001-FY2007 and was fully funded in FY2008- FY2011 using congressionally authorized four-year incremental funding. To help cover cost growth on the ship, the ship received an additional $1,374.9 million in FY2014-FY2016 in FY2015 in so-called cost-to-complete procurement funding.
The Senate Armed Services Committee chairman John McCain has been one of the program's biggest critics. "After more than $2.3 billion in cost overruns have increased its cost to nearly $13 billion, the taxpayers deserve to know when CVN-78 will actually be delivered, how much developmental risk remains in the program, if cost overruns will continue, and who is being held accountable," McCain said in July. It remains to be seen whether the recent announcement by the service will assuage the former U.S. Navy fighter pilot's concerns.