Will India's Lobbying Change U.S. Policy Toward Pakistan?
India hopes a connection with Trump's national security advisor can tip the scales against Pakistan.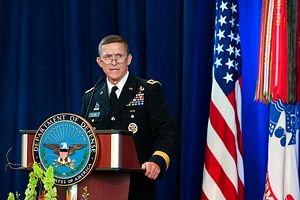 At a time when India-Pakistan tensions are high, New Delhi has once again ramped up its efforts to get Washington on its side. Hopes are high that that a new foreign policy team under the Trump administration might possess the key to curb the asymmetric warfare India faces from its western neighbor. In this context, it will be important to note how the relationship between the two countries' national security advisors develops and to what extent National Security Advisor Michael Flynn may be able to influence U.S. policies on Pakistan.
New Delhi has every reason to believe that engaging with the new NSA offers a golden opportunity to break the long-standing Pakistan paradox. There's no doubt that U.S.-India defense ties have soared under the Obama administration, but there has always been a feeling in New Delhi that Washington has not done enough to rein in the anti-India non-state actors operating from Pakistan — despite U.S. attacks having taken out both Osama bin Laden and, more recently, Taliban leader Mullah Akhtar Mansour on Pakistani territory.
Under a Trump administration, collaboration between the U.S. and Indian NSAs (who share intelligence backgrounds as well hawkish traits on Pakistan) may potentially define U.S. policies toward Pakistan. Unsurprisingly, Indian NSA Ajit Doval has a strong background on the Pakistan issue. He spent much of his career in intelligence, where he is even said to have secretly stayed in Pakistan for seven years as an undercover spy. The so-called 'Doval doctrine' of "Defensive Offense," according to which the terrorists targeting India should be bought over and used against the enemy, has unnerved Islamabad. In his earlier career with the Indian Police Service, Doval's handling of high-risk assignments, a number of them dealing with threats emanating from Pakistan, played an important role in getting him considered for the NSA position under the Modi administration.
Meanwhile, Flynn has an apt understanding of the role non-state actors in Pakistan continue to play in Afghanistan, having spent time in Afghanistan during Operation Enduring Freedom and as the director of intelligence in the International Security Assistance Force (ISAF) from 2009-10. He later served as director of the U.S. Defense Intelligence Agency. Flynn has been accused of inappropriately sharing classified information with foreign military officials in Afghanistan in 2010 despite lacking authorization, as a recent Washington Post report noted. "Flynn had disclosed sensitive information to Pakistan in late 2009 or early 2010 about secret U.S. intelligence capabilities being used to monitor the Haqqani network, an insurgent group accused of repeated attacks on U.S. forces in Afghanistan. Flynn exposed the capabilities during meetings with Pakistani officials in Islamabad," the Post notes.
While the debate surrounding this issue centered on Flynn exposing U.S. intelligence-gathering sources and methods, his actions allude to a more crucial point: his conviction that Pakistan-based non-state actors are destabilizing Afghanistan, something which successive U.S. administrations have tacitly accepted.
In an appearance on an Al-Jazeera discussion, with the ex-chief of the Pakistani Inter-Services Intelligence also participating, Flynn accused the ISI of playing a double game in which it pretended to support the United States, but in reality only furthering its own strategic agenda in Afghanistan by supporting the Taliban. In the same discussion, Flynn described Pakistan's role as a "selfish" actor and stated that the national security interests of Pakistan were never aligned with those of the United States. Also, Flynn's book, The Field of Fight, discusses his concerns with the proliferating roots of organizations promoting radical Islam, a large number of which he has accused the Pakistani establishment of harboring.
All these remarks are music to India's ears. The challenge now is whether New Delhi can convince Flynn to influence U.S. foreign policy-making to redirect its efforts to contain the proxy war India faces from some of these groups based in Pakistan — if not through official diplomatic channels, then at least at the level of intelligence and covert policies, which are his forte. Doval flew to the United States and met Flynn on December 19 and discussed issues of strategic importance to India-U.S. ties. The details of the discussion are yet to emerge, but there's no doubt that Pakistan would have come up.
New Delhi's increasingly hawkish posture toward Pakistan is also visible in recent appointments in the Indian military and intelligence bureaucracy. General Bipin Rawat has been appointed the next chief of the Indian Army, superceding two officers senior to him. Having extensively served in the sensitive areas of Jammu and Kashmir and with rich experience leading counterinsurgency and counterterrorist operations, Rawat was a natural choice for the army chief, even enticing the government to break the seniority convention in appointing army chiefs. Meanwhile, the new chief of the Research & Analysis Wing (RAW, India's external intelligence organization), Anil Dhasmana, also happens to be an expert on Balochistan, the restive Pakistani province that Islamabad has accused India of converting into a proxy warfare battlezone.
As a response to the expected bonhomie between New Delhi and Washington, Islamabad is frantically reaching out to the United States, especially after the flak it drew when Prime Minister Nawaz Sharif's office released detailed notes of his phone conversation with President-Elect Trump, in violation of diplomatic norms. Tariq Fatemi, Sharif's special assistant on foreign affairs, was sent to the United States to meet key people expected to influence the new government. Though many suspected Pakistan had put all its eggs in the same basket in favoring Hillary Clinton, the country still remained in contact with the Republican Party through Sajid Tarar, a Pakistani-American who headed the "Muslims for Trump" campaign. It also emerged that it was Tarar who arranged the Trump-Sharif phone call. Interestingly, in an interview, Tarar stated that contact between Sharif and Trump became a necessity after the latter's early chat with the Indian prime minister.
As the upcoming U.S. administration considers how to handle relations with India and Pakistan, New Delhi and Islamabad are each trying their best to lobby for favorable shifts in U.S. policy. Though to Islamabad's relief, the Trump transition team has expressed its willingness to have a strong working relationship with Pakistan in the future, it still remains to be seen how Flynn's views in particular are accommodated by the new government and to what extent the understanding between him and Doval may be reflected in U.S. policy toward Pakistan.
Prateek Joshi is a post-graduate in International Relations from South Asian University (a SAARC nations project) and a researcher on South Asia's strategic issues.