What a Trump Presidency Means for Pakistan
Trump's election could trigger a geopolitical restructuring of the Af-Pak region.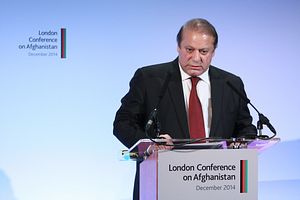 Unlike his recent predecessors, Donald Trump spent very little time discussing Pakistan during his successful presidential campaign. This is an indication of U.S. interest in the Af-Pak region – or lack thereof – and Washington's almost complete shift of focus toward the Middle East, more specifically Iraq and Levant. This also provides insight into the U.S. relationship with Pakistan, which for the past five decades has been defined with respect to the Afghanistan security situation.
Even so, on the rare occasions that Trump did mention Pakistan in the build-up to becoming America's 45th president, it was almost always through the Indian prism – the framework that Islamabad uses to define its relations with everyone. From Pakistan's nuclear program, to the jihadist groups that are given state patronage, to the overbearing influence of the Army, Trump maintained that "India is the check to Pakistan. You have to get India involved."
Trump's only semi-positive statement related to Pakistan has been his desire to mediate between New Delhi and Islamabad over the Kashmir issue last month, which Pakistan's Foreign Office appreciated.
However, despite his unorthodox, nay oddball, party nomination, Trump's presidency – especially the impact on Pakistan – has to be seen in the context of Republican dominance over both chambers of the Congress and the White House, which guarantees a potentially policy-redefining two years of one-party rule for the Republicans. The last time that happened, 9/11 defined U.S.-Pakistan relations for the two countries.
The Republican Party has historically had close ties with Islamabad – but, again, primarily due to their hawkish attitude towards Kabul. The current stance can be gauged by the Republican-led congressional objection over subsidizing Pakistan's F-16s through Foreign Military Financing (FMF) earlier this year. The immediate objections raised were over lack of action against the Haqqani Network and the prison sentence of Shakeel Afridi, who helped the CIA track Osama bin Laden.
"I think I would get (Afridi) out in two minutes," Trump said in an interview to Fox News. "I would tell them let him out and I'm sure they would let him out," he claimed.
While Trump is hardly a voice for the Republican Party, his echoing of the party line on Pakistan, in addition to being a repudiation of Democratic deals and policies, is also symptomatic of a virtual across-the-board agreement over how to deal with Islamabad: there are no carrots worth wasting, and the stick is all we've got.
This basically means that the outcome of the U.S. elections was never going to have much of an impact on Islamabad. Pakistan has been reduced to a geopolitical basket case in Washington, with its erstwhile significance for American policies in Afghanistan and China now replaced with irrelevance and India respectively.
With the United States and India drawing closer on the nuclear front, Pakistan is increasingly fearing the prospect of New Delhi joining the Nuclear Suppliers Group at the expense of Islamabad. Pakistan argues that membership for only one of the two nuclear armed states would destabilize the region, aggravating a precipitously charged nuclear arms race to further exacerbate tensions between New Delhi and Islamabad.
In this regard, Trump's repeated mention of seeking Indian help to counter Pakistan's nuclear program, "which can fall into the hands of rogue elements," could result in Washington facilitating New Delhi's entry into the NSG, as a "check" on Islamabad's policy of using jihadist groups as foreign policy actors. Unlike the Obama regime, Trump might not mince any words in telling Islamabad that the brazen collaboration between sections of the Army and terror groups in a nuclear armed country make Pakistan "the second most dangerous country in the world" for the United States.
The second wave of repercussions of Trump's ostensible crackdown against rogue nuclear threats could come via a reversal of the Iran nuclear deal. Sanctions on Tehran would push Pak-Iran ties back half a decade, impacting bilateral trade and work on energy projects like the Iran-Pakistan pipeline. Even more critically, with diplomatic and commercial ties with Iran becoming less lucrative, Pakistan would regress from its recent role as a mediator between Riyadh and Tehran to reaffirm its position in the Saudi camp. This in turn could further exacerbate Saudi-funded anti-Shia violence in Pakistan.
These developments would naturally push Pakistan further toward China. Islamabad would increasingly clutch at the China-Pakistan Economic Corridor, which is already being dubbed as the "game-changer" envied by India, as the poster project vindicating all its diplomatic and security policy making.
Even so, what could reshuffle alliances all over the globe, and might even instigate a domino effect of policy reversals across Eurasia, is a potential Trump-Putin understanding that could completely revamp U.S.-Russia relations. Not only would that influence the budding Moscow-Islamabad alliance, touted by many as having the potential to develop into a Russia-China-Pakistan axis, it could result in a decisive crackdown against global jihadist organisations spearheaded by the Islamic State (ISIS).
With none of the big players backing jihadist proxies, Pakistan would have to abandon both the "good" and "bad" jihadists.
The suggestion that Trump's presidency could counter Islamist terror in Pakistan is in stark contrast to his brazen anti-Muslim rhetoric, which is already a part of jihadist propaganda literature and videos. But maybe a big stick (and a big mouth) policy is exactly what Pakistan needs to finally uproot its jihadist superstructure. After all, eradicating Islamist militant groups serves no one's interest more than Pakistan's.