After the 'Blockade': China's Push into Nepal
The damage done to Nepal-India relations lingers, opening the door for China.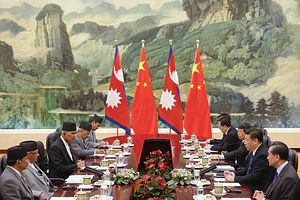 There is a persistent perception among a large section of Nepalis that India was primarily responsible for the five month "blockade" of the Indo-Nepal border from September 2015 to February 2016, which caused such hardship for common Nepalis. This perception is the strongest among high-level Nepali bureaucrats (who are mostly drawn from the traditionally privileged hill communities).
That's one reason China has in the past year found it easy to cultivate these figures. The other day a senior journalist who covers Nepali foreign policy told me that these days at least 100 Nepali government officials are on all-expenses-paid China junkets at any given time.
It is not just bureaucrats who are visiting China in record numbers. Nepali politicians, top-ranking security officials, and journalists are also frequent visitors to the Middle Kingdom, and a record number of senior Chinese officials are making the reverse trip to Nepal. The trend has been particularly pronounced after the blockade.
The first clear sign that China was no longer prepared to let India dictate terms in Nepal came back in July 2016 as efforts were underway to replace K.P. Sharma Oli with Pushpa Kamal Dahal "Prachanda" as Nepal's prime minister. India and the Madhesi parties were plumping for Prachanda as he had committed to amend the new constitution of Nepal in order to resolve outstanding complaints from the traditionally marginalized Madhesi people of the flatlands adjoining India. China, meanwhile, in a departure from its strictly hands-off approach in Nepal, started lobbying in Kathmandu for the continuation of the Oli government, with whom Beijing had signed a slew of bilateral agreements in March 2016.
This was a major departure. Until recently, all that China had wanted from Nepal was for the Himalayan country to clamp down on the movement of "Free Tibet" activists. Other than that, Nepal only had to pay lip service to the "one China" policy. In return, China invested heavily in Nepal's security forces, particularly in its police and paramilitary forces. It even opened up a police academy to train the APF, the Nepali paramilitary force deployed to guard the Nepal-Tibet border, in order to check the possible infiltration of "Free Tibet" activists into Nepal.
The Coming of the PLA
But there has been a definite shift in the Chinese modus operandi in Nepal over the past year.
The latest sign that China is rethinking its Nepal policy was the recently announced military drills between the Chinese People's Liberation Army (PLA) and Nepal Army, the first ever between the two countries. The drills, which will reportedly focus on counterterrorism and disaster management, are expected to establish a trend of regular military exercises between the two countries. Before this, Nepal Army had conducted such drills only with the U.S. and Indian armies.
At the same time that the military drills were announced, Nepal and China also signed a bilateral assistance agreement worth 1 billion RMB ($145 million). Most of this money will go into post-earthquake reconstruction and upgrading Nepal-China road links.
That is not all. In early January, Kathmandu played host to the first-ever "Nepal-China Think Tank Conference," where experts from various fields in China listed the great benefits Nepal would be entitled to if it embraced the "One Belt, One Road" idea. This conference, organized by Xinhua, was easily the largest exercise so far in bringing together the academics from the two countries. Many foreign policy experts in Nepal saw the two-day conference as a direct reaction to a similar Nepal-India conference held in Nepal at the end of 2016.
That these moves are aimed at countering Indian influence in Nepal is evident from some recent commentary in the Chinese press.
"Bilateral cooperation between China and Nepal is for protecting national interests and is not directed against any third party. Indian officials, media and academic circles should not read too much into the two countries' security cooperation," wrote Xu Liping — identified as a senior fellow at the National Institute of International Strategy, Chinese Academy of Social Sciences — in the Communist Party mouthpiece Global Times on December 26, 2016.
"It is neither realistic nor possible," the writer continues, "for India to always regard Nepal as its backyard and put pressure on Sino-Nepalese cooperation."
Before that, on September 19, the same newspaper ran a story titled "Nepal risks missing chance with China," this time penned by Xu Liang (the executive director of the Indian Studies Center from Beijing International Studies University). This op-ed was just as blunt, noting that "China has never disturbed India-Nepal relations, but New Delhi has been interfering [in] Sino-Nepalese ties every once in a while. Hence from whatever perspective, Beijing is more deserving of Nepal's trust."
Interestingly, such commentaries were nowhere to be found during the five months of the blockade, when many Nepalis expected the Chinese to issue a clear message of support for Nepal.
But since the blockade, besides stepping up security cooperation, the Chinese government has ramped up its cultural diplomacy with Nepal as well. For instance it has recently started teaching Chinese to Nepali tourism professionals, as per the agreement that Oli signed during his China visit last year. China is also encouraging more of its citizens to visit Nepal and has announced that 2017 will be "Nepal Tourism Promotion Year."
Even before the announcement there had been an explosive growth in the number of Chinese tourists visiting Nepal (barring the lull in the immediate aftermath of the 2015 earthquakes and the blockade days). Last year, over 104,000 visited Nepal, which represented a year-on-year increase of 55 percent. Compared to the 2009 figures, the number of Chinese tourists visiting Nepal in 2013 had increased by 250 percent. With China promoting Nepal this year, tourism entrepreneurs in Nepal expect a bumper increase in the inflow of Chinese tourists this year as well.
The Bigger Picture
One line of thinking here is that, more than India alone, China fears the growing strategic ties between India and the United States, as Prachanda recently hinted. China, according to this line of thinking, sees the two democracies working together to "encircle" it in South Asia. And so China is ramping up its engagement in the region, and its new Nepal policy is part of this broader push into South Asia.
While China proactively countering India's influence is a recent phenomenon, it is almost an established truth in Nepal that the United States has been increasingly happy to "delegate" its Nepal policy to India (something U.S. diplomats deny). In return for this American pledge to keep out of India's traditional backyard, the United States apparently expects India to do what it can to minimize China's influence in Nepal. Now even senior Chinese officials have started to obliquely accept the United States is using India to encircle China.
The big fear in Nepal right now is that the new American president, Donald Trump, who has repeatedly praised India's Narendra Modi as a "great man" and said, more than once, that the United States and India would be "best friends," will be even happier to let Modi and company rule the roost in Nepal. It has also not gone unnoticed in Nepal that Trump has repeatedly questioned the continued relevance of "one China" policy, underscoring tensions between his administration and China.
There is a meeting of minds between Kathmandu and Beijing that Nepal should not be allowed to completely slip into India's orbit, the dangers of which become painfully evident to common Nepalis during the blockade.
This was why new Prime Minister Prachanda received a lot of flak when Chinese President Xi Jinping's Nepal visit, planned for sometime last October, was "canceled." China was clearly unhappy with the fall of Oli government and didn't want to reward the new prime minister, who had plotted Oli's downfall. Well aware of the public pulse, Prachanda is now trying to bring Xi to Nepal sometime in 2017.
I wrote for The Diplomat last year that the border blockade had opened the door for China in Nepal. It is worth reiterating that perhaps at no other time have so many Nepalis been so strongly anti-Indian and in favor of deeper engagement with China.
Biswas Baral is a Kathmandu-based journalist who writes on Nepal's foreign policy. He tweets @biswasktm.