High Expectations as China's Xi Lands in Nepal
The first Chinese leader to visit Nepal since 1996, Xi's trip carries with it high expectations and geopolitical undertones.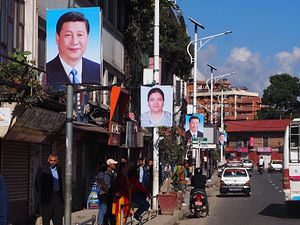 Over the past week, Kathmandu's streets have been transformed. Potholes have been fixed and whole roads repaved. An empty, trash-strewn lot was turned into a public park overnight. Streetlamps were adorned with portraits of Nepal's ceremonial head of state, President Bidhya Devi Bhandari, and Chinese President Xi Jinping, due to arrive on October 12.
Xi's visit to Nepal — following on the heels of his unofficial summit with Indian Prime Minister Narendra Modi on Thursday and Friday — will be the first from a Chinese head-of-state since Jiang Zemin in 1996. The large-scale, feverish preparations for Xi's arrival indicate the importance the Nepali government has placed on the visit. Kathmandu hopes to sign a number of agreements to begin infrastructure projects funded under Xi's signature Belt and Road Initiative (BRI).
To date, Chinese funding for Nepal has been small compared to the billions of dollars it has invested in other South Asian countries like Pakistan, Bangladesh, Sri Lanka, and the Maldives. But that could soon change. In preparation for Xi's visit, the ruling Nepal Communist Party (NCP) released a draft of 11 priority infrastructure projects for joint consideration with the Chinese. The projects are primarily related to transportation and hydro-electricity, with top priority placed on a railroad connecting Kathmandu to the Chinese border. Nepal officially joined the BRI several years ago, but projects have been delayed because of disagreement about the funding modality — Nepal wants mostly grants, while the Chinese prefer to recoup their investments through loans.  
The Nepali government's eagerness to make deals and move ahead with BRI projects comes despite global criticisms of the initiative — especially by Western countries — as a "debt trap" that has facilitated corruption and mismanagement in partner countries  (These criticisms have forced China to reconsider the aggressiveness of its investment strategy, embarking on some "retooling" of the BRI program).  But such arguments find limited traction in Nepal. For the NCP, inking a deal on the railroad and other projects is seen as key to boosting the country's laggard economy; it is also an opportunity to improve the party's own popularity, which has dwindled since it came to power in 2017, due mainly to corruption scandals and slow progress on infrastructure development. Likewise, among the general public, there seems to be a high degree of optimism about Chinese partnerships on the eve of Xi's visit.
A Powerful Enigma
To understand why China is an attractive development partner to many Nepalis, it helps to understand the two countries' historical relationship. Unlike Nepal's southern border with India, the northern border is lined with mountains that form a natural impediment to human movement (only two road connections currently exist with China; three more are planned). Directly across the mountains lies Tibet, which experienced varying degrees of independence and control by the Chinese state before Mao solidified Beijing's authority in 1951. As a result, direct contact between Nepalis and the Chinese was historically limited. Indeed, until recently, the Chinese played a largely hands-off role in Nepal's development and politics, considering it solidly within the Indian sphere of influence.  
The lack of direct contact with China has resulted in many Nepalis developing a sense of mystique about their northern neighbor. Chinese culture is seen as totally foreign; the language, inscrutable. Articles by Nepali intellectuals that attempt to explain Chinese culture — expounding on topics from Confucianism to Sun Tzu's Art of War — have been widely shared online. Despite a growing number of Chinese tourists traveling to Nepal and Chinese government efforts to increase people-to-people ties — such as by sending Chinese language teachers to Nepali schools — most Nepalis have never met or interacted with a Chinese person.
Nonetheless, there is a widespread sense of awe toward China's extraordinary economic development over the past several decades. Nepal's markets are flooded with Chinese goods — from food to electronics — which impresses many consumers.
"China makes everything; only petrol comes from India," Dev Raut, a mobile salesperson in Kathmandu, recently told The Diplomat. Many Nepalis, like the government, believe that further development cooperation with the Chinese could help Nepal emulate its northern neighbor's successes.
A Better Neighbor?
Another primary reason many Nepalis are attracted to the prospects of a development partnership with China has to do with past treatment by Nepal's other giant neighbor, India. As one Nepali op-ed columnist recently put it, being landlocked — and the concurrent anxiety associated with depending on its immediate neighbors for all trade — are baked into Nepal's national character. Since gaining independence from the British in 1947, India has often meddled in Nepal's domestic politics, sometimes by preying upon its landlocked status. India imposed blockades on Nepal in 1962, 1989, and (unofficially) in 2015 after the country promulgated a controversial new constitution. The last blockade, which followed the launch of BRI and Xi's projection of greater Chinese power abroad, resulted in Nepal seeking to bolster connectivity with China. The concept of a train from China to Kathmandu — as insurance against any further Indian border disruptions — soon became an emotional issue deployed by the NCP, helping propel the party to a landslide election victory in 2017.
In the years since the blockade, Chinese aid and investment in Nepal has increased. This includes major reconstruction support after the devastating 2015 earthquake, foreign direct investment in a major cement factory, and other private-sector pledges. China has also provided direct development assistance in northern border regions. As Amish Mulmi, a Nepali writer working on a book about Nepal-China relations, recently wrote, China has become seen as "the great emancipator, the counter-weight to India's bullying, and the panacea to all our problems."
Stronger government-to-government relations have also ensued. Nepali Prime Minister Khadga Prasad Sharma Oli and other NCP leaders have visited China, and just last month, Chinese Foreign Minister Wang Yi visited Kathmandu, followed by the Chinese Communist Party's International Liaison Department, Song Tao. The latter held a two-day workshop with top NCP leaders on "Xi Jinping thought" — criticized by some skeptics as China's attempt to export its ideology and methods for consolidating power.  
NCP politicians have characterized the stronger relationship with China not as an un-balancing of Nepal's relationships with its neighbors, but rather as a re-balancing, to counteract too much dependence on India. The country's main opposition party, the Nepali Congress, has been in disarray since its election loss in 2017, but some of its leaders seem to agree. This sentiment is also echoed in the general public.
"We should have close relations with everyone, but not too close with anyone," a Kathmandu sweets seller, who suffered from the fuel shortage during the 2015 blockade, told The Diplomat. "Before, our relations were too much tied to India."
A More Lax Creditor and Donor?
Prime Minister Oli recently told a group of Chinese delegates that, while other countries tend to dominate others after becoming powerful, China never did so. "This shows the Chinese system is better than other systems," he reportedly said.
This idea appears to be widespread in Nepal. 
"History demonstrates that unlike the West, China does not force others to adopt its political beliefs and laws," an opinion writer in the national daily Kantipur recently wrote.  Ram Chandra Pokharel, a student, expressed a similar thought to The Diplomat: "India only gives aid with expectations in return.  China isn't like that. It is a generous country."
Chinese funding is often contrasted with Western donors or lenders like the World Bank and International Monetary Fund, which pressured Nepal to adopt structural adjustment programs in the 1990s. More recently, Western multilateral donors have been seen as sticklers for transparency, as well as social and environmental guidelines. China, on the other hand, is seen as a lax donor, allowing work to move ahead apace. Recently, some top NCP leaders have looked askance at U.S. aid in particular due to its seeming association with the Indo-Pacific Strategy, despite American diplomats' efforts to convince the public that aid is separate from security cooperation.
One area where the Chinese have asked for Nepali help is to crack down on protests by Tibetan refugees, some 15,000-20,000 of whom live in Nepal. Nepal has complied, mostly preventing Tibetans from holding anti-Chinese protests in Nepal over the past decade. However, many Nepalis don't see this as serious interference. Mulmi, the writer, thinks this partly because Tibetan refugees have been excluded from assimilation in Nepali society. (China further floated the idea of signing an extradition treaty with Nepal during Xi's visit, which could be used against Tibetans, although the Nepali side has said it will not be signed immediately.) 
China Skeptics, NCP Skeptics
Challenging the popular view that China is purely benevolent, some Nepali intellectuals have called for more skepticism on the eve on Xi's visit. One recent opinion article called for more incredulity regarding Chinese promises; another called for harder bargaining on loan terms and interest rates. Ameet Dhakal, a popular newspaper editor, wrote in an op-ed on Friday morning that the Nepali government should perhaps abandon the most ambitious projects — such as the railroad to China, expected to cost over three billion dollars — and focus on more economically feasible projects like roads, hydroelectricity, and a technical university.  
Such skepticism could be important, but it does not seem to reflect the preponderance of popular opinion. 
On the whole, Nepalis seem less doubtful about the Chinese than about their own government's ability to carry out projects that are approved. Some worry that such projects could get held up if disagreements emerge later on, much like a major water infrastructure project was held up last year after a dispute over the contract between the government and an Italian contractor.  
A shopkeeper in the Lazimpat neighborhood, who gave her name only as Gita, said she thought corruption would prevent Chinese aid from ever reaching the common people like her. "Do we get to eat because of a treaty? No," she told The Diplomat. "It doesn't matter to me — it's a political thing."
Such skepticism foreshadows an important test the NCP government will face next: Creating a conducive environment for any Chinese projects that are approved during Xi's visit.
Peter Gill is a Kathmandu-based journalist who writes on the environment, politics, human rights issues, and more. Follow him on Twitter at @pitaarji