Australia's Foreign Policy White Paper Needs to Look at More Than Defense
Australia's next Foreign Policy White Paper needs to reemphasize the importance of foreign aid.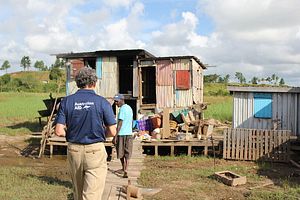 Last weekend's Munich Security Conference saw the international debut of many senior Trump officials, including Vice President Mike Pence. And while he and others strove to reassure worried leaders about America's ongoing commitment to international peace and security, their remarks included a stern warning — namely, that "the time has come… [for U.S. allies] failing to pay their fair share… to do more."
To those in the Australian defense establishment, such warnings are not new. It was partly in response to U.S. pressure that the Turnbull government announced a year ago that it would almost double defense spending by 2025. Such was the urgency that the government said the target would be achieved irrespective of the general health of the overall economy.
Such pronouncements though reinforce a growing worry I have that politicians – Australia's included – are increasingly giving defense spending their attention at the expense of other key foreign policy measures that also keep countries like Australia "safe and secure."
Sure, states need to have the ability to deploy tanks, planes, drones, and ships in order to protect themselves. But just as important are cooperation, foreign aid, and peacekeeping efforts, which address challenges such as extreme poverty, the global education crisis, and pandemic preparedness.
Now, such challenges may sound secondary. But to be clear, raising healthcare standards, strengthening a state's ability to respond to disease outbreaks, and providing access to education among developing countries are about far more than fulfilling humanitarian urges; they are critical to promoting and protecting the national interest.
As Bill Gates, speaking at the same conference as Pence over the weekend, has warned, there is a "reasonable probability" over the next 15 years of the world experiencing an outbreak of a fast-moving airborne pathogen capable of killing more than 30 million people in less than 12 months. Such a pandemic would impact all countries, albeit to varying degrees. According to WHO estimates, 5-6 percent, if not more, would be wiped from global GDP.
And yet, we as a global community are ill prepared to respond to such outbreaks, let alone prevent them from occurring in the first place. The WHO's own fund for responding to outbreaks and emergencies, for instance, is barely sufficient enough to be able to deal with more than two outbreaks at any one time.
Given the prevalence of tropical diseases, combined with poor health systems, in the Indo-Pacific region this should be particularly concerning for Australia.
But, in contrast their commitment to increased military spending, Australian politicians have shown little interest in addressing such non-traditional threats. Yes, we have a robust aid program that contributes toward building strong health systems in developing nations. But over the past few years such support has been dramatically eroded, with savage cuts in excess of $10 billion having been made to Australia's aid program. We now give less than 30 cents out of every $100 of gross national income in life-changing foreign aid — the lowest proportion since record keeping began in 1960.
Admittedly, the Foreign Policy White Paper being developed by the Turnbull government is an opportunity to rectify this lack of investment. Key questions being posed by preparers of the White Paper include, "What are the key risks to Australia's future prosperity and how should we respond?" One hopes that the Paper's drafters get to the heart of the matter and recommend renewed support for our aid program. (On a related note: members of the public have until February 28 to make a public submission to the White Paper process.)
In fairness to Foreign Minister Julie Bishop, she has long understood how measures such as our foreign aid program are about much more than a feel good lefty agenda. On more than one occasion she has affirmed that our aid dollars should not be viewed merely as "charity" but rather as a necessary strategic investment for fostering stability and security in our region.
Hopefully, the debate on how best to safeguard Australia's national interest, prompted by development of a new Foreign Policy White Paper, is an opportunity to build a similar level of understanding amongst Bishop's colleagues – many of whom have been all too willing to take the razor blade to Australia's aid program in recent years.
The attention given to increased military spending by both our government and the Trump administration may at some point prove crucial to protecting our collective interests. But the lack of any simultaneous increase in support for key measures like foreign aid and global health threatens to undermine any lasting, sustainable and prosperous peace. Such an approach is ill-informed and, simply put, not smart. Time will tell if drafters of the new White Paper agree.
Michael Sheldrick is Director of Global Policy and Advocacy with Global Citizen and a former Young Western Australian of the Year. He is currently based in New York.