Does Duterte's Philippines Need an Interdependent Foreign Policy?
Former president Fidel Ramos is suggesting an alternate way for the Philippines to approach the world.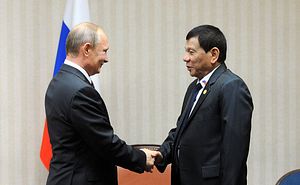 Eight months into his six-year term, Philippine President Rodrigo Duterte's so-called "independent foreign policy" still remains more of a populist slogan than a policy approach.
Like Donald Trump's "America First" catchphrase, it is a clear bumper sticker but a vague policy prescription (See: "What Will Donald Trump's Asia Policy Look Like?"). To the extent that the term has meant anything policy-wise, it has been (at least rhetorically) relatively less dependence on the United States, Manila's traditional ally, and more diversification with other players like China and Russia (See: "The Limits of Duterte's US-China Rebalance").
As I've explained before, Duterte is hardly the first Philippine leader trying to rebalance the country's alignments with major powers What is concerning, however, is the haphazard way in which this rebalancing has been done so far, and the glaring gap between rhetoric and reality as Duterte's rather oversimplistic view of the world runs headfirst into the complexities of the foreign policymaking process. Despite Duterte's own ideological bias, the ties between the United States and the Philippines are deep, broad, and enduring (See: "Why the Philippines' Rodrigo Duterte Hates America"). By contrast, relations with other new partners like Moscow and Beijing are fairly underdeveloped and will be difficult to forge quickly, especially in areas like defense and people-to-people ties (See: "The Risks of Duterte's China and South China Sea Policy").
Little wonder, then, that current and former Philippine officials have privately and sometimes even publicly expressed both their concern about Duterte's approach as well as skepticism about its success. On February 9, in an interview with local media outlet Rappler, former Philippine President Fidel Ramos again publicly voiced his skepticism of Duterte's independent foreign policy and called instead for an "interdependent" foreign policy.
"There are many others who think like me now…who advocate, and in fact, champion, not an independent foreign policy, as some people are calling President Duterte's or President Trump's [approach]…[but] an interdependent foreign policy…," Ramos said.
"[L]et's go and look for new allies and new friends," he continued. "But let us not discard our traditional, our loyal, our longstanding, friends, allies and partners who have proven themselves to be helpful to the Philippines in war and peace."
This is not the first time Ramos has publicly expressed his preference for an interdependent rather than an independent foreign policy for the Philippines. His contrast between these approaches first made headlines last October, when Ramos spoke at a reception for outgoing U.S. Ambassador to the Philippines Philip Goldberg, who had been an unfortunate victim of Duterte's vitriol.
Nor is it a surprise that Ramos harbors those views. It's not just part of his criticism of Duterte's approach which has become more evident following his fallout with the administration after a temporary role as a liaison with China. As I have pointed out before, Ramos' presidency in the 1990s, a period where geopolitics was more fluid following the fall of the Soviet Union and economics was becoming more interdependent amid rising globalization, saw the Philippines pursue essentially a similar approach (See: "Recalibrating the US-Philippine Alliance Under Duterte"). Ramos managed ties with a rising China despite tensions in the South China Sea while also strengthening ties with the United States. He also pursued "development diplomacy" to increase Manila's access to new markets and its ability to attract more investment.
If one thinks objectively about what is best for the national interests of the Philippines today, few would disagree with what Ramos is advocating. Indeed, though their initial approaches and the internal and external environments they inherited may have varied, most Philippine presidents have tried to both strengthen the U.S.-Philippine alliance while also pursuing other partnerships that could be beneficial as well with the full realization of growing global interdependence.
Though Duterte's initial approach has diverged from this, there is also a chance that he could eventually get there. As it is, as Ramos himself noted, Duterte's "independent foreign policy" so far has been directed selectively at the United States and European states – in line with his own ideological biases as well as aversion to criticism on human rights – rather than other partners like Japan (See: "Japan-Philippines Relations Under Duterte: Full Steam Ahead?").
The benefits of the approach are also still unclear, with a stronger relationship with China only beginning to take shape and old flashpoints still unaddressed on the one hand, and a tumultuous alliance with the United States now potentially on the upswing with Trump's election victory. For all Duterte's huffing and puffing, he may soon find out that his foreign policy is not as immune from the changing external environment as its catchphrase may suggest that it is.