East China Sea: China Coast Guard Enters Disputed Waters Following Mattis' Japan Trip
China's latest East China Sea incursion comes days after the U.S. defense secretary's visit to Tokyo.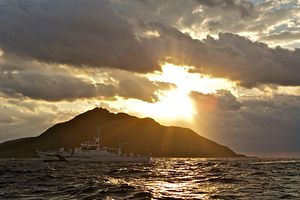 On Monday, three China Coast Guard vessels entered disputed waters near the Senkaku/Diaoyu Islands in the East China Sea.
The vessels sailed within the 12-nautical-mile territorial sea of the islands, according to a statement by China's State Oceanic Administration released late on Monday.
The statement noted that the three ships "cruised within China's Diaoyu Islands territorial sea."
The incursion comes days after U.S. Secretary of Defense visited Tokyo, where he affirmed that the U.S.-Japan Treaty of Mutual Cooperation and Security covered the disputed islands, which are administered by Japan, but claimed by China.
According to Japan's NHK, Japan lodged protests with China, both through the embassy in Tokyo and the foreign ministry in Beijing.
On Friday, Japanese Prime Minister Shinzo Abe will visit Washington, D.C., for his first state visit with U.S. President Donald Trump. The two leaders had previously met shortly after Trump's election in November 2016.
Moreover, early on Tuesday, Japanese Foreign Minister Fumio Kishida spoke with his U.S. counterpart, Secretary of State Rex Tillerson, who was sworn into office last week.
Tillerson echoed Mattis' assurances and also specifically mentioned that Article 5 of the U.S.-Japan treaty applied to the Senkakus.
"It is encouraging that both foreign and defense authorities of the United States clearly stated their uniform position" on the issue of the Senkakus, Kishida said, according to Kyodo news agency.
According to Kyodo, Tillerson additionally conveyed to Kishida that the United States opposes "any unilateral acts that interfere with Japan's administration of the islands."
Tensions between Japan and China over the disputed East China Sea islands spiked in 2012, after Tokyo decided to nationalize them to prevent their purchase by Shintaro Ishihara, the ultranationalist former governor of Tokyo.
After months of incidents involving the militaries and coast guards of both sides, tensions abated somewhat in November 2014, when the two sides agreed to a "four point consensus."
The agreement restored high-level diplomatic contact after a nearly two-year-long drought, but bilateral tensions persisted.
After a period of relative calm in 2015, Chinese naval and coast guard activity near the disputed islands rose again last summer.
In June 2016, for the first time since 2004, a Chinese People's Liberation Army-Navy vessel entered Japan's territorial sea in the East China Sea around undisputed territory.
Later in 2016, Chinese coast guard vessels, flanked by more than 200 fishing boats, entered the territorial sea near the Senkaku Islands.
In September 2016, following a meeting between Abe and Chinese President Xi Jinping at the G20 meeting in Hangzhou, China, four China Coast Guard vessels entered the territorial waters of the Senkaku/Diaoyu Islands.
China regularly carries out coast guard and naval patrols in disputed waters to assert its own claim to the islands despite Japan's protests.