India Successfully Tests Prithvi Defense Vehicle, A New Missile Killer System
The Indian military successfully destroyed an incoming missile on February 12.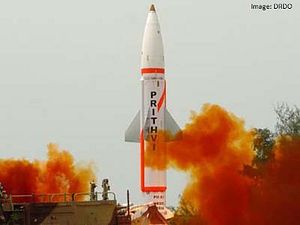 India has successfully conducted a test of its indigenously designed ballistic missile defense system on Abdul Kalam Island off the coast of Odisha in the Bay of Bengal, home to the Integrated Test Range, the Indian military's primary missile test facility, on February 12, according to the Indian Ministry of Defense (MoD).
"At 0745 [hours] today, India successfully conducted a test wherein an incoming ballistic missile target was intercepted by an exo-atmospheric interceptor missile off the Bay of Bengal," the MoD revealed in a press statement. "India has crossed an important milestone in building its overall capability towards enhanced security against incoming ballistic missile threats."
According to an unnamed official of the Defence Research Development Organisation (DRDO), a new exo-atmospheric interceptor missile named the Prithvi Defense Vehicle (PDV) was tested. "PDV (Prithvi Defense Vehicle) mission is for engaging the targets in the exo-atmosphere region at an altitude above 50 kilometers (around 31 miles) of earth's atmosphere. Both, the PDV interceptor and the two-stage target missile, were successfully engaged," the official told local media.
The target mimicking an incoming ballistic missile was launched from an Indian warship in the Bay of Bengal located over 2,000 kilometers distant from the interceptor launch site on Abdul Kalam Island. No additional details of the test were disclosed.  It is unclear at what exact altitude the incoming target was intercepted, although some press reports claim that the ballistic missile was destroyed at 100 kilometers.
The PDV was first tested in April 2014. The missile interceptor had a "near miss" at an altitude of 120 kilometers. Despite of that DRDO scientists at the time proclaimed the test a success. 
The PDV is slated to replace the existing Prithvi Air Defense (PAD)/Pradyumna Ballistic Missile Interceptor, which has a maximum interception altitude of 80 kilometers. Among other things, the new two-stage solid-fueled PDV interceptor is fitted with an Imaging Infrared (IIR) seeker, developed by DRDO, to distinguish between incoming warheads and decoys. 
Following the end of the Kargil War and in reaction to China and Pakistan's growing missile arsenals, India has been working since 1999 on a two-tiered ballistic missile defense system with the PAD and PDV designed to destroy missiles at exo-atmospheric altitudes of 50–150 kilometers (some sources say 180 kilometers) and the Advanced Air Defense (AAD)/ Ashvin Advanced Defense interceptor missile endo-atmosphere at altitudes of 20-40 kilometers.
The BMD system can allegedly intercept medium range ballistic missiles traveling at speeds of Mach 3 to Mach 8. PAD and PDV are designed for mid-course interception, whereas AAD is a terminal phase interception system capable of intercepting missiles after they enter the earth's atmosphere.
In a congratulatory note, the president of India, Pranab Mukherjee, stated that "India now joins a select group of nations having such an effective Ballistic Missile Defense System." Until now, the United States, Israel, and Russia are the only three states to have developed an indigenous ballistic missile defense system.
In 2016, India has also inked a deal for four (some sources say five) regiments of Russian-made S-400 Triumf advanced Air Defense Systems (NATO reporting name: SA-21 Growler). Based on the limited information available on India's domestic BMD system, it appears that the S-400, armed with the 40N6 surface-to-air missile, would be superior to the PDV in the exo-atmospheric interception of ballistic missiles. (There is, however, considerable speculation whether the 40N6 is even operational in Russia, let alone part of the recent Indo-Russian defense deal.)
Although BMD systems are highly destabilizing factors in any nuclear arms competition, it is important to realize that the recent test says very little about the true capabilities of the system to intercept incoming missiles in a combat environment. Despite that, the recent test is certain to cause consternation in Pakistan, where the military has recently completed the first successful flight test of a new medium range ballistic missile (MRBM), reportedly capable of carrying multiple warheads.