Japan Warship Visit to Cambodia Spotlights Defense Ties
An opportunity to appreciate an aspect of the relationship that often does not get the attention it deserves.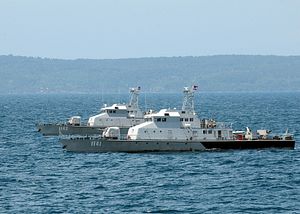 On Monday, Japan announced that three vessels of the Japanese Maritime Self-Defense Force (JMSDF) are scheduled to visit Cambodia from February 13 to 16. Though the visit may be routine, it also highlights the nascent defense relationship that exists between the two countries (See: "Why Are Japan's Warships Visiting Cambodia?").
While foreign media outlets typically focus on Cambodia's alignments with China and the United States, other actors, including Japan, also play an important role in Phnom Penh's foreign relations. Superficial analyses tend to focus on Tokyo's role as being primarily economic, noting the aid and investment it pours into the country. To the extent that a security aspect is discussed, it is with respect to areas like peacebuilding and reconstruction following the Cold War.
Though these dimensions of Cambodia-Japan relations are no doubt important, it is also true that bilateral ties have also been expanding much more on the security side over the past few years than they had been previously. Indeed, in December 2013 when the two countries upgraded ties to a strategic partnership as they commemorated 60 years of diplomatic relations, one area of emphasis within that strategic partnership was the defense domain. This included the signing of an agreement on defense cooperation and exchanges between both sides, even though the exact specifics were not disclosed.
The expanding defense relationship makes sense for both sides. For Cambodia, its military certainly benefits from interactions with more capable counterparts from major powers like Japan. But strengthening ties with Tokyo is also part of a broader effort to ensure some diversification in its foreign alignments among major powers, even if the last few years have seen Phnom Penh move closer to Beijing than it has in the past.
Similarly, for Japan, though expanding defense ties with Cambodia is part of an ongoing effort to expand its bilateral relationship, interactions like the visit of the Japanese warships are also indicators of Tokyo's efforts to boost its security role in Southeast Asia more broadly. As I have noted previously, since Japanese Prime Minister Shinzo Abe's return to office in December 2012, Tokyo has invested much more in the defense side of its Southeast Asian relationships. Indeed, Japan is increasingly thinking about how it can strengthen its security ties not just with individual Southeast Asian states, but ASEAN as a whole (See: "Japan Reveals First ASEAN Defense Initiative with Vientiane Vision").
Of course, Phnom Penh is far from Tokyo's first choice when expanding defense ties in Southeast Asia, especially given its growing proximity to China in recent years and its troubling position on maritime disputes in the East China Sea and the South China Sea (See: "Cambodia: A New Mediator Between China and ASEAN?"). But in light of the strategic thinking going on in Tokyo, Japan's interactions with individual states in the region like Cambodia ought to be seen from this broader perspective rather than as isolated incidents.
To be sure, one ought not to overstate the extent of defense ties between Cambodia and Japan, which still remains quite modest. But as both countries look to expand their relationship – diplomats have been discussing elevating ties from a strategic partnership to an extensive strategic partnership – it is worth keeping an eye on what happens on the security side too. The visit of the warships this week is a useful reminder of that point.