Mattis Calms Nerves on US South China Sea Policy, But For How Long?
Jim Mattis shows that not much has changed in U.S. South China Sea policy, but will that last?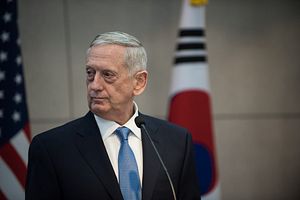 I'd recently lamented in these pages that the Trump administration needed to articulate a clear policy on the South China Sea disputes, or at least reiterate that nothing had changed on that front between administrations. This was especially necessary given Press Secretary Sean Spicer's muddying of the waters with an unclear answer on the subject when he was asked about it on January 24.
Now, Trump's defense secretary, Jim Mattis, has offered the first high-level official articulation of what appears to be a cogent set of priorities from the new U.S. administration on the South China Sea. Mattis addressed the subject when asked about it by a reporter at a joint press conference with his Japanese counterpart Tomomi Inada while in Tokyo on his first visit abroad, which also included a stop in Seoul.
The good news for regional states — but perhaps less so for China — is that U.S. policy toward the South China Sea appears to be unchanged for now.
Mattis noted that countries have "watched in the South China Sea, as China has shredded the trust of nations in the region, apparently trying to have a veto authority over the diplomatic and security and economic conditions of neighboring states." Mattis added that the "point behind a rules-based international order" was that countries don't settle disputes by "military means and occupying land that is subject to question."
While he didn't directly clarify that the United States would continue to hold to its old policy of not taking a position on the sovereignty of individual features, Mattis hinted that this policy would remain in place, noting that disputed features shouldn't be occupied, "to say the least about who actually owns it, or is it international waters."
Critically, in what can be seen as a high-level repudiation of a proposal put forward by Trump's secretary of state, Rex Tillerson, during his confirmation hearing, Mattis concluded that the United States did "not see any need for dramatic military moves at all." Mattis added that the South China Sea was an issue "best solved by the diplomats."
As I'd discussed in January, Tillerson had suggested that the new administration would drastically depart with previous U.S. policy: "We're going to have to send China a clear signal that, first, the island-building stops and, second, your access to those islands also is not going to be allowed."
Limiting access to Chinese facilities in the South China Sea — specifically the seven artificial islands in the Spratly group — would require something akin to a "dramatic military [move]," which Mattis has ruled out for now.
Finally, Mattis drew attention to freedom of navigation in his remarks — the primary guiding principle behind the Obama administration's policy in the South China Sea (and of preceding administrations).
"Freedom of navigation is absolute, and whether it be commercial shipping or our U.S. Navy, we will practice in international waters and transit international waters as appropriate," Mattis added.
While most of what Mattis had to say on the South China Sea will sound familiar to observers of U.S. policy in the region, it's unclear if Mattis' implication that the military would take a backseat to diplomatic efforts signals a temporary freeze in the U.S. Navy's freedom of navigation program in the South China Sea.
The Obama administration conducted four freedom of navigation operations near disputed features claimed by China in the South China Sea since Beijing began its artificial island construction. The first of these operations took place in October 2015 and the most recent took place in November 2016.
Time will tell if Mattis' comment on leaving the South China Sea to the diplomats will bear on the U.S. Navy's freedom of navigation operations in the area, but if so, the Trump administration would be sending a conciliatory signal to Beijing, which had strongly criticized the operations as evidence of U.S. "militarization" in the South China Sea.
But here again, Mattis' wording may have been more careful and directed toward clarifying the uncertainty that Tillerson's confirmation hearing comments had wrought. After all, there was nothing about U.S. freedom of navigation operations, which targeted claims invalid under international law by all South China Sea claimant states, that would necessarily complicate U.S. diplomatic efforts.
The subtext here, thus, doesn't seem to be that freedom of navigation operations are off, but that the concerns sparked by Tillerson's confirmation hearing remark on denying China access to its islands can rest easy. Per Mattis, then, little has really changed about U.S. policy in the South China Sea policy for now.
There are caveats to the above analysis. The first, of course, is that reading off-the-cuff answers on matters of policy at a press conference like this can be misleading and the second concern — unique to the Trump administration — is the extent to which what Mattis says will actually bear on the shaping of strategy back in Washington.
The fact that Mattis did not unveil anything new on U.S. South China Sea policy explicitly while in Tokyo would go back to a point I raised in my discussion of Spicer's remarks on the matter, which is that the Trump administration simply hasn't gotten around to forming a coherent set of policies on Asia-Pacific security — a process where Mattis (and even Tillerson) may end up playing an entirely ancillary role, sidelined in favor of Trump's coterie of China hawks.
This is supported by the dearth of any significant policy moves with regard to U.S. policy toward China more broadly in the first two weeks of the Trump administration. So, while U.S. allies and partners in the Asia-Pacific may sigh a temporary breath of relief from Mattis' reassurances of continuity across administrations in South China Sea policy, a radical change in approach may still loom around the corner.