More FONOPs Coming Soon to the South China Sea?
Trump is reportedly close to making his choices on the future of U.S. FONOPs in the South China Sea.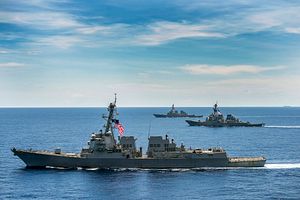 Last week, I discussed the likely ways in which the South China Sea could emerge as Asia's foremost flashpoint in 2017 after a relative period of quiet in the second half of 2016. One of the factors I pointed to — based on reports of Mattis' private comments to his Japanese interlocutors during his early February trip to Tokyo — was that the United States could resume and intensify freedom of navigation operations (FONOPs) in the South China Sea. Though the U.S. Navy doesn't see FONOPs as a deterrent tool, but as a routine mechanism of asserting rights under international maritime law, China views the U.S. freedom of navigation (FON) program as a form of "militarization."
On Sunday, Navy Times, citing senior U.S. Navy sources notes that U.S. Pacific Command is preparing a menu of South China Sea FONOPs for the Trump administration to choose from. If there's one overarching message underlying the report, it's that U.S. Pacific Command expects to get its way on FONOPs under the Trump administration. The Obama White House had faced off with Pacific Command, which wanted more frequent FONOPs in the South China Sea, over concerns that a more forward-leaning U.S. presence in the South China Sea could scuttle the U.S.-China bilateral agenda on other matters, such as cooperation on North Korea.
Navy Times reports that one option for renewed FONOPs in the South China Sea would be for ships associated with the USS Carl Vinson carrier strike group, which is currently en route to the South China Sea, to carry out these operations. "The military's plans likely call for sailing within 12 nautical miles of China's newly built islands in the Spratly and/or Paracel islands," the report notes, suggesting that future FONOPs would seek to challenge Chinese (and other claimants') prior notification requirements for innocent passage. There is no specific note, however, of a FONOP asserting high seas freedoms around Mischief Reef — the one Chinese Spratly possession that is both a low-tide elevation under international law, per last July's ruling by a five-judge tribunal at the Permanent Court of Arbitration, and has no secondary features within 12 nautical miles.
Most interestingly, the report notes that the "plans are heading up the chain of command for approval by President Donald Trump." Obama, similarly, had been presented with a "menu" of sorts of possible FONOPs and their advantages and drawbacks. How Trump exercises his judgment as commander-in-chief in the South China Sea with regard to the FON program will be of interest to both China and regional states alike, all of which are looking for evidence of how far some of the administration's stronger language during the campaign and the transition can be expected to weigh on actual policy.