Rocky Australia-Indonesia Military Ties Restored After Jokowi Visit
The Indonesian leader's trip provided both sides with a valuable opportunity to patch things up after a recent spat.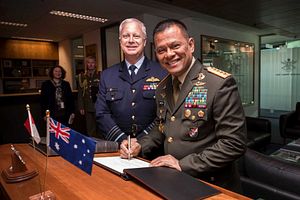 This weekend, Indonesian President Joko "Jokowi" Widodo paid his first state visit to Australia, where he held talks with Prime Minister Malcolm Turnbull. Though several other deliverables were announced during Jokowi's visit, most of the headlines had to do with the full restoration of military ties after an incident last month.
As I had written previously, in January, Indonesia-Australia military relations had hit a snag over concerns about some teaching materials at an Army language training facility in Australia. Indonesian officials subsequently clarified that only cooperation related to the military's language training program had been suspended, rather than the overall defense relationship, which exposed the fact that some were too quick to hype up the issue (See: "Old Shadows in New Australia-Indonesia Military Spat"). Nonetheless, the concerns about teaching materials were far from minor; the offensive content tied into broader issues like West Papua and Timor-Leste which are sensitive for the Indonesian military and have roiled bilateral ties previously.
Jokowi's visit offered a useful opportunity for both sides to announce the full restoration of ties. To be sure, functional cooperation had been continuing in the defense realm, and the patching up had already proceeded at lower levels, with the visit of Australia's army chief Angus Campbell to Jakarta in early February being a case in point (See: "Getting Australia-Indonesia Defense Ties Back on Track"). Nonetheless, having Turnbull publicly announce that he and Jokowi had agreed to "the full restoration of defense cooperation, training exchanges, and activities" was a strong signal of their commitment to the relationship between the two leaders. Their emphasis on respect for sovereignty and territorial integrity also helped clear the air on the real issue at the core of the recent snag.
Putting the latest incident behind them is important because it helps both sides focus on what they can do together. And as I have indicated before, in some ways a smoother relationship between the two neighboring, significant, and highly capable actors in the Indo-Pacific, which have had turbulent ties in the past, has benefits not only for them both, but the region more generally in areas of cooperation like countering terrorism financing or peacekeeping (See: "Why Do Australia-Indonesia Military Relations Matter?").
That is not to say that both sides are aligned on everything in the defense realm. For instance, as expected, despite the hype that we saw before Jokowi's visit, both leaders did not publicly mention anything about joint patrols in the South China Sea, which had been discussed previously (See: "The Truth About Australia-Indonesia South China Sea Patrols"). Even the joint statement only contained a boilerplate reference to preserving freedom of navigation and overflight in the South China Sea.