The Truth About Australia-Indonesia South China Sea Patrols
A deeper look behind President Jokowi's suggestion that he may discuss the proposal during his state visit to Australia.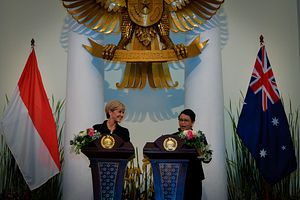 On Friday, reports surfaced that Indonesian President Joko "Jokowi" Widodo may raise the issue of joint patrols in the South China Sea with Australian Prime Minister Malcolm Turnbull during his first state visit to the country over the weekend. Though both sides attach significance to the South China Sea issue and talk of such arrangements is not new to the bilateral relationship, one should also be careful when assessing what this could and could not mean.
First, it is no doubt that Jokowi and Turnbull will discuss the South China Sea issue amidst other regional security concerns as officials from both sides have done previously. Both Indonesia and Australia are significant and highly-capable actors in the Indo-Pacific. Though they are non-claimants in the South China Sea disputes – admittedly a more contested designation for Indonesia –  they do have equities in the broader issues at stake in the South China Sea including China's maritime assertiveness and freedom of navigation (See: "Indonesia's South China Sea Policy: A Delicate Equilibrium"). More broadly, maritime security is also one major area of cooperation between the two countries.
Second, talk of joint patrols isn't exactly new in the context of the Australia-Indonesia relationship. Indeed, both countries already are engaged in combined patrols. The Australian Defense Force and Indonesian Armed Forces have been conducting coordinated maritime security patrols (AUSINDO CORPAT) since April 2010, and last March, the Australian Border Force (ABF) conducted a maritime security patrol with the Indonesian Coast Guard (BAKAMLA) which has just begun to take off under Jokowi (See: "Indonesia's Maritime Ambition: Can Jokowi Realize It?").
Talk of joint patrols in the South China Sea is also not new. Indeed, the fourth iteration of the "2+2" dialogue between Indonesian and Australian foreign and defense ministers at the end of last year was overshadowed by Indonesian Defense Minister Ryamizard Ryacudu's suggestion that there could soon be bilateral patrols in the South China Sea (See: "Indonesia-Australia Defense Relations in the Spotlight"). At the time, Ryamizard told reporters that Jakarta had already suggested to Australia that both countries conduct joint patrols in the eastern part of the South China Sea, and that Canberra had "more or less agreed." He added that he was sure "that we will soon create a plan on how to realize it." Australian Foreign Minister Julie Bishop also indicated that both sides would discuss "coordinated activities" in the South China Sea and that this would be consistent with both countries' exercise of their right to freedom of navigation.
This hype occurred ahead of Jokowi's originally scheduled trip to Australia in early November last year, which was eventually postponed to February 2017 due to unrest in Jakarta over a blasphemy case against the Jakarta governor (See: "The Trouble With Indonesia's Ahok Test"). It is no surprise to see this subject now dominate the headlines once again ahead of Jokowi's rescheduled trip this time around as well.
Third and finally, even though this is a subject that has already been broached between Indonesia and Australia, given how potentially sensitive it can be, one needs to be cautious both about what is being said and the distinction between rhetoric and reality. Take, for instance, the reports about Jokowi saying that he would bring up the issue of joint South China Sea patrols with Turnbull during visit to Australia. Those stemmed from an exclusive interview he did with The Australian newspaper ahead of his visit. If you actually read what Jokowi originally said rather than the headlines, he comes across as pitching this much more carefully. "It depends. If there is tension like last year it's difficult to decide this program," Jokowi is quoted as saying. "But if there is no tension I think it's very important to have the patrols together. We will discuss this with PM Turnbull."
Some may dismiss this as equivocation publicly masking Indonesia's true resolve or demonstrating its ambivalence. But the broader point is that understanding what is said and not said is important because if not, Indonesia can be made to seem like it is sending a much bolder signal than it actually is. It also does the complexity of Indonesia's South China Sea policy – which I've characterized previously as a "delicate equilibrium" – a great disservice, along with its broader foreign policy approach more generally (See: "Indonesia's South China Sea Policy: A Delicate Equilibrium").
We also can at times miss the bigger picture. For example, despite the fact that Indonesia and Australia had indicated last year that they had discussed patrols in both the South China Sea and the Sulu Sea, the latter was left out of most analyses. That is unfortunate, considering both the strategic significance of the Sulu Sea in general as well as the recent developments we have seen there from regional actors, especially Indonesia, Malaysia and the Philippines with movement towards trilateral patrols (See: "Confronting Threats in the Sulu-Sulawesi Seas: Opportunities and Challenges"). It speaks to the overemphasis on the South China Sea in maritime security discussions and the tendency to focus only on the disputes there, as opposed to broader issues at stake for maritime actors.
Talking about patrols is also different from acting on them. We have often heard about joint patrols in the South China Sea between various actors – ranging from more plausible ones like the United States and Japan to less likely ones such as between ASEAN and China. Yet as I have noted before, even though developments like these often grab the headlines and could indeed be operationalized, they exist alongside stubborn realities such as the capabilities of various actors, their longstanding policies, and the interests of those institutions that formulate them.
Then there are the specifics that need to be ironed out to properly manage such engagements if they are to be followed through on, including where exactly they are being held, what the nature of the patrols are (joint, coordinated, or combined, which can all have important distinctions though they are used interchangeably), and how to communicate this to the wider public. And of course the reality that given the sensitivities involved in joint patrols in the South China Sea, what is hyped up may not necessarily be much, but what is going on quietly may actually matter significantly more.