Steve Bannon and Prospects of a US-China War in the South China Sea
Less than a year ago, Steve Bannon saw war in the South China Sea as "five to ten" years away. That matters.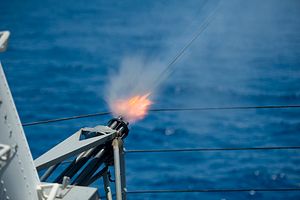 Earlier this week, I reflected on how U.S. President Donald J. Trump's chief strategist Steve Bannon had clearly emerged as a locus of control within the new U.S. administration, suggesting that his elevation to the National Security Council's principals committee meant Asian states should take his role seriously. In the meantime, USA Today has uncovered some new nuggets of Bannon's former commentary on international affairs, when he was still involved with the ultraconservative Breitbart News. Of interest to readers of The Diplomat, Bannon, a former U.S. Navy officer in the Pacific, can be heard discussing the South China Sea on his radio show in March 2016 — months before he officially was elevated to the top of Trump's campaign.
Bannon's remarks on the South China Sea are troubling. He anticipates a major shooting war there with China: "We're going to war in the South China Sea in five to 10 years, aren't we?" he can be heard saying. "There's no doubt about that. They're taking their sandbars and making basically stationary aircraft carriers and putting missiles on those. They come here to the United States in front of our face — and you understand how important face is — and say it's an ancient territorial sea."
Bannon, Trump's chief ideologue, gets the facts somewhat wrong on the South China Sea. For instance, when he refers to China placing missiles on its artificial islands, he's most likely conflating China's deployment HQ-9 surface-to-air missiles to Woody Island in the Paracels last year with Beijing's ongoing land reclamation and construction work in the Spratlys, where it has constructed seven artificial islands.
I also wrote last week about how the Trump administration doesn't seem to have its act together on the South China Sea, based on seemingly off-the-cuff remarks delivered by the new White House press secretary, Sean Spicer, that suggested the U.S. would use armed force to "defend international territories from being taken over." Spicer's remarks are still the only official commentary we've heard out of the Trump administration on the South China Sea since Trump's inauguration. Comments earlier in January by Rex Tillerson, who was sworn in as Trump's secretary of state yesterday after being successfully confirmed by the Senate, also suggested a collision course with China.
China chastised Spicer for his remarks, reminding the United States that it wasn't a claimant state in the South China Sea, and it's leaders will no doubt have taken note of Bannon's central role within the new administration. Bannon's buy-in into the Huntingtonian idea of a brewing clash of civilizations between the "Judeo-Christian West" and the rest of the world's civilizations partly disposes him to distrust China.
USA Today additionally found a February 2016 interview that underwrites Bannon's Huntingtonian worldview; he places "an expansionist Islam and … an expansionist China" side-by-side as threats. "They are motivated. They're arrogant. They're on the march. And they think the Judeo-Christian West is on the retreat," he says. Though Bannon's reasons for being hawkish on China may be more heterodox, he has several fellow travelers within the Trump administration — many of whom are pushing for the United States to test China on trade policy and the One China policy as well.
Bannon's open expectation of a war with China combined with his proximity to the president of the United States should be concerning. The expectation of war can intensify and expand the United States' strategic ambitions in the South China Sea. For instance, Bannon may push Trump to implement something like what Spicer or Tillerson have alluded to in the South China Sea, triggering a kinetic response from China. In short, Bannon's expectation of a war can make war more likely. (For a more granular look at how intense a U.S. war with China might be and how it might end, I recommend this RAND Corporation report from last year.)
Normally, a Bannon-esque ideologue wouldn't present too great of a risk, but Trump's first weeks in office have shown that the former Breitbart executive director's fingerprints are on every major and unusual initiative, from the controversial and chaotic executive order banning refugees and travelers from Muslim-majority countries to the darkly apocalyptic rhetoric of Trump's inaugural address (which omitted any mention of the U.S. constitution, incidentally). Given Bannon's centrality to the actions this administration has taken and his proximity to Trump — a man seemingly inclined to agree with the last person he spoke to — the stakes are too great not to take this seriously.