US Navy Christens New Littoral Combat Ship
The latest addition to the U.S. Navy's fleet of Littoral Combat Ships will be commissioned in 2018.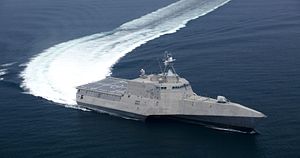 The U.S. Navy christened its latest Independence-class Littoral Combat Ship (LCS), the USS Tulsa, in Mobile, Alabama on February 11, the service reports.
The U.S. Navy's Vice Chief of Naval Operations Admiral Bill Moran delivered a keynote address in which he described the various capabilities of the new warship including conducting operations in the South China Sea.
The USS Tulsa is an Independence-class variant of the LCS featuring a unique trimaran hull and a larger flight deck than the other LCS variant, the Freedom-class. In addition, with a cruising range of 3,500 nautical miles, the Independence-class has a wider operational range than the Freedom-class and its flight deck can accommodate two rather than one H-60 helicopter.
According to the U.S. Navy, "the future USS Tulsa is a fast, agile, focused-mission platform designed for operation in near-shore environments yet capable of open-ocean operation. It is designed to defeat asymmetric 'anti-access' threats such as mines, quiet diesel submarines and fast surface craft."
The ship will be armed with a 57 millimeter forward gun, 32 vertical launch system missiles, two close-in weapons systems, six anti-submarine warfare torpedoes, and eight harpoon anti-ship missiles. As I reported elsewhere, the Independence-class LCS USS Coronado, currently forward deployed in U.S. Navy's 7th Fleet area of operations in Singapore, was the first LCS to be fitted with the harpoon missile:
The ship carries four-cell launcher anti-ship missile system, the so-called Advanced Harpoon Weapon Control System (AHWCS) capable of firing RGM-84D Harpoon Block 1C missiles.
The ship, among other things, will also be fitted with a special anti-submarine warfare module designed to detect, track, and destroy quiet diesel-electric submarines in shallow waters. It will also be capable of demining operations and surface warfare missions. The LCS has not been without controversy as I explained previously:
Both LCS variants have been accident prone and had to deal with various technical problems and human error over the last couple of months (See: "Three Times a Charm: US Navy Littoral Combat Ship Damaged Again").  As a result, the commander of all U.S. Navy surface forces, Vice Admiral Tom Rowden, ordered a stand down for all LCS in order to retrain the ships' crews.

"There were a few instances of human error that contributed to engineering casualties on some littoral combat ships. The stand down focused on addressing procedural compliance issues and reminding our Sailors of the importance of operating equipment in accordance with established procedures," the admiral said in an interview with The Diplomat.
The USS Tulsa will launch in March and is scheduled for delivery to the U.S. Navy in 2018. Once commissioned, the LCS will be homeported in San Diego.