Whither China's National Football Team?
Can throwing resources at China's football infrastructure translate to success on the international stage?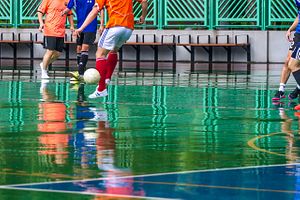 In 2016, China went a little nuts for expensive foreign players: December saw Shanghai hire the most expensive player in Chinese football history, Chelsea's Oscar, for $75 million. Carlos Tevez signed with Shanghai Shenhua for $49 million, and Hulk from Brazil will be taking home $61 million. Heck, The Guardian even reported that Cristiano Ronaldo got an offer for $105 million a year, but he turned them down.
The good times, however, were soon to end. Despite these buys rocketing China's Super League's reputation in the world of football, China was not too keen on the outrageous spending for foreign players. China wants Chinese football to be more Chinese, and it's planning to do just that by opening 50,000 football academies in China by 2025, doubling the previous target of 20,000 academies by 2020.
The announcement of these academies last week was made by China's football association Vice President Wang Dengfeng, who said, "This is a solid way to select football talent for our future reserves. Improving Chinese football is no longer just a dream." The verve, dedication, and even brutality China has shown in its Olympic ambitions don't seem to translate to the delicate art of football. The Chinese men's national team has only qualified once for the World Cup, in 2002.
A winning national football team is close to the heart of the nation, and the current spending spree on foreign players — with China grabbing four of the 10 most expensive transfers — can be traced back to Guangzhou Evergrande's first ever Chinese win as AFC Champions. The victory depended heavily on Argentinian Darío Conca and Brazilian striker Elkeson and since then clubs have poured money into foreign talent with hapless abandon.
Chinese football is thus presented with the problem of relying on international talent and simply going through the motions with local Chinese stars, or building the next generation of Chinese football stars from the ground up. Recent moves suggest China plans on the latter.
Not only does the rejection of the "4 + 1" rule (four players of any nationality plus one Asian on match day) read as a move toward domestic talent, but the government has a strong wish to see a more successful national team. In a People's Daily piece, it was commented: "National team performance has become a negative example of China's football professional reform […] If the hard power of Chinese football can not be used as a support, all efforts are meaningless, all prosperity is just a dream."
So, China is looking to highly-paid foreign talent to keep its Super League competitive but young talent of the next generation to make the nation a world championship winner — and that's a much longer journey. China's men's national team ranks just 86th on the FIFA rankings, narrowly beating out Gabon.
Xi Jinping, an avid football fan, has been at the forefront for calling for better football facilities throughout the country, last year releasing the "Chinese football reform and development program" (a 50-point plan that can be read in full here) which, among other things, said that football fields would increase from 11,000 to 70,000 across the country by 2020, and with those numbers, the plan estimates that 30 million students will regularly play football. But there's a problem with this strategy: It lacks quality.
Schools like Evergrande Football School host some of the Middle Kingdom's greatest upcoming talents, something Chinese parents pay a hefty penny to achieve. Private schools like these, it has been argued, are a better mechanism for building China's domestic talent: targeted, exclusive, and taught by foreign coaches.
Throwing resources at the problem seems to have raised China's profile in the Super League, but it remains to be seen if throwing money, football fields, and funding at the problem will boost China's national football pride.