Why India's Hindu Nationalists Love Donald Trump
Like right-wing groups around the world, India's Hindu nationalists are celebrating Trump's presidency.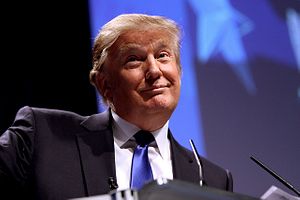 Two years after Indian Prime Minister Narendra Modi stormed to power on a populist "India First" platform, Donald Trump was doing the same to cries of "America First" on his path to the White House.
Both campaigns promised to unite, but have also sewn division. Their nostalgic nationalist undertones — by design or otherwise — have been interpreted by those on the far-right fringes of both countries as a bona fide vindication of their beliefs. And now, with Trump's fiery and divisive opening to his tenure, adoring and already galvanized Hindu nationalists have a renewed source of validation from the world's supposed leading light.
Since Modi's Bharatiya Janata Party (BJP) won elections in 2014, Hindu nationalism has undergone something of a resurgence. The right-wing BJP's campaign stirred fears of cultural erosion and towed a religious line by accusing the Indian National Congress, the nation's other major political party, of supporting beef exports and cattle slaughter — blasphemy for cow-venerating Hindus. And with his party's close ties to the Rashtriya Swayamsevak Sangh, a Hindu nationalist volunteer organization, Modi has mobilized strong support from India's typically upper caste religious conservatives.
The ideologues are now on a mission to reassert India's "Hinduness." "Cow vigilante" groups have been responsible for the brutal murders and beatings of Muslims and lower castes suspected of eating beef or killing cows. Anti-beef laws in BJP strongholds have tightened, and some party members have been drumming up anti-Muslim rhetoric.
Its little surprise then that many on the far right consider Trump himself almost as a deity worthy of worship. His campaign bombast, which marginalized Muslims, appealed to tradition, and vowed to decimate the Islamic State group, resonated with the Hindu nationalists' own mission. In fact the Hindu Sena, a right-wing organization, held a birthday party for Trump last June, prayed for his victory, and adorned his portrait with garlands during his inauguration.
The reverence, and Trump's profile, is so strong that many see past his endless displays of incompetence. That includes his bumbling "I am a big fan of Hindu," speech at a Republican Hindu Coalition fundraiser in October, during which he also promised that the United States and India would be "best friends." In effect, it meant India's Hindu nationalists are watching the U.S. president's moves closely for inspiration and guidance.
Indeed, Trump's recent immigration ban — which the media billed as a fulfillment of his campaign promise of a "Muslim ban" — allied with his policies and rhetoric impacting minorities, including women, Mexicans, and the LGBT community, requires minimal spin to be interpreted in its most extreme form by India's boisterous far-right. And, so far, it's clear that the Trump administration has expended minimal effort in distancing itself from radical support, at home or abroad. Instead, it has spent its communication efforts critiquing the media's exposition, something that's becoming a mainstay of the Modi government too.
The moral high-ground the United States has as a torchbearer of international human rights, democracy, and economic liberalization is falling out from under the nation's feet. It is slowly being replaced by Trump's own illiberal brand, which is being gleefully adopted by populist leaders across the globe. As highlighted in Amnesty International's 2016 report, developments in the United States raise "serious concerns about the strength of future U.S. commitments to human rights domestically and globally."
As the world's largest economic, military, and cultural power, the United States is still a leading light — only it is shining in a different direction. Populist leaders like Modi — as well as Orban in Hungary, Duterte in the Philippines, and Erdogan in Turkey — are benefiting.
In the fall-out from globalization, which has fomented conservative concerns over westernization and secularization, India has found itself at a crossroads in the new worldwide ideological battle between globalism and traditionalism. And with the Hindu nationalists gaining in stature under BJP rule, and buoyed by their ideological alignment to the world's most powerful leader, it means that their momentum, for the time being, is only set to grow.
Tej Parikh is a global policy analyst and journalist. He received his master's degree from Yale University with a focus on state building, political economy, and conflict. He runs www.TheGlobalPrism.com a centrist international affairs platform. He tweets @tejparikh90.