South Korea's Impeached President Park Now Under Arrest
Less than a month after losing her immunity, Park is detained on charges of bribery and abuse of power.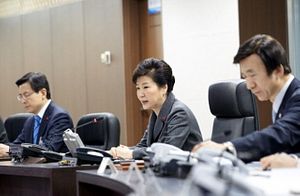 Impeached South Korean President Park Geun-hye was arrested early Friday morning over a massive corruption scandal involving a close confidante and some of the country's biggest and most iconic firms.
Park, who was ousted earlier this month after the Constitutional Court upheld her impeachment by the legislature, was moved to a detention facility after Seoul Central District Court issued a warrant for her arrest shortly after 3 a.m. local time. Park, the daughter of a former strongman, is accused of colluding with Choi Soon-sil to solicit tens of millions of dollars in payments from large companies including Samsung, whose de facto head Lee Jae-yong was arrested over the scandal last month. Park faces more than a dozen criminal charges, including bribery, extortion, leaking government secrets, and abuse of power. If convicted, she could face up to 10 years in jail.
Allegations that Choi, whose controversial pastor father mentored the ex-president, was effectively pulling the strings of her friend's administration sent shockwaves across South Korea when they emerged last year, following the discovery of a computer tablet belonging to Choi that contained drafts of the president's speeches.
The National Assembly voted to impeach Park, the country's first woman president, in December following months of protests demanding her resignation. The weekly rallies around the country are believed to have brought up to 2 million South Koreans to the streets at a time.
Park's removal from office last month, following an unanimous court ruling, stripped her of presidential immunity from prosecution, clearing the way for her arrest.
South Korean presidents routinely leave office in disgrace. Park is the third ex-president to be arrested in the country's short democratic history. Since the establishment of free elections in 1987, every president has been tainted by corruption allegations involving him or herself directly or family members.
South Korea will choose a new president on May 9, with liberal standard-bearer Moon Jae-in, the chief of staff to former President Roh Moo-hyun, considered the strong favorite. Moon would be likely to take a softer line on North Korea than his predecessor and push to expand social welfare.