Afghanistan, Pakistan, and the 'Good Taliban'
Pakistan believes Afghanistan is harboring terrorists that conduct cross-border attacks; Kabul says the same.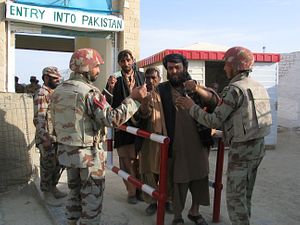 On March 7 and 8, Islamabad reopened its western border with Afghanistan at the Torkham and Chaman crossings. Prior to that, the border had been closed for 18 days, Pakistan's response to terrorist attacks believed to have been planned in Afghanistan. The decision to provide a two day window was made to allow nationals of both countries who have valid visas to return home. But no trade or American and NATO forces cargo was allowed to pass.
On March 9, the border closed again, part of Pakistan's strategy to prevent further terrorist attacks.
Even the brief opening earlier this week came only after pressure from the Afghan government. On March 4, Dr. Omar Zakhilwal, the Afghan ambassador to Pakistan, wrote on his social media account: "Today in my conversation with Mr. Sartaj Aziz, Advisor to the Prime Minister on Foreign Affairs, I conveyed to him that if in the next couple of days an opening was not allowed for the return of the stranded visitors I would ask my government to provide chartered flights to lift them."
On the night of March 5, a day prior to the decision to temporarily open the border, three Pakistan Army check posts were ambushed in Mohmand Agency in Pakistan's Federally Administered Tribal Areas (FATA).
A Pakistan Army spokesman confirmed the death of five soldiers in the attack. The outlawed Pakistani militant outfit Jamaat-ul-Ahrar (JuA), a splinter group of Tehreek-e-Taliban Pakistan (TTP), took credit for the attack and claimed the assault was part of their newly announced offensive.
On February 8, JuA kicked off Operation Ghazi, named after the deceased leader of Islamabad's famous Red Mosque, Mulana Abdur Rasheed Ghazi, who was killed in a Pakistan Army operation in 2007. The day after JuA's announcement, the Afghan deputy head of mission was called to the Foreign Office (FO) to hear Islamabad's concerns over the incident.
"The Afghan Government was urged to thoroughly investigate the incidents and take firm action against the terrorists operating from its soil to prevent recurrence of such incidents," the FO statement read.
Tensions between the neighboring countries have only mounted since then, after double suicide bombings in Pakistan's two biggest provinces, Punjab and Sindh.
On February 13, more than a dozen people, including Deputy Inspector General Traffic Police Captain (retd.) Ahmed Mubeen and Senior Superintendent of Police Zahid Ikram Gondal, were killed in a suicide bombing near Punjab Assembly in Lahore.
Few people knew that Mubeen played a key role in combating sectarian terrorism in Balochistan. He was part of some very top-secret and high profile intelligence-driven operations in the province and had long been on the militants' hit list.
During a presser on February 17, Punjab Chief Minister Shehbaz Sharif disclosed that police had arrested a facilitator of the suicide bomber.
The suspect, Anwar-ul-Haq from Bajur Agency in FATA, had visited Afghanistan 15 to 20 times. The outlawed Jamaat-ul-Ahrar claimed the responsibility for the deadly blast. Anwar-ul-Haq allegedly conceded that he was also a member of JuA.
Anwar-ul-Haq also disclosed in his confessional video that "the suicide bomber was an Afghan national and a resident of Kunnar province."
Pakistani authorities believe that the chief of JuA, Omar Khalid Khorasani, ran the show while enjoying a safe haven in Afghanistan. He was reported killed in a July 2016 U.S. airstrike in Afghanistan's Nangarhar Province.
On February 16, three days after the attack in Lahore, a bomb blast ripped through the most revered Sufi shrine of Lal Shahbaz Qalandar at Sehwan, Sindh, killing at least 88 devotees and leaving scores injured. The inspector general of Sindh Police, A.D.Khawaja, said the suspected suicide bomber was an Afghan national identified through CCTV footage from cameras installed at the entrance of the shrine.
On the same day, the spokesman of Pakistan armed forces, Major General Asif Ghafoor, announced the closure of the Pakistan-Afghanistan border. In an unprecedented move, Afghan Embassy officials were called into the Army's General Headquarters (GHQ) and given a list of 76 suspected terrorists hiding in Afghanistan.
The Pakistan Army high command demanded Afghan officials take immediate action and hand over the more than three dozen suspects. Moreover, the Army chief announced Operation Radd-ul-Fasad (elimination of discord) on February 22.
"The weather has changed and militant organizations also want to change this perception that their back has been broken by Operation Zarb-e-Azb. Therefore, they have escalated their attacks or have been asked to do so," said Rahimullah Yousafzai, a seasoned Pakistani journalist and analyst.
The powerful faction of Mehsud Taliban, led by Khan Said Sajna, has joined hands with the Mullah Fazlullah led-TTP. In 2015, Jamaat-ul-Ahrar, was also reported to have merged with the TTP.
As senior Afghan journalist and correspondent of Newsweek magazine, Sami Yousafzai, disclosed, "This year on January 20, different factions of TTP met in Afghanistan where they decided to reunite and regroup to launch terror strikes in Pakistan."
"They have this realization that it is the only hope of their survival after Operation Zarb-e-Azb and for that purpose they are taking support of clerics to issue fatwas [religious decrees]," he added.
Pakistani intelligence sources claim that Operation Zarb-e-Azb dismantled the support base of the terror network, forcing them to use Afghan suicide bombers and handlers from far flung areas.
For last few years, Pakistan has blamed its Islamic neighbor for fueling terrorism in the country. Even before the February attacks, the footprints of some terror plots were found in Afghanistan. Last year's botched attack during Eid al-Azha prayers in Shikarpur, Pakistan was the prime example.
On September 13, 2016, locals spotted two suicide bombers sitting among the worshipers gathered for Eid prayers at an Eidgah in Shikarpur district of Sindh. When prayer organizers and volunteers rushed toward them, the two attempted to escape. During the scuffle, police gunned down one suicide bomber and the other, Usman, was taken into custody.
A Joint Interrogation Team (JIT) comprising representatives of intelligence agencies, the counterterrorism department, and police was constituted to probe the matter. Usman revealed before the JIT that he resided in the Ghani Khel area of Nangarhar, Afghanistan and his father, Reham Gul or  Rehman Gul of the TTP, had been killed in a drone strike inside Afghanistan some 18 months back. His brother, Ali alias Sajjad, was affiliated with the TTP as well. Ali wanted Usman to carry out a suicide attack.
During May 2016, when Usman arrived home for vacation from his seminary located in Nangarhar, Ali asked him to come to the Baithak (local jargon used to refer to the drawing room) where two men namely Abdullah Brohi and the second suicide bomber, Abdul Rehman, were present. Ali told Usman to go along with Abdullah Brohi and carry out the suicide attack according to Brohi's instructions. His brother didn't allow Usman to meet his mother and the three of them left for the bus stop.
They began their journey at dawn and arrived near the Chaman border of Pakistan in the evening. After spending the night in a hotel they crossed the border early in the morning on foot. After entering Pakistan, they traveled on motorbikes, initially to Chaman city and then by sunset they arrived at Wadh, a remote area of Khuzdar, Balochistan. They spent more than three months in a house in the same vicinity until they departed on September 12 for their target in Shikarpur, where Usman was caught.
The narrative of terrorists crossing the AfPak border to commit suicide bombings in Pakistan turned deadly in the successful attacks of February 2017. Islamabad decided to take matters into its own hands.
The fractured relations between Islamabad and Kabul took a nosedive when the Pakistan Army pounded the border on February 17. On the same day, Pakistan's Chief of Army Staff (COAS) General Qamar Javed Bajwa telephoned U.S. General John Nicholson, Resolute Support Mission (RSM) commander in Afghanistan. According to Inter Services Public Relations (ISPR), the media wing of the armed forces, Bajwa expressed his concerns over continued acts of terrorism in Pakistan coordinated with impunity from Afghanistan. "COAS asked Commander RSM to play his role in disconnecting this planning, direction, coordination, and financial support," ISPR stated.
The Pakistan Army's cross-border shelling targeted Lal Pur in Nangarhar province, Afghanistan. It was considered the headquarter of JuA in Afghanistan. People from Pakistan's northwestern province of Khyber Pakhtunkhwa (KPK), used to visit Lal Pur to pay extortion and appear before JuA's Sharia court. Pakistan Tele Communication Limited (PTCL) wireless phones had connectivity in the area and militants used this communication line to threaten the people of Peshawar and adjoining areas.
Pakistan accuses Afghanistan of supporting TTP and JuA; similarly, Kabul alleges Islamabad harbors the Afghan Taliban and Haqqani Network. It's a telling fact that neither the Haqqanis nor the Afghan Taliban target Pakistan, nor do TTP or JuA carry out any attacks inside Afghanistan.
Is there any Afghan institutional backing to anti-Pakistan militant groups or not? Keeping the recent conflicts in mind, this is the point of contention between two countries.
"The fact of the matter is that they are operating from a territory where there is no writ of the Afghan government," explained Sami Yousafzai.
Others aren't so willing to give Kabul a pass. "Initially, Pakistan was accused of differentiating between militants as good and bad, but now it seems that Afghanistan is following the same precedent," argued Rahimullah Yousafzai. "Afghan security forces are capable enough to act against TTP and JuA. They have border security forces guarding its frontier, moreover, [a] U.S. drone [strike] is the answer for such excuses."
Whether sanctioned by Kabul or not, the top leadership of militant outfits like al-Qaeda in the Indian Subcontinent (AQIS), TTP, JuA are enjoying safe heavens in Afghanistan.
The 9/11 of Pakistan, the attack on the Army Public School (APS) in December 2014 at Peshawar, was orchestrated by Khalifa Mansoor of the Pakistani Taliban, who was monitoring the situation sitting in Afghanistan. Telephone calls from Afghanistan, communicating between the handlers and suicide attackers inside the school, were intercepted.
After the attack, then-Army Chief General Raheel Sharif, along with the director general of Inter Services Intelligence (ISI) at the time, Lt. Gen. Rizwan Akhtar, flew to Kabul, where they met with President Ashraf Ghani. Sharif and Akhtar presented evidence about militants posing a great threat to Pakistan while enjoying safe sanctuaries on Afghan soil.
The Pakistani security establishment also blames the Indian external intelligence agency, Research & Analysis Wing (RAW), and Afghan National Directorate of Security (NDS) for creating unrest in the southern province of Balochistan. The Pakistani authorities believe that the Afghan Border Police chief of Qandhar province, Raziq Achakzai, is supporting Baloch separatists at the behest of RAW and NDS. Raziq has reportedly survived more than 100 attacks.
The growing influence of Islamic State (ISIS) is the latest concern for Islamabad. After receiving a huge blow in Syria and Iraq, Islamic State fighters started focusing on Khorasan (region comprised of parts of Pakistan, Afghanistan, and Iran). The Khorasan branch of the Islamic State (known as ISKP) was formed in Afghanistan in January 2015, headed by a former TTP commander.
Various groups have since established contacts with ISKP, including the group involved in the massacre of Ismaili community members in May 2015.
Last month in an interview with the United States Combating Terrorism Center (CTC), Commander U.S. Forces in Afghanistan General John W. Nicholson noted, "The Islamic State, the Islamic Movement of Uzbekistan (IMU), and Tehreek-e-Taliban Pakistan (TTP) have also formed a loose configuration. So we see these alliances of convenience or where they have complementary goals come together, and this is one of our big concerns."
The Islamic State continues to take credit for deadly strikes across Pakistan, including the Sehwan bombing where close to 100 innocent people, including children and women, lost their lives.
Though Law Enforcement Agencies (LEAs) busted an ISKP network in Pakistan last September, the group is still posing a potent threat as they are using local militants to achieve their targets. ISKP, like JuA and TTP has found a haven in Afghanistan's Nangarhar province.
A review of recent events suggests that Kabul and Islamabad are locked in a tit-for-tat game. Whenever there is an attack in Afghanistan, the Pakistani nation also bears the brunt of terrorism.
Worse, tensions have risen to a point where dialogue is all but nonexistent. Pak-Afghan bilateral relations were jolted when the Afghan president turned down Islamabad's request to participate in last year's SAARC Summit. Then again, Ghani missed an opportunity to attend last week's Economic Coordination Organization (ECO) summit in Islamabad, where the Turkish and Iranian presidents were also present. Had Ghani attended, dialogue on the sidelines could have helped break the current deadlock.
Sami Yousafzai believes that "the widening trust deficit between the two countries is paving the way for India, who has already increased the number of Visas to Afghans." Furthermore, India is heavily investing in building infrastructure across Afghanistan.
The situation demands an immediate ban on hostile propaganda from the two neighbors while the track-one channel of diplomatic relations is still intact. Confidence Building Measures (CBMs) in both the frontiers are the only way forward to defuse the tension.
Syed Arfeen is an investigative journalist based in Karachi, Pakistan. He tweets @arfeensyyed