Islamic State Khorasan's Expanded Vision in South and Central Asia
The expansion of ISKP propaganda outreach, recruitment, and fundraising efforts may have significant security implications for countries in the Afghanistan-Pakistan region and possibly beyond.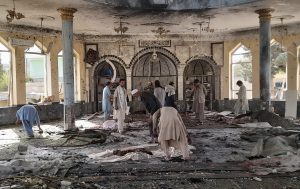 Since the Taliban took Kabul in August 2021, the Islamic State Khorasan Province (ISKP) has intensified and broadened its regional propaganda campaign to further target South and Central Asia. At the same time, ISKP has moved to spread its message globally with both original and translated materials in a significantly larger number of languages, including English. In fact, no other branch, save for the Islamic State in Iraq and Syria (ISIS) at the very height of its caliphate project, has shown the ability to produce propaganda in anywhere close to as many languages as ISKP's Al-Azaim Foundation for Media Production.
Accordingly, ISKP has expanded its kinetic operational range beyond Afghanistan and Pakistan with rocket attacks against Uzbekistan in April and Tajikistan in May. And while ISKP is certainly an Afghanistan-centric organization, it has origins and a deep history in Pakistan where it continues to operate.

Indeed, ISKP's fundamental focus is on building the branch at the local and regional level, but the group is also deeply involved in the global Islamic State (IS) cause and has markedly increased its international scope and vision, as evidenced in both its words and actions. This evolution has elevated its status within the greater IS movement and is likely to continue having security implications extending beyond the Afghanistan-Pakistan region.

ISKP is transnational down to its very DNA and does not recognize what it sees as illegitimately and arbitrarily drawn national borders. This is inherent to the branch's name, with "Khorasan" being the symbolic land from which the Messianic figure Mahdi will come, encompassing parts of Afghanistan, Pakistan, and Iran, and spreading its reach into Central Asia and India.

Northward, the group promotes using force to establish the province of "Movarounnahr" (or Transoxiana) which means "that which (lies) beyond the river" and refers to ancient territory north of the Amu Darya, which roughly lays along the border between Uzbekistan and Turkmenistan in Central Asia.

ISKP's Regional History and Cross-Border Footprint
ISKP finds its roots in the heart of Khorasan, between Afghanistan and Pakistan. The branch was born between mid-2014 and early 2015 when former Tehreek-e-Taliban Pakistan (TTP) commanders from several areas of the former Federally Administered Tribal Areas (FATA) defected and gathered around the leadership of Hafiz Saeed Khan Orakzai, at a time when TTP was already ravaged by internal divisions over the appointment of Fazlullah Khurasani as new TTP emir. Fazlullah's successor and current TTP Emir Noor Wali Mehsud narrates in his book "Inqilab-e Mehsud" that Mohmand, Orakzai, Kurram, Khyber, and half of the Bajaur chapters left TTP to join IS along with the Peshawar constituency. Other groups and commanders from Pakistan followed, such as Abdul Qahir Khurasani's Abtal-ul-Islam, as IS Central Akhbar Wilayah Khurasan showed in a video released in January 2015. 
The newly born group – which pledged allegiance to IS officially in January 2015 – was based in the eastern Afghan province of Nangarhar, mostly in the districts of Achin, Niyazan, Mahmud Dara, Chaparhar, and Shinwar. As the group launched its campaign against the Kabul government and the Taliban alike, its areas of operations spread, reaching other provinces, such as Kunar, Herat, Samangan, Kunduz, Jawzjan, and Kabul. Most of the group's targets were Afghan soldiers, the Shia minority, and the Taliban, including scholars and religious figures who support them. 
The group remains active in Pakistan, especially in Orakzai, Bajaur, Peshawar, and Balochistan. Initially, all attacks conducted in Afghanistan, Pakistan, and Kashmir were claimed under the ISKP name. However, as the group was losing control of its territorial strongholds in the Afghan provinces of Kunar and Nangarhar in mid-to-late 2019, IS started to claim all attacks in Pakistan under the name of a new province, the Islamic State Pakistan Province (ISPP). Then, in July 2021, ISPP Wali Abu Mahmood issued a statement announcing that Pakistan's Khyber Pakhtunkhwa (KPK) was transferred under the ISKP administration as per IS' orders, prompting the group to claim any subsequent attacks in the area under ISKP's name again.

In Pakistan, ISKP has attacked security forces, journalists, health workers, and sectarian targets such as Shias, and, in the past, also Sufis, when it was capable of striking outside its usual areas of operation in Peshawar, Bajaur, and Balochistan. 
ISKP Anti-Taliban Campaign Since the Takeover 
Since ISKP's resurgence in 2020 and especially since the Taliban takeover of Afghanistan a year ago, the group has boosted both its militant attacks and its media warfare campaign. Immediately after the Taliban took Kabul, ISKP mouthpiece Al-Azaim published a book from prominent ISKP ideologue Abu Saad Muhammad Khurasani who compiled all the reasons why the Taliban are the worst enemies of Islam, delegitimizing the group as it established its new government. In the subsequent months, nearly all ISKP publications addressed the so-called un-Islamic character of the Taliban government, calling them names, such as "polytheists," Deobandi/Hanafi supremacists, secularists and democratic, and the Khawarij (ostracized from Islam) of the time. In its publications, ISKP criticizes the Taliban for being "guards paid by the U.S." and implementing democracy, lashing out both against the Taliban for their international diplomatic visits as well as other countries for having relations with the Taliban. Even accepting foreign aid is a controversial aspect for ISKP, as the group recently harshly condemned the Taliban for collaborating with international organizations like USAID and the International Committee of the Red Cross (ICRC) and regional powers, such as Iran, Uzbekistan, Pakistan, Russia, China, and Pakistan. 
Indeed, the majority of ISKP publications now criticize the Taliban for its foreign relations and attempts to fit in with the international community. Pakistan is one of the most targeted, as the group accuses Islamabad of betraying jihadist groups in the region by handing militants over to the United States. It is also regarded as the master of the Taliban, who follow a "Pakistani Islam" and "ISI orders" (referring to Pakistan's secret services agency, Inter-Services Intelligence). At the start of this year, Al-Azaim Foundation published a video that addressed the tribal areas of Pakistan and Balochistan, asking its people to reject the Taliban and Islamabad and join ISKP.

Moreover, ISKP accuses the Taliban of being controlled by and selling out to what it perceives as the great power enemies of Islam, namely China, Russia, and the United States. For instance, it has become the most hawkish anti-China Islamic State branch and has ramped up its criticism of Taliban-Beijing relations. There was a perceptible increase in anti-China sentiments and rhetoric emanating from ISKP-supporting outlets such as Khalid Media, Khurasan Wilayah News, and Al Millat Media in August 2021 as the Taliban were in the process of taking back control of Afghanistan. Al-Azaim has since continued developing and amplifying narratives impugning the Taliban on this front, more recently accusing them of "befriending … China, the murderers of Uyghur Muslims" and, in another instance, promising that "soon the Islamic State's warriors will attack the modern cities of China to avenge the Uyghur Muslims." 
Iran and Anti-Shia Activity
The propaganda campaign against the Shias is typical of the Islamic State's sectarian character, but ISKP has interlinked the fight against Shias to their competition with the Taliban as well as their feud with Iran. The group conducted several attacks against Shias after the Taliban took power, not only in Afghanistan but also in Pakistan. All these operations were praised both in their local outlets as well as in IS main media channels, even arguing that their campaign against Shias is not sectarian since they do not consider them Muslims. ISKP issued a fatwa granting it permission to target places of worship of Shias, other Islamic sects, and non-Muslim minorities.
ISKP perceives the Taliban and the Shias as working together, stating the former are protecting and empowering the latter, often highlighting the Taliban's appointment of a Shia Hazara as governor of Sar-i-Pul (recently killed by the Taliban for rebellion, though). At the same time, ISKP accuses the Taliban of killing innocent Salafis, as in the case of Salafi scholars Obaidullah Mutawakkil, Mustafa Darwishzadeh, and Sardar Wali, pointing to their assassinations as evidence that the Taliban prefer Shias over fellow Sunnis. ISKP's rhetoric also tends to link domestic Shia communities to the group's declared foreign enemy, Iran.
Propaganda against Iran has been continuous since the inception of ISKP, as they accuse the Iranian government of apostasy and being the masters of al-Qaida. A past publication by ISKP against Pakistan argued that Iran is the second greatest enemy of Islam (after the Kingdom of Saudi Arabia and before Pakistan), while other books assert Iran and Russia jointly crushed the Islamic State both in Syria and Iraq and in Afghanistan through the Taliban. The prominent Pashto language Khurasan Ghag magazine has frequently featured articles against Shias and also Iran. The fourth and the sixth issues presented a Pashto translation of an article in the sixth issue of the IS English magazine Dabiq on the presence of al-Qaida in Waziristan, which criticized al-Qaida for being too soft regarding Iran and Shias. The two Pashto translations depict former al-Qaida leader al-Zawahiri in front of an Iranian flag and near Iran's Supreme Leader Ali Khamenei. Moreover, the third and seventh issues are extremely sectarian against Shia Hazaras, Iran, and the Taliban, depicting a broader alliance against ISKP in the region, celebrating recent attacks which claimed a hundred casualties.

ISKP's interest in spreading its sectarian propaganda among Sunni Farsi-speaking communities is demonstrated through the translation of the third issue of Khurasan Ghag – Sadae Khorasan – into Farsi. At the same time, at an unofficial level, ISKP-linked Farsi channels daily share anti-Iran propaganda both against Shias as well as Sunni scholars who support the Iranian regime within Iran. In a recent Voice of Khurasan magazine issue, ISKP threatened attacks inside Iran, and in their Eid message, called upon supporters to commit violence in the country. 
South Asia-Targeted Propaganda

The same hatred harbored for Shias is extended toward other minorities; in particular, the Sikh community – commonly referred to as Hindu-Sikh by ISKP propaganda – has been frequently targeted both in Afghanistan and Pakistan. Rhetorically, ISKP has denied both Shias and Hindus-Sikhs the status of dhimmi, a protected minority in a Muslim country; thus according to ISKP they should be systematically targeted.
As part of its sectarian campaign, ISKP recently conducted a devastating attack against a Sikh Gurdwara in Kabul. The attack came alongside a new wave of propaganda lashing out against Hindus and India, which was sparked by Bharatiya Janata Party (BJP) national spokesman Nupur Sharma's offensive remarks about the Prophet, upon which ISKP immediately capitalized. The group quickly published a book that included calls for attacks in India, urging Indian Muslims to join the ranks of the Islamic State Hind Province (ISHP), the local IS chapter. Al-Azaim Foundation also issued a video promising revenge against the Taliban and Sikhs in Afghanistan, featuring pictures of past attacks in Afghanistan, including the militant who stormed the Sikh Gurdwara in Kabul in 2020, Abu Khaled al-Hindi. Both ISKP magazines, Khurasan Ghag and Voice of Khurasan, exploited the event and threatened to carry out more attacks in retaliation, accusing the Taliban of caring more for international recognition and foreign aid instead of religion.

Ultimately, in reprisal, the group conducted the Kabul Gurdwara attack. ISKP celebrated the operation by releasing pamphlets, audio, and articles, continuing issuing publications against India-Taliban relations and Hindus. For weeks after the operation, supporters continued to share messages celebrating Abu Muhammad al-Tajiki, the attacker.
The attack claimed by ISKP, and the subsequent propaganda efforts testify to the group's ambitions to be the sole transnational jihadi actor in the region. These efforts are at least partially aimed as siphoning potentially disgruntled militants from other organizations who are imbued with sectarian sentiments. Considering the recent developments in the wider Afghanistan-Pakistan region – namely the difficult transition of the Taliban from a jihadi movement to a government and the Islamabad-TTP peace talks – the South Asian region offers ISKP an excellent opportunity for absorbing new militants.

Since last year, the group started spreading its media content in regional languages, particularly highlighting its interest in the Indian pool of potential recruits through the translation of contents into Indian languages, such as with the publication of a book in Malayalam – which is mainly spoken in the Indian state of Kerala – on how to practice jihad. At the same time, the English language magazine Voice of Khurasan published the biographies of Indian militants from Kerala who joined ISKP, Najeeb al-Hindi, and the Islamic State in Libya, like Abu Bakr al-Hindi. It also mentions that Abdur Rahman Logari – the suicide attacker who stormed Kabul International Airport – had travelled to New Delhi in 2017 to carry out a suicide attack; however, he was arrested by Indian authorities in the capital and subsequently extradited to Afghanistan before he could stage the attack. Khurasan Ghag magazine, too, shared the story of one of the Indian militants who participated in the August 2020 Jalalabad prison break operation staged by ISKP. 
Central Asia-Targeted Propaganda

ISKP militants fired rockets from Afghanistan into Uzbekistan in April and Tajikistan in May, marking a real-world escalation of their hostile Central Asia-directed propaganda during prior months. Since the Taliban took power, ISKP has intensified its outreach campaign to speakers of Central Asian languages and ramped up its recruitment efforts targeting said communities. To broaden its appeal, the group has produced original propaganda in Tajik and Uzbek while also translating official ISKP and IS materials into these languages. Recently, ISKP has even introduced Al-Azaim Tajiki, a new Tajik language wing of its official propaganda apparatus. Another group, Xuroson Ovozi, produces Uzbek language media content and actively recruits Central Asians to join ISKP.

In addition, ISKP offers Central Asian supporters an opportunity to take up arms for the Islamic State cause and fight against the Taliban, which is accused of being a Pashtun-centric organization that oppresses and even inflicts violence against ethnic Tajiks and Uzbeks. To galvanize sympathizers from these communities, ISKP propaganda increasingly emphasizes the Taliban's friendly relations with the "tyrannical regimes" of Central Asia. Conversely, ISKP presents itself as a vehicle to smash the arbitrarily drawn Central Asian state borders and topple the region's "tyrants" to ultimately raise the black flag and establish an adjacent IS province of Transoxiana.

ISKP has been attracting Central Asian foreign fighters for quite some time. In 2015, a faction of the Islamic Movement of Uzbekistan (IMU) was subsumed into the Islamic State when the group's leader Usman Ghazi pledged allegiance to then-caliph Abu Bakr al-Baghdadi.

Central Asia has also been used as a waypoint for ISKP recruits to reach Afghanistan. In the autumn of 2021, a British citizen and another European were arrested by the Taliban following a tip from the Uzbek government. The two were in possession of more than 10,000 pound sterling in cash, night-vision goggles, and military fatigues. Two French nationals reportedly went through Central Asia to join IS in Afghanistan a few years ago, and another was caught by Tajik authorities in 2017.

Recently, ISKP's Tajik networks have called upon sympathizers from diaspora communities in the U.S., Russia, and Europe to join IS in Afghanistan and Pakistan and have circulated a book instructing followers to attack certain religious sects. ISKP is active in the northern Afghan provinces and is interlinked with financing networks that run through Afghanistan, Tajikistan, Russia, and Syria.

Additionally, there is a precedent of ISKP networks directing members of Central Asian diaspora communities to conduct attacks abroad. In early 2020, for example, five Tajik nationals were arrested in Germany for plotting acts of terrorist violence.

International Messaging

One of the clearest signs of ISKP's expanded international outreach campaign was the introduction and marked increase in English language propaganda. The premier issue of Voice of Khurasan magazine was published in late January 2022 and days later, an official book was released in English by Al-Azaim Foundation for Media Production. ISKP has begun publishing books, magazines, print statements, and video translations in English to globalize its local and regional narratives.

ISKP's designated branch media organ, Al-Azaim, has been central to the group's revamped media and communications strategy. The outlet emerged from an ecosystem of competing but aligned pro-IS propaganda groups and became the primary media wing for the development and dissemination of ISKP messaging. It has been thoroughly weaponized and deployed to advance ISKP's media warfare strategy, ramping up threats to a lengthened list of countries and declared enemies.

Al-Azaim began with a very limited scope and ostensibly confined its focus to religious issues but has evolved to become a multifaceted and robust outlet covering a broad suite of religious, social, and military issues of both regional and global nature. Al-Azaim now produces materials in at least Pashto, Dari, Arabic, Urdu, Farsi, Uzbek, Tajik, Hindi, Malayalam, Russian, English, and occasionally Uyghur. Further, Al-Azaim uses various platforms such as Telegram, Facebook, TikTok, Hoop, Element, Archive.org, and more. It has also become the entity that provides materials in the most languages to I'lam Foundation, the rising pro-Islamic State archive and translation platform, which has surface-level web addresses and is available on the Dark Web. Pro-ISKP groups such as Al-Fursan Media have also helped with the linguistic diversification drive through crowd-sourcing efforts to attract volunteers to translate materials into Balochi, Talyshi, and Turkmen.

Regional Threat

Since the Taliban took power in August 2021, ISKP has pushed toward greater regionalization and internationalization. This is reflected in their media outreach, intensified bellicosity against neighboring states, and expanded kinetic operational range against countries in the area.

ISKP's marked international expansion of its propaganda outreach, recruitment, and fundraising efforts, as well as its targeting of an increased number of countries with threats and attacks, may have significant security implications for countries surrounding the Afghanistan-Pakistan region and possibly beyond.

ISKP may target the nationals and interests of its foreign enemies inside the region, launch attacks against neighboring states from Afghan soil, conduct cross-border incursions, and direct and incite attacks abroad.

There is precedent as ISKP reportedly tried to bomb the Turkmenistan embassy in August 2021, fired rockets at Uzbekistan in April and Tajikistan in May, clashed with border guards when trying to cross from Afghanistan into Central Asia in 2019, and was linked to a Tajik cell plotting attacks in Germany in 2019.

ISKP looks to create a chilling effect for foreign investment and development projects that would strengthen the Taliban's position and is acting to undermine regional confidence in the Islamic Emirate of Afghanistan's ability to provide security. Ultimately, the threats to states neighboring Afghanistan and foreign nationals in the region will depend on ISKP's strategic priorities, intent, capacities, and the ability of various regional actors to disrupt and prevent Islamic State operations.