China Scores Biggest Military Export Order for Killer Drones
Beijing allegedly secured an international contract for its strike-capable Wing Loong II drone.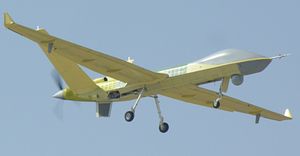 In a major boost to China's arms exporting industry, state-owned Aviation Industry Corporation of China (AVIC) has purportedly won its biggest oversea purchase order for the next-generation medium-altitude long-endurance and strike-capable Wing Loong II unnamed aerial vehicle (UAV), Chinese state media reported on February 28.
According to Xinhua news agency, an undisclosed buyer placed the order before the Wing Loong II completed its first maiden flight on February 27. Neither the size of the order nor any other additional details have been publicly revealed at this stage.
The test flight of the new drone took place in Western China and lasted for 31 minutes. "Its flight marks China's new generation reconnaissance and strike UAS [unmanned aircraft system]. Following the United States, China becomes another country capable of developing such new generation large reconnaissance and strike UAS," Li Yidong, the chief designer of the Wing-Loong drone series, told Xinhua.
China's latest strike-capable drone has been designed and developed by the Chengdu Aircraft Design and Research Institute, a subsidiary of AVIC. With an overall length of 11 meters, a wingspan of 20.5 meters, and a height of 4.1 meters, the Wing Loong II UAV was first publicly revealed at the Airshow China 2016 in November 2016. At the airshow, China Aerospace Science and Technology Corporation's (CASC) for the first time publicly displayed a prototype of  its latest and most capable attack and reconnaissance UAV, the Caihong 5 (CH-5), or Rainbow 5.
The Wing Loong II is an upgraded variant of the Wing Loong UAV first introduced into service with the People's Liberation Army Air Force in 2008. An export version of the drone has been sold to a number of international customers including Egypt, Saudi Arabia, the United Arab Emirates, Nigeria, Uzbekistan and Kazakhstan. As I reported last year, Pakistan has also expressed interested in the weapon system.  In terms of size and payload, the original Wing Loong combat drone is comparable to the General Atomics MQ-1 Predator, which is slated to be retired by the U.S. Air Force by the end of the year.
Its biggest competitor on the international market is another Chinese-made drone with similar technical characteristics and capabilities, the CASC's CH-4. Both the Wing Loong II and CH-4 can carry a host of different missiles and bombs including Lan Jian 7 (Blue Arrow 7) laser-guided air-to-surface missiles, TG100 laser/INS/GPS-guided bombs, and the AR-1/HJ-10 anti-tank missile — the Chinese equivalent to the American-made Hellfire missile.  Yet, whereas the CH-4 can carry a payload of up to 350 kilograms, the Wing Loong II purportedly has external carriage weight of up to 480 kilograms.
"It can rapidly identify then strike against time-critical and fleeting targets. The capability is not possessed by previous unmanned aircraft, even manned aircraft," Li said. "Taking a look at the UAS in same class around the world, the Wing-Loong II is equivalent to the U.S. MQ-9 Reaper, and ranks in the first level on the UAS list."
However, it has been reported that the Wing Loong UAV series (along with other Chinese combat drones) have much weaker engines than either the U.S.-made Predator or Reaper resulting in more limited range and speed in comparison to U.S. models. Chinese drones also lack in detection capabilities and overall endurance when compared to Western models. What makes them interesting to foreign customers, however, is the relatively small price tag (estimated to be around $1-2 million per model) in comparison to, for example, the MQ-9 Reaper's $30 million.