China's Tourist Boycott Backfires on South Korea's Jeju Island
For some Koreans, apparently the dearth of Chinese tourists is a major draw. But other industries aren't so lucky.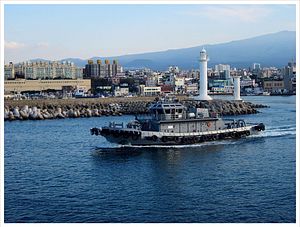 At the beginning of March, the Chinese government stepped up its objections to the deployment of the Terminal High Altitude Area Defense (THAAD) missile defense system in South Korea, allegedly telling domestic travel agencies to stop selling tour packages to Korea. The announcement shook South Korea's tourism and retail industries, which rely heavily on customers from China.
But Jeju Island, one of South Korea's most iconic and popular tourist destinations, has actually seen an increase in tourism since the ban took effect.
According to preliminary numbers from the Jeju Tourism Association, the number of Chinese tourists has indeed dropped following the ban announcement. The association said that from March 15-18, the number of Chinese tourists arriving on the island dropped by 15,577, a 46 percent decline compared to the same time last year. However, the total number of tourists to Jeju actually increased over that period, thanks to a rush of domestic tourists taking advantage of the empty island.
This influx of Koreans heading down to the island for vacation could be in fact due to the decrease in Chinese visitors, who have gotten a bad rap in Korea lately for disruptive behavior. Recent incidents involving Chinese tourists in Jeju have gone viral in Korea, including an airport left completely covered in trash and an altercation where eight Chinese tourists were arrested for severely beating four people at a restaurant after the owner told them they couldn't bring in outside alcohol.
The number of crimes committed by foreigners on the island has indeed increased in recent years, rising from 121 in 2011 to 393 in 2015. This increase could be attributable in part to the huge increase in foreigners visiting the island – foreign tourists in Jeju jumped from around 1 million in 2011 to 2.6 million in 2015. But many Korean netizens point to the Chinese – who make up 85 percent of foreign tourists on Jeju – to explain the increase in incidents on the island. These tourists have earned a reputation for rowdy behavior to the point where, after the ban was reported, some Korean Twitter users created parody tourism ads encouraging people to visit the newly "Chinese-free" Korea.
Chinese visitors are key to the tourism industry in Korea — the Chinese make up 47 percent of all tourist entries there. The prevalence of Chinese tourists has increased to the point where Korean media has even created a specific word for them – 유커 (yoo-kuh). The term, which was adapted from the Chinese word for tourists, does not have an inherently negative meaning. But as more articles come out about incidents involving these tourists, it may begin to become associated with this type of negative behavior.
While the early numbers suggest that Jeju may be able to survive the drop in Chinese tourists thanks to domestic travelers, other industries may not be so lucky. One of the most vulnerable areas is the duty-free industry, which relies heavily on the Chinese – around 70 percent of duty free sales in Korea come from Chinese visitors. At Lotte Duty Free, which may be particularly targeted because of the parent company's role in the land-swap agreement to provide space for the THAAD battery, weekend sales dropped more than 30 percent year-on-year after the ban took effect.
In a report released just after the travel ban was announced, the Korea Development Bank estimated that Korea's tourism and duty-free sectors could see up to an 80 percent decrease in sales, a loss of up to $11.7 billion, if China maintains its crackdown. Further, they said, Korean businesses as a whole stand to lose up to $20 billion if the situation worsens.
Meanwhile, the Korean government is eagerly reaching out to new markets to make up for these possible losses. An official from the Ministry of Culture, Sports and Tourism told the Chosun Ilbo that they are diverting their advertising budget from China and focusing on Southeast Asia and Japan. The Seoul city government is following suit, saying they will add signposts in Bahasa Indonesia, Malaysian, Thai, and Vietnamese in major tourist areas.
On the private sector side, a duty free shop in Gangnam announced that they had signed an agreement with two Muslim travel agencies, and the Lotte World shopping mall said they had invited 10 "power bloggers" from Thailand to tour the new facility and, hopefully, advertise the experience to their followers.
With the Chinese unlikely to back down from their stance on THAAD, the tourism ban is apt to continue. Although domestic travel can bolster the industry for a time, Korea will need to continue to look for these outside markets to maintain the growth that its tourism industry has enjoyed over the past decade.
Jenna Gibson is the Director of Communications at The Korea Economic Institute of America. She runs KEI's media relations and outreach along with managing KEI's online presence. Follow Jenna on Twitter at @jennargibson.