South Korea's THAAD Dilemma Continues
"Neither suspending nor continuing the deployment of THAAD is a palatable choice for South Korea."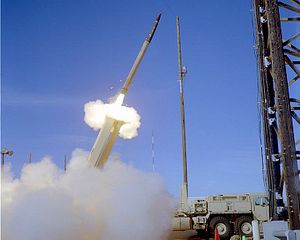 Since South Korea made the announcement on July 8, 2016 that it would deploy the Terminal High Altitude Area Defense (THAAD) system, despite China's vehement opposition, several critics in China have advocated retaliation against South Korea. One analyst suggested that China should suspend cooperation with South Korea on North Korea issues. Another scholar recommended that China should impede South Korea's participation in Chinese-led regional economic architectures, such as the Belt and Road Initiative. Some have advocated suspending municipal-level friendly exchanges and sanctioning specific firms that have been related to the deployment of THAAD.
These suggestions for retaliatory measures reflect not only China's sensitivity toward the THAAD system's expansive radar, but also China's strategic concern that THAAD deployment will fully integrate South Korea into U.S. security arrangements in Northeast Asia. Indeed, following these unofficial commentaries, when asked how China will respond to South Korea's deployment of THAAD, spokespeople from both the Ministry of National Defense and Ministry of Foreign Affairs indicated that China will "take all necessary measures to safeguard its interests."
As South Korea proceeded to deploy the THAAD system, China has enacted a series of retaliatory measures at the diplomatic level to express its dissatisfaction. China's Ministry of National Defense suspended its high-level defense dialogue with South Korea and postponed the South Korean defense minister's visit to China. Some have interpreted the People's Liberation Army Navy's exercise in the Yellow Sea earlier this September as a warning against South Korea. The Chinese authorities also denied the South Korean ambassador to China the opportunity to give a congratulatory speech at the opening ceremony of a Hyundai Motors factory in Hebei at the last minute. In addition, the Chinese government did not send a high level official as a main guest to attend the South Korean embassy's annual National Day reception this year. While some may dismiss these diplomatic breaches of protocol as petty reactions to South Korea's deployment of THAAD, these actions could be harbingers of worse retaliation to come.
In addition to diplomatic pressures, China's economic retaliation against South Korea has been especially harsh. China's State Administration of Press, Publications, Radio, Film, and Television has reportedly banned the broadcast of Korean dramas and television shows involving Korean celebrities. Jingdong, China's second largest online shopping mall, sent out instructions to avoid using Korean celebrities as models for advertisement. South Korea's tourism industry also took a major hit as China's National Tourism Administration reportedly issued instructions to reduce the number of Chinese tourists to South Korea by 20 percent. Several reports also point to the enhancement of anti-dumping regulations and border control for South Korean products, and higher standards for South Korea goods such as cosmetics. Recently, Chinese authorities also initiated a regulatory investigation against South Korea's Lotte Corporation, which played an instrumental role in providing the site for THAAD deployment in South Korea. While China's Ministry of Foreign Affairs has denied any Chinese government involvement in these measures and most of the media reports are allegations, South Korea's business community acutely senses the hostile business climate in China and perceives these measures as retaliation against THAAD deployment.
In spite of China's apparently growing retaliatory measures against South Korea, the ongoing political crisis in South Korea has rendered South Korea powerless to respond to these Chinese measures and only added uncertainty to the deployment of THAAD in South Korea. While U.S. officials indicated that President Park Geun-hye's political crisis will not affect deployment of THAAD, her unprecedented political scandal puts her diplomatic legacies in hot dispute. One of the demands of the unending protests outside the Blue House is for South Korea to suspend or even cancel the deployment of THAAD.
The leading contender for the presidency, Moon Jae-in, has echoed that demand while also calling for a reassessment of available diplomatic options for denuclearization of the Korean Peninsula. He also suggested that the deployment of THAAD is a significant decision comparable to a treaty and should be ratified by the National Assembly. Regardless of U.S. commitment and resolve on THAAD deployment, the issue will most likely undergo a renewed intense political debate in the upcoming South Korean presidential election.
Given China's retaliatory measures and the domestic upheaval over President Park and her legacy, the next administration in South Korea will have a chance to revisit its decision to deploy THAAD. The next administration, however, will continue to face an excruciating dilemma as well. If South Korea decides to revoke the THAAD decision, this will set a terrible precedent, which will cause China to believe that it can use its economic influence over South Korea to control Seoul's strategic agenda. Should South Korea decide to continue the deployment of THAAD, it must be ready for continued and even intensified economic and diplomatic retaliation from China. In addition, South Korea will have to put in a considerable amount of time and effort to restore Sino-South Korean relations, which have been damaged by the THAAD deployment.
Neither suspending nor continuing the deployment of THAAD is a palatable choice for the next administration in South Korea. The next administration, however, could find a compromise with China and the United States. The next administration could temporarily halt the deployment of THAAD and propose a trilateral dialogue with China and the U.S. on THAAD deployment in order to seek ways to address China's concerns. Some Chinese scholars have already proposed technical adjustments to THAAD's X-band radar system and changes in its operational protocol that could alleviate Chinese concerns. Given that China views the deployment of THAAD as a strategic and not a technical issue, it could easily reject proposals for a trilateral dialogue. But even so, South Korea's diplomatic initiative would be evidence of its sincere efforts to address China's position. Should China accept such a proposal, the new South Korean administration, the Trump administration, and Xi Jinping and the new Politburo after the 19th Chinese Communist Party Congress in fall 2017 may be able to find a meaningful way to enhance South Korea's security against North Korea without endangering China's strategic interests.
Benjamin Lee is a James C. Gaither Junior Fellow at the Carnegie Endowment for International Peace's Asia Program.