China's Urbancide in Tibet
China's urbanization policies have a particularly telling impact on Tibet.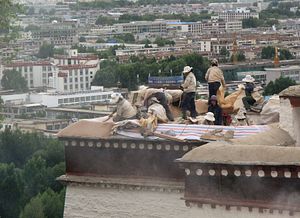 The State Council of China unveiled the National New Type Urbanization Plan (NUP) in 2014 to increase the percentage of urban residents in the total population of China from 52.6 percent in 2012 to 60 percent by 2020. The ratio of citizens with urban hukou (resident permit) will increase 35.3 percent to approximately 45 percent. After many decades of deliberations and halt in reforms to the strict urban hukou system, the Chinese government has finally loosened procedures for rural migrants to transfer their household registrations to urban areas.
This policy has a unique impact on Tibet, where urbanization has become a major burden. Ethnically Chinese migrants coming from China's densely populated coastal provinces have started moving to Tibet and the reformed hukou system has made it easier to transfer their household registration in Tibet.
By "urbancide," I refer to the extinguishing of Tibetan culture and identity through an influx of millions of Chinese migrants in Tibet. At the same time, Tibetans in rural regions are made landless through expropriation of their land. As suggested by Emily T. Yeh in her book, Taming Tibet, this is part of China's state territorialization of Tibet.
The policy is already taking effect, as seen in the growth of Tibetan cities. As of 2016, Lhasa, Shigatse, Lhoka, Nyingtri, Tsoshar, Siling, and Chamdo were recognized as prefecture-level cities in Tibet. According to recent reports from China, two more will soon join that list: Nagchu and Ngari are to be upgraded from county-level cities to prefecture-level cities.
Hukou Reform in Tibet: An Influx of Migrants
Apart from government officials and military personnel who are transferred to Tibet, there has been a huge influx of ethnically Chinese migrants due to highly subsidized aid and investment in infrastructural development in Tibet. Chinese migrants, many of whom are facing a lack of employment opportunities in their home regions, are attracted to jobs and opportunities to start a business in Tibet. The population transfer from China to Tibet is following the same policy implemented in China-occupied Mongolia (today's Inner Mongolia) during the Qing Dynasty, where Mongolians were already a minority in the end of the 19th century. The agrarian focus of such policies meant that Chinese migrants settled in the countryside and they became dominant in rural as well as urban populations. The policy has continued through modern times: the number of cities in Inner Mongolia has increased from 193 in 1979 to 668 in 1997.
The Western Region Development (WRD) Office of the State Council has suggested that no government authorities should collect urban population surcharge fees or similar fees from people moving their hukous to the Western Region. This suggestion has further incentivized Chinese migrants to settle in Tibetan cities. In the coming decades, Tibet could witness a population growth of millions of Chinese migrants in various cities.
Rural Tibetans' (Forced) Migration to Cities and Towns
Urbanization in Tibet has also encouraged many Tibetans living in rural areas to take up non-agricultural professions in Tibetan cities. Their ancestral lands are sold to land developers to build industries to attract migrants entering Tibet. As Straits Times reported recently, "Out of China's 31 provinces, regions, and municipalities, only the Tibet Autonomous Region (TAR) still maintains a distinction between rural and urban residents." Because of the rural/urban classification scheme, Chinese migrants coming from outside Tibet are particularly encouraged to resettle in Tibetan cities, where they will have access to social welfare schemes.
In addition to natural migration patterns, a greater number of Tibetans from rural areas are being moved to towns through the government's forced resettlement policy. Pastoral Tibetans who live scattered with their herds in mountains and valleys are moved into compact and fenced towns. This allows the government to control the movement of these rural residents in the name of social stability. As Sophie Richardson, China director at the Human Rights Watch, pointed out, "Tibetans have no say in the design of [relocation] policies that are radically altering their way of life, and – in an already highly repressive context – no ways to challenge them." Rights violations during this process range from lack of consultation to failure to provide adequate compensation, both of which are required under international law for evictions to be legitimate. After the move, the sudden shift from nomadic life to cities has increased unemployment in Tibet.
A field study conducted by Tibetan researcher Gongbo Tashi (aka Gonpo Tashi) and Marc Foggin in 2009 shows the empirical impact of ecological resettlement in Lhoko prefecture. The researchers interviewed more than 300 individuals in this survey. They found that forced resettlement deprived the residents of Dekyi village of their livestock, which was the main source of their livelihood. The new town where the villagers were resettled provided insufficient space to rear livestock. New farm training is supposed to be given to the resettled Tibetans to help them begin their new lives but most of the families complain about not receiving any of the training promised by the government before resettlement. As a result, the size of their livestock decreased dramatically, thereby making previously self-sufficient rural Tibetans heavily dependent on government subsidies. The table below indicates the shrinking size of livestock populations in Dekyi village after the resettlement.

Another experience of residents in two resettlements in Qinghai province from 2005-2009 could be taken as a case study. Residents were interviewed by a Chinese researcher, Xu Jun, with a group of other researchers. The group spent one month in each year in Yushul and Na-Gormo prefecture in Amdo. In his study of these prefectures, where resettlement took place, Xu concluded that resettled nomads faced an intense sense of displacement: "We saw firsthand their struggle to make a new life as they resettle in a new place, puzzling over their future. Some are disappointed. Some are shameful, as they talked about their lives and having to rely on their relatives who remained in grassland. Some have to return to grassland to do some odd job to earn a living for their children." This five-year investigation showed that most of those resettled in or near cities during the period of the San Jiang Yun protection and rebuilding program have not been able to make a living without access to grassland resources. On the other hand, no clear data exists to prove that such immigration had been helpful to the grassland ecosystem, which is the stated motive behind the relocations.
Urbanization and Social Stability 
In cities, unlike in remote areas of Tibet, people's movements and contacts can be monitored through a grid system. China carried out its first urban grid management experiment in Dongcheng district in Beijing in October 2004. Down the road, if China remains devoid of real democratic checks and balances, there is little doubt that the continued development of grid management will only lead to a model for a modern police state in Tibet. This in part lends confidence to President Xi Jinping and Premier Li Keqiang's urbanization plan.
Human Rights Watch released a comprehensive report in 2013 on how the urban grid management system in Lhasa, the capital of Tibet, has proven to be efficient in monitoring the movement of residents. In this new grassroots-level of urban administration, each "neighborhood" or "community" in towns will be divided into three or more grid units. At least eight pilot units were set up in Lhasa in April 2012, and in September they were declared to have "achieved notable results." In October of the same year, the regional party secretary stated that because "the Lhasa practice has fully proved the effectiveness of implementing grid management to strengthen and innovate social management [i.e., controlling mass protests]," the system should be made universal in "the towns, rural areas, and temples" of the TAR.
Land Expropriation
Nearby towns and remote villages in Tibet are now connected to extended cities. Land originally used for cultivation is increasingly seeing construction of vast infrastructure projects as well as residential and commercial buildings. According to the World Bank, rural land requisition and conversion for industrial use in China has been particularly inefficient because the decisions have been largely driven by administrative decisions rather than market demand.
China's urbanization has consumed significant land resources as urban boundaries are continuously expanding outward and the territorial jurisdictions of cities are increasing, primarily through the expropriation of surrounding rural land and its integration into urban areas. As indicated in the graph below, the demand for urban requisition of land has soared over the past few years in China due to the urbanization project.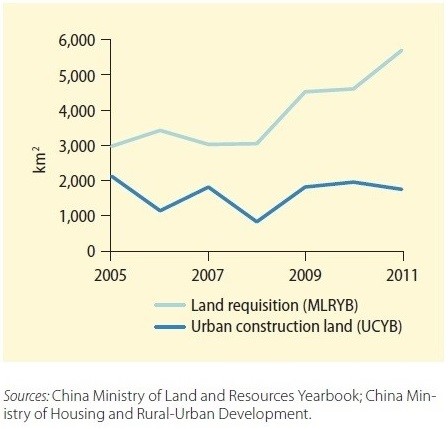 Between 2001 and 2011, the amount of land in China classified as urban construction land had increased by 17,600 square kilometers (sq km), reaching a total area of 41,805 sq km in 2011, an increase of 58 percent over a decade. About 90 percent of demand for urban land was met through the expropriation of rural land, while only 10 percent was supplied from the existing stock of undeveloped urban construction land. Following this trend, as Tibetan cities grow, a sizable amount of rural land in Tibet will be expropriated by the Chinese government.
The government and, to an extent, the academic community in China, have largely overlooked the implication of rapid urbanization for millions of farmers or villagers who have been made landless (legally or illegally) over the years. According to an official statistic, three million people become landless farmers every year in China. The total number is expected to double in 2020 because of the current pace of urbanization.
The growth of cities has another consequence. In her book Taming Tibet, Emily T. Yeh stated that according to China's Law of Regional National Autonomy (LRNA), when regions, prefectures, and counties are upgraded to cities, the autonomous status of these areas will be lost. Uradyn Bulag, an anthropologist who researches Inner Mongolia, advanced the argument that the benefits of an administrative promotion from county to city, particularly for local leaders, "checkmates ethnic sensitivity" about the loss of ethnic autonomous status.
Conclusion
China's urbanization in Tibet (and across the country) is aimed as a solution to China's slowing economy. The policy is intended to bring millions of Chinese migrant workers to settle and do business in Tibet. As part of this process, Tibet's cities have gone through demographic shifts, resulting in the strong influence of Chinese culture. The projected rate of 30 percent urbanization in Tibet in the coming few decades would mean that all cities in Tibet will be dominated by ethnic Chinese. As a result, Tibetans lose the language rights associated with autonomous status. Meanwhile, mobility and communication for urban residents is monitored strictly whenever the government deems it necessary.
To feed the growth of cities, land, which is the only asset that many rural Tibetans inherit from their ancestors, is bought by state-owned enterprises (SOEs) and foreign companies. Tibetans from rural areas who lose their land must look for unskilled, usually temporary work. If the current rate of urban land requisition by the Chinese government continues, the ownership of land in many areas in Tibet will be transferred to Chinese migrants, businesses, and the state.
In response to these changes, Tibetan resistance will grow stronger. Urbanization in Tibet, with the resulting damage to traditional ways of life, cannot win the hearts of Tibetans as explicitly called for by Xi Jinping at the last Work Forum held in Tibet. It has only created more resentment among Tibetans.
Dr. Rinzin Dorjee is a Research Fellow at the Tibet Policy Institute, a think tank affiliated with the Central Tibetan Administration in Dharamshala, India.