Exploring the Possibility of Defense Relations Between Iran and Japan
Military cooperation might seem like a faraway dream, but there are good reasons for both sides to explore options.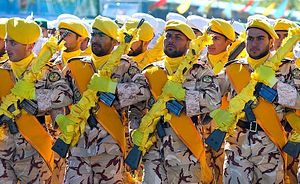 A gradual shift in Iran's foreign policy has been underway since President Hassan Rouhani came to office in 2013. There is no question that over the last four years and especially after the agreement with the P5+1+EU on the Joint Comprehensive Plan of Action (JCPOA), Iran's regional position has strengthened. But one of Iran's foreign policy problems is a lack of proper attention to the countries of East Asia.
Japan is one of the major economic poles in the modern world whose political influence and defense power have been a focus of constant attention for military and academic circles for a number of years. The reality, however, is that we know very little about position of this country in global equations. For example, we do not yet know much about Japan's approach to Iran. Most analysts admit that relations between Iran and China are actually tripartite, given the influence the United States exerts; the same is true on an even greater scale for Iran's relations with Japan, a U.S. ally. However, recent uncertainty in Japan over continued U.S. commitment to the alliance could pave the way for Tokyo to adopt a more independent foreign policy.
This uncertainty could be taken advantage of to extend relations between Iran and Japan to areas beyond energy and trade. Without a doubt, one area of interest to Iran is defense technology and cooperation. However, there is also no doubt that further expansion and strengthening of political and defense ties between Iran and Japan is generally a function of a favorable international atmosphere and the role played by the United States.
Particularly as China continues to rise, Tokyo can be only hopeful about preserving its strategic interests through its alliance with Washington. Therefore, this alliance will sometimes force Japan to accept certain policies that are at times at loggerheads with the country's main policies. Japanese officials are currently following the U.S. policy lead even more ardently than European countries. Despite this fact, the conditions created following the conclusion of the JCPOA have raised optimism and new hopes among Iranian officials.
The first necessary condition for organizing the two countries' defense relations is to provide grounds for development of defense ties at the bilateral or regional level. The rationale for doing so should be found in the large-scale policies of Japan, the special nature of Iran's policies in the region and the world, as well as the effect and impact of the United States on regional equations. As a secondary concern, Japanese Prime Minister Shinzo Abe expects Iran to cut military ties with North Korea and refrain from purchasing weapons from that country. Abe talked with Iran's Rouhani about this issue during a meeting in September 2016 on the sidelines of the United Nations General Assembly in New York.
Clearly Iran and Japan have certain differences in their perspectives on foreign relations, but they can still proceed with cooperation in certain fields. China has shared, though vague, interests with Iran regarding the construction of the new Silk Road, but Beijing also became a natural rival for Iran by championing the development of Gwadar port in Pakistan. On the other hand, by showing interest in developing Iran's Chabahar port, which is a few kilometers away from Gwadar, India and Japan have become natural allies of Iran in this special case. It follows that the area of marine trade is one of the most important fields where Iran and Japan can boost their relationship. Such cooperation can be expanded in the area of shipping and fighting piracy.
At the present time, Iran is the most secure country in West Asia and a good energy supply source.  On the other hand, Japan is the third consumer and importer of crude oil in the world, following the United States and China, and is also the biggest importer of liquefied natural gas (LNG). Due to its high energy demand, Japan is very interested in interacting with Iran in the field of oil and gas.
Iran can take advantage of Japan's energy demand to good effect. However, to achieve this goal Tehran will need to do away with the problem of uncertainty in its foreign policy. The longstanding hostility between Tehran and Washington and some other Western capitals has continuously sent the message to the rest of the world that Tehran lacks reliable options at the international level. Due to its isolation, Iran lacks the bargaining power that it would otherwise enjoy. China's surprising opposition to Iran's membership in the Shanghai Cooperation Organization (SCO) during the latest meeting of this regional body in Tashkent, the capital city of Uzbekistan, was a clear instance of this trend. Tokyo's unwillingness to boost Iran ties due to Tehran's increasing hostility toward the West, especially the United States, has deprived Iran of the possibility of increased cooperation with a powerful country in the field of defense technology.
Given the limitations that exist in the Iran-Japan relationship today, talking about establishing defense relations between the two countries is too simplistic. After all, no Japanese prime minister has even visited Iran since the Islamic Revolution. However, if the international atmosphere improves and allows for such a visit from Abe, an idea that was floated in 2016, the first steps will be the promotion of political relations and expansion of trade ties between the two countries. After that, Iran and Japan could form various working groups and launch a dialogue platform in order to regulate the two countries' legal, institutional, and functional mechanisms and make sure that the relationship will no longer be affected by a third country, like the United States.
If these initial steps are completed, it could pave the way for the Iranian navy's commander to invite his Japanese counterpart to pay a visit to Iran. Later steps could include conducting joint military missions and maneuvers to fight marine piracy and ensure security of energy transit lines through the Indian Ocean. In a best-case scenario, Iran might even be able to develop its naval military fleet with the help of Japan and further shore up its defense diplomacy.
Since about 80 percent of oil consumed in Japan passes through the Persian Gulf and the Strait of Hormuz, if the new Trump administration in the United States makes a decision to lower its presence in the Persian Gulf, Japan will not be willing for that void to be filled by China's naval fleet. China's navy has advanced as far as the Indian Ocean and the Mediterranean and has even embarked on establishing a naval base in Djibouti, stirring concern among Japanese officials. Iran might be a preferable alternative to China in Japan's strategic calculations.
Masoud Rezaei is a Visiting Research Fellow at the Institute for Middle East Strategic Studies in Tehran.