Japan at Odds With Iran's Plea for Stronger Economic and Political Alliance
Prime Minister Shinzo Abe is caught between feuding Iran and the United States.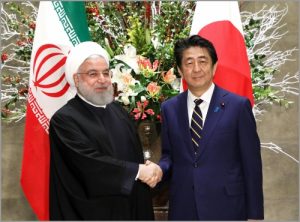 Over the weekend, Japan welcomed Iranian President Hassan Rouhani for the 11th Japan-Iran summit meeting aimed at boosting diplomatic and economic ties. The two-day visit to Japan was the first for an Iranian president since 2000.
The summit also celebrated the 90th anniversary of the start of diplomatic relations between the two countries. Japan and Iran agreed to maintain friendly ties, which Rouhani hopes to leverage in an effort to curtail crippling U.S-imposed economic sanctions.
As a longtime security ally to the United States, Japan has managed to maintain cordial ties with the Trump administration. Now Tokyo is sandwiched between Tehran and Washington's flaring tensions.
Iran has been appealing to its partners since the country plunged into economic recession following the United States' unilateral withdrawal from the 2015 Iran nuclear deal in May 2018. Trump criticized the deal as "one-sided" and imposed economic sanctions in an attempt to force Iran to renegotiate terms, sparking an ongoing bitter political war. In the past Rouhani has condemned the U.S.-imposed sanctions as "one-sided and irrational" and an act of "economic terrorism."
Rouhani's visit to Japan shows Iran is on a mission to resume trading crude oil with countries currently suspended from trade due to tightening U.S. sanctions. Rouhani is currently fishing around for economic opportunities to sell crude oil, tweeting on Friday that "we welcome any proposals to increase oil exports and trade."
Iran is said to depend on crude oil for 60 percent of its revenue. U.S. sanctions have reduced Iran's crude oil exports from approximately 2.6 million barrels a day to less than one-tenth of that in the month of June.
Resource-poor Japan, meanwhile, relies heavily on the Middle East for the import of crude oil but U.S. threats to impose sanctions against countries that purchase oil from Iran have forced Japan to cut back. Instead, Tokyo has turned its attention to securing the safe navigation of Japanese vessels in Middle Eastern waters. Abe's visit to Tehran in June for the 10th Japan-Iran summit — the first visit by a Japanese leader in 40 years — was unexpectedly rocked when a Japanese oil tanker was attacked in the Strait of Hormuz.
During the meeting Abe received Iran's blessing for their plan to deploy an anti-submarine patrol aircraft and destroyer to the waters off Oman and Yemen in an effort to "improve information gathering and ensure commercial shipping operations can be conducted safely."
Iranian Deputy Foreign Minister Abbas Araghchi, who accompanied Rouhani to Japan, stated that he hopes the Japanese government and businesses would resume buying Iranian oil as well as financial transactions. However, a senior Japanese official said the government is not able to go against U.S. sanctions out of fear of economic reprisals. As a result, "as far as we know no Japanese oil wholesalers have bought crude oil from Iran since May this year."
In the beginning of Abe's talk, he stated, "Japan will play its part as much as possible to ease tensions in the Middle East." But he also urged Iran to take constructive steps to bringing peace and stability and to fully implement the Iran nuclear deal. In response, Rouhani reiterated, "We hope the world including Japan will do everything to maintain the nuclear agreement."
In an effort to hold a politically neutral position in the Middle East, the Japanese government opted not to participate in the U.S.-led "Alliance for Voluntary Initiative" aimed at monitoring Iranian military forces. Instead the government choose to dispatch an "independent" Japanese Self-Defense Force unit to gather security information on the Middle East.
However, Araghchi said that while he understood Japan's initiative to contribute to peace and stability in the region and welcomed Japan's transparency, he stressed foreign interference was not the solution. "Foreign troops do not help peace," he declared.
Meanwhile in Europe, Rouhani's visit to Japan was criticized by a group of Iranian expats in Germany who held demonstrations outside the Japanese embassy in Berlin calling Rouhani a "dictator" and Abe "shameful" for meeting the Iranian president. Protests were organized by the Iran National Resistance Council, which demanded talks be cancelled due to human rights abuses against anti-government protesters taking place in Iran.