How Did Myanmar's Reforms Change Its Relations With China?
Public opinion in Myanmar has turned increasingly negative toward China.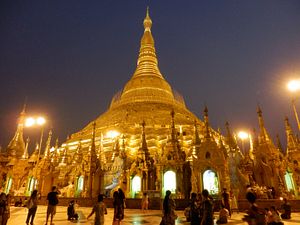 I first visited Myanmar (formerly known as Burma) in February 2013, two months after then-U.S. President Barack Obama's landmark visit to that country. One thing that has been inscribed in my fond memories of the visit is that many street vendors in Yangon (formerly Rangoon) were hawking T-shirts with Obama's headshot and a caption above reading "Burbama" (presumably a combination of Burma and Obama).
I saw quite a few pedestrians dressed in that T-shirt too. I surmised the former U.S. president's "charm offensive" was irresistible to the locals. From conversations with several vendors, I found out that on the day of Obama's arrival, about 100,000 Myanmar people lined up the road leading to the airport. No person, local or foreign, has ever received such an enthusiastic welcome from the Myanmar people, they told me.
When I arrived in Yangon four years ago, the country was still under military rule. Nevertheless, Aung San Suu Kyi, icon of the Myanmar people's struggle for freedom, had already been released from house arrest, and the National League for Democracy (NLD), an opposition party under her leadership, had just won an overwhelming majority of the seats in the 2012 by-election. Two years later, Obama would pay his second visit to Myanmar, this time to attend the summit of the member states of the Association of Southeast Asian Nations (ASEAN).
In late February of 2017, I landed again at Myanmar International Terminals Thilawa (MITT), located at the mouth of the Yangon River. The port looked nearly the same: a few ships with long cranes that were busy loading and unloading cargo, a depot about the size of a soccer field that was dotted with cars and trucks, and a golden pagoda in the far distance that glittered against the hazy sky. But I knew this Southeast Asian country is no longer the same country I visited in 2013. The biggest difference, of course, is that Suu Kyi is now the de facto leader of the new government established after NLD's landslide victory in the 2015 general election, the first truly competitive election Myanmar has seen since 1962.
Few observers were prepared for "the Burmese Spring," Myanmar's democratic transition since 2011. One explanation puts the spotlight on China, arguably the largest benefactor of the military regime during decades of Western sanctions. "China was the most important negative incentive that promoted the changes inside Myanmar," wrote one analyst. "For the Thein Sein government, the failure to reform will prolong Myanmar's international isolation and deepen its overdependence on China." Such an overdependence, according to this analyst, "gives China an asymmetrical leverage over Myanmar, putting it at a highly disadvantaged position." In addition to economic problems created by Chinese investment (e.g., reliance on extraction and damage to environment), the analyst claimed, "the unbalanced relationship forced Myanmar to reluctantly accept China's de facto interference on the border ethnic groups issue and agree to adjust its diplomatic positions for China on regional forums such as ASEAN."
This explanation is apparently supported by the sudden downturn in Myanmar's relations with China. Citing "the will of the people," that is, opposition by local residents, then-President Thein Sein announced in September 2011 the suspension of the $3.6 billion Myitsone hydropower project, in which a Chinese state-owned company has major stakes. As of now the project appears to be still on hold, though Chinese leaders reportedly made its resumption a top priority at their August 2016 meetings with Suu Kyi, who visited Beijing in her new capacity as state counselor of the newly elected government.
Some analysts suspected Washington was the real mover behind Thein Sein's decision. In their view, the chain of events — suspension of Myitsone in September, former Secretary of State Hillary Clinton's visit to Yangon in November, and Obama's visit in December 2012 — could not have happened by pure coincidence. The smoking gun came in the form of diplomatic cables released by WikilLeaks, which indicated that the U.S. embassy in Yangon had provided funding to groups opposed to the power project. Regardless who (or what) was actually responsible for the suspension of Myitsone, China-Myanmar relations appear to be no longer the same as they were before 2011.
During my first visit in 2013, I was more interested in tourist sites and culinary culture than Beijing's relations with Nay Pi Daw (capital of Myanmar since 2006). I did go to the National Museum of Myanmar in downtown Yangon, but I didn't notice any exhibit on China-Myanmar relations, historical or contemporary. For my second visit, I decided to investigate the relationship through conversations with the locals — mostly taxi drivers and tour guides. Also, I enlisted the help of a group of students — mostly Americans — who came with me on the same ship but would visit various parts of the country. I asked them to try to get a sense of local perceptions of China and its relations with Myanmar.
My own perceptions and those of my students can be summarized in one statement: Myanmar people generally have rather unfavorable impressions of China or the Chinese. Their reasons are varied: some said the Chinese come to take away their natural resources, such as trees, copper, and gem stones; others complained that local industries are being destroyed by the influx of Chinese products; a few blamed Beijing for ongoing ethnic conflicts in the regions on border with China. Many were reluctant to talk about China, either with me or with my students.
I ended my second visit on February 24. Back in my cabin late that evening, I was browsing news on my cellphone when I came across a breaking story reported by a Chinese source. On the same day a Chinese-funded clothing factory in Myanmar was vandalized by angry locals due to labor disputes. The background for the incident, according to the story, is that with rising minimum wages and better protection of labor rights in the aftermath of the country's political reforms, foreign-funded companies are forced to increase automation, which results in layoffs and resentment among those who were laid off.
What do we make of the past and future of Myanmar-China relations? An analysis of the Myitsone project by a Chinese government affiliated social media outlet (侠客岛) offers some important insights. First, under the so-called "Than Shwe Model," Chinese companies were used to dealing with the central government instead of local governments. Such a mode of operation ignores the complicated relations between central leaders and local leaders. Second, Chinese investors had strong preferences for mega-projects. Third, due to Western sanctions, many Chinese companies became de facto monopolies in their respective industries; as such they had few incentives to accommodate the interests of local governments and local people, or to pay attention to corporate social responsibility.
Myanmar is not the only country where Chinese investors operate under the "Than Shwe Model" or its variations. Unless Chinese companies switch to a more sustainable model, their investment is likely to suffer immense losses when host countries adopt political reforms that will enable them to find alternative sources of investment and, perhaps more importantly, legitimacy.