Myanmar's Suu Kyi Hosts Chinese Foreign Minister
China and Myanmar are trying to turn over a new leaf in their recently troubled relationship.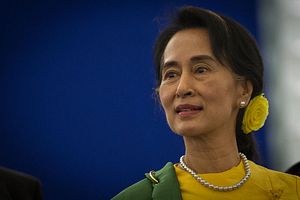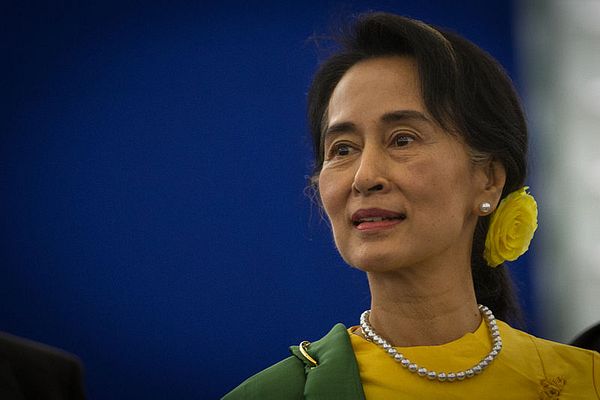 Less than one week after assuming the position of Myanmar's foreign minister, Aung San Suu Kyi received her first official guest: Chinese Foreign Minister Wang Yi. Wang arrived in Myanmar on April 5 for a two day visit, at the invitation of Suu Kyi.
Suu Kyi and Wang may have equivalent titles, but that belies their respective statures. As the leader of the current ruling party in Myanmar, the National League for Democracy, Suu Kyi would almost certainly have become president were it not for controversial constitutional provisions that bar her from assuming that office because her children are foreign citizens. However, prior to the election, Suu Kyi pledged to rule "above" the actual president, a title now held by her close confidant Htin Kyaw. In addition to her two ministerial titles, Suu Kyi was recently granted the newly created position of "state counselor," which may provide a formal means of exerting her authority. While technically meeting with his counterpart, then, Wang was in talks with the head of Myanmar's government in all but name.
China and Myanmar have experienced a rough patch in their relationship in recent years. For one thing, ethnic conflicts in northern Myanmar have led to tensions along the border with China, with refugees — and occasionally bombs — crossing into Chinese territory. Meanwhile, public opposition to Chinese infrastructure projects (most notably the controversial Myitsone dam) soured economic ties between the two sides. The Myitsone dam project was suspended in 2011 by then-President U Thein Sein for the duration of his tenure; now that a new government is in control, Suu Kyi and the NLD will have to decide what to do.
In addition, there are questions about how Suu Kyi, who was held under house arrest for over a decade while Beijing enjoyed sunny relations with Myanmar's military regime, will approach relations with China. Suu Kyi seemed to demonstrate, however, that she would take a pragmatic approach to relations with Myanmar's northern neighbor when she visited Beijing in August 2015.
The rapid outreach to China after installing Myanmar's new government continues that messaging. Chinese Foreign Ministry spokesperson Lu Kang said that the invitation extended to Wang, so shortly after the formation of the new government, "showcases the importance attached by the two sides to further developing bilateral ties." Wang, for his part, was also eager to emphasize the positive, speaking about the "paukphaw [brotherly] friendship" between the two sides.
"Myanmar is standing at a new starting point in history," Wang told Suu Kyi, according to Xinhua. He added that "the changes in Myanmar's inner affairs will not alter China's Myanmar policy."
Suu Kyi, meanwhile, highlighted what is obvious to analysts: that a good relationship with China is crucial for Myanmar. "As the new Myanmar government aspires to promote national reconciliation and achieve stability and development, the substantial assistance from China in various aspects means a great deal for our country," Xinhua quoted her as saying.
Few specific outcomes from the meeting were publicly announced, but Wang did mention a desire to strengthen high-level engagements, particularly on a party-to-party level. Chinese contacts with the NLD are relatively new, though Beijing began reaching out more actively as the NLD's eventual electoral victory became more and more certain.
As for the Myitsone dam project, Chinese Foreign Ministry spokesperson Lu confirmed that Wang and Suu Kyi "did touch upon relevant issues."
"We are ready to increase investment in Myanmar, help Myanmar build necessary infrastructure facilities, and assist Myanmar in improving people's livelihood and developing agriculture, and water conservancy," Lu said, adding that Myanmar had "given [a] positive response."
There was no word specifically on the fate of the Myitsone dam, however. After the meeting, Suu Kyi told reporters she and Wang did not discuss the project in detail. According to Lu, Wang apparently argued China's case that "[i]nvestment cooperation between the two sides will be conducive to the well-being of the Myanmar people and growth of Myanmar in the long run."
Notably, Wang also met with Senior General Min Aung Hlaing, the commander-in-chief of Myanmar's armed forces. Here again, official titles blur the reality; as the head of Myanmar's military, Min Aung Hlaing will remain a powerful force in the new government, thanks to constitutional protections guaranteeing the military control of one quarter of parliamentary seats as well as Myanmar's ministries of defense, border affairs, and home affairs. Min Aung Hlaing's importance in Myanmar's future governance is such that Suu Kyi held a series of meetings with him after the elections, presumably to iron out details of the political transition.
In his meeting with Wang, Min Aung Hlaing said the military was committed to pursuing good relations with China. The two also apparently discussed the sensitive topic of their shared border, with Wang saying that "China is ready to jointly safeguard peace and stability in their border areas."
Wang also met with President Htin Kyaw, as well as U Tin Naing Thein, the general secretary of the previous ruling Union Solidarity and Development Party.