Is the North Korea Crisis a Gift for Malaysia's Najib?
Despite the scandals, Malaysian prime minister has the moral high ground.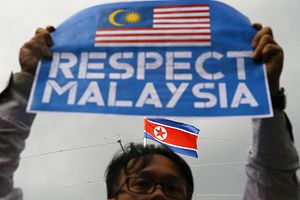 A series of unprecedented scandals in Malaysia has isolated Prime Minister Najib Razak from the West and international financial authorities. It has also sporadically drawn greater attention to the country's close links with China and even the likes of North Korea.
But the crisis following the assassination of Kim Jong-nam, the expulsion of ambassadors, and the prevention of Malaysian citizens from leaving the hermit kingdom has all but ended that cozy relationship with Pyongyang. And it may also have inadvertently provided yet another much-needed distraction for the scandal-ridden premier.
"The murder of Kim Jong-nam is a gift for Najib," said Keith Loveard, a regional risk analyst with Jakarta-based Concord Consulting.
The alleged murder of Kim in public at a Malaysian airport on February 13, triggered the diplomatic crisis. Two North Koreans hiding in their country's embassy in Kuala Lumpur wanted for questioning in regards to the death, which Malaysian authorities say was due to a highly toxic and widely banned nerve agent, VX.
North Korean dictator Kim Jong-un, blamed by many for the death of his half-brother, retaliated and banned Malaysians from leaving his country, a move with few diplomatic parallels. Najib's government responded tit-for-tat.
"At a time when every Malaysian, a devout UMNO supporter or not, has to question what sort of games have been played, he suddenly is handed a chance to look good," Loveard said of the embattled Malaysian prime minister.
Malaysian Outrage and Alleged Corruption
Observers of all political persuasions have been dismayed by North Korea's deadly shenanigans, timed amid ballistic missile tests, and have proven highly supportive of Malaysian efforts to diffuse a potentially explosive situation while investigating Kim's death.
Simply put, this is quite possibly the worst diplomatic incident involving Pyongyang, a foreign country and their nationals as hostages since the USS Pueblo was seized illegally by the North Korean military in international waters at the height of the Vietnam War, in early 1968.
Najib said North Korea's decision to prevent Malaysian citizens from leaving the country was an "abhorrent act, effectively holding our citizens hostage… in total disregard of all international law and diplomatic norms."
He also summoned an emergency meeting of the National Security Council and instructed the inspector general of police to prevent all North Korean citizens in Malaysia from leaving the country "until we are assured of the safety and security of all Malaysians in North Korea."
"Protecting our citizens is my first priority, and we will not hesitate to take all measures necessary when they are threatened," Najib said.
There are about 1,000 North Koreans in Malaysia and 11 Malaysians currently in North Korea.
Importantly, analysts say, North Korean antics have elevated a leader whose popularity at home has been badly tarnished by a series of scandals ranging from alleged kickbacks and murder linked to a submarine deal and the missing billions from 1Malaysia Development Berhad (1MDB).
Calls for his resignation in recent years have grown louder amid rowdy street demonstrations.
"The murder of Kim Jong-nam conveniently distracts public opinion but the question is once the fuss dies down, the corruption issue will still be there," Loveard said.
Missing Billions and Foreign Probes
The tentacles of the 1MDB fiasco have spread through financial capitals around the world, with secret deals and financiers from China to the Middle East denying Malaysians and investors their right to find out what happened. Beijing has apparently helped in repaying some of the lost money, which some have argued have led to a tightening in relations.
Ongoing secrecy and the lack of a convincing, independent investigation has led to calls for a royal commission into the 1MDB affair, and for Najib's ouster. But Malaysian critics say the impartiality of any probe would be impossible to guarantee while Najib remained in power.
About $3.5 billion is missing from the 1MDB fund, established by Najib to finance major infrastructure projects. Investigators believe $1 billion found its way into Najib's personal bank accounts while the fund has also amassed more than $11.7 billion in debts.
"Kim Jong-nam's murder has certainly helped Najib, transforming him as the leader of a 'victim' nation rather than the leader of a country that – to many outsiders – had come to resemble a crime scene rather than a nation," said Gavin Greenwood, an analyst with Allan & Associates in Hong Kong.
That might help deflect a barrage of negative headlines. Investigations into the disappearance of all that money are underway in several places beyond Malaysia including the United States, Switzerland, Singapore, and Hong Kong.
In other 1MDB-related developments, a minister in the Prime Minister's Department, Abdul Rahman Dahlan, admitted 1MDB had lost investor confidence and the center-left party Pakatan Harapan urged the Employees Provident Fund to dispose of its 1MDB investments as soon as possible.
The Swiss financial watchdog FINMA has sanctioned Coutts for breaching regulations in regards to money-laundering through ties with 1MDB and is forcing the bank to "disgorge" unlawfully generated profits.
"Coutts has seriously breached money-laundering regulations by failing to carry out adequate background checks into business relationships and transactions associated with Malaysian sovereign wealth fund 1MDB," FINMA said in a statement.
Toby Watson, a senior Goldman Sachs official who dealt with 1MDB, is the latest executive who worked with the sovereign wealth fund to leave the firm.
A private jet belonging to Malaysian tycoon Low Taek Jho – who is also under investigation for his involvement with 1MDB – has been seized by Singapore authorities.
Meanwhile, Red Granite co-founder Riza Aziz, which produced the movie The Wolf of Wall Street, is fighting back in what the U.S. Justice Department has described as its biggest kleptocracy case yet, saying he's an "innocent owner" of assets allegedly derived from embezzlement.
Najib and the Long Road Ahead
Greenwood noted Pyongyang's decision to prevent Malaysians from leaving was matched by Najib's orders to apply the same rule to North Koreans in Malaysia. This had taken some of the shine off Najib as the injured party.
"Further, media attention on Kim's murder has revealed Malaysia's role in hosting North Korean arms traders despite being sanctioned by the UN. Moves to apparently wind up the companies only followed Kim's death," he said.
It's another black mark which Najib could do without ahead of Malaysian elections due in 2018.
Thanks to gerrymandering, Najib and his United Malays National Organization (UMNO) did win at elections four years ago. But it was with a reduced majority, and the prime minister was badly embarrassed after losing the popular vote to then-opposition leader Anwar Ibrahim.
Anwar is currently in jail on charges related to homosexuality, which his supporters say were trumped up and manipulated by the government to ensure his removal from politics.
Analysts said the unprecedented scale of international investigations into a Malaysian leader coupled with recent support over North Korea could prompt Najib to call an early election.
But any short term solution in regards to outstanding court cases, allegations of corruption. and the imminent stand-off with North Korea and nationals on both sides, who are effectively being held as diplomatic hostages, is unlikely.
Najib should bear in mind that the sailors seized with the USS Pueblo almost 50 years ago were held in North Korea for nearly a year. And to this day the Pueblo remains moored on the banks of the Pothong River in downtown Pyongyang. As unlikely as it sounds, the Americans would still like their boat back.
Luke Hunt can be followed on Twitter @lukeanthonyhunt