Japan, ROK, US Combat Aircraft Hold Military Drill
A U.S. Air Force bomber conducted training missions with Japanese and South Korean fighter jets this week.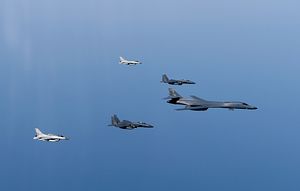 Demonstrating the United States' unremitting defense commitments in East Asia, a United States Air Force (USAF) B-1B Lancer heavy strategic bomber has conducted training missions with Japan Air Self-Defense Force (JASDF) F-15J Eagles fighter jets and Republic of Korea Air Force (ROKAF) F-15K Slam Eagles and F-16s fighter jets on March 21, according to a U.S. Pacific Command press statement.
The combat drill commenced with intercept and formation training conducted by JASDF F-15J Eagles from Nyutabaru Air Base and the B-1B bomber in the vicinity of Japan with the aim of fostering increased interoperability between JASDF and U.S. aircraft.  The exercise was also meant to hone the pilots' tactical skills.
"Bilateral cooperation with bomber aircraft, especially in the face of security challenges in the Indo-Asia-Pacific region, is an outstanding demonstration of the U.S.'s commitment to our allies," said Major Ryan Simpson, the U.S. Pacific Air Forces bomber operations chief. "Our increased cooperation enables our combined forces to rapidly react to counter aggression against Japan and other allies and partners."
Following the conclusion of the USAF-JASDF drill, the B-1B bomber flew into South Korean airspace where it rendezvoused with ROKAF F-15K Slam Eagles and F-16s fighter jets and conducted tactical exercises including interception missions and, like with their JASDF counterparts, formation training. The bilateral training mission was meant as a clear signal to North Korea to underline the ROK-U.S. military alliance.
"Working and training side-by-side our ROK partners increases our ability to integrate air operations more effectively in order to deter aggression in the region," Simpson said. "As an added bonus, the ROK offers an excellent training environment for increasing the capability of our bomber crews."
The B-1B Lancer heavy strategic bomber operates out of Andersen Air Force Base on Guam in the Western Pacific in support of United States Pacific Command's continuous bomber presence mission in the region. In February 2017, the U.S. Air Force deployed four B-1Bs to Guam in the Western Pacific.
In August 2016, B-1B Lancers replaced Andersen Air Force Base's fleet of B-52H long-range heavy bombers–the first deployment of B-1B bombers to Guam in over a decade. The B-1 constitutes the backbone of the United States long-range bomber force and is capable "of carrying up to 75,000 pounds (34,000 kilograms) of weapons—the largest payload of both guided and unguided weapons in the USAF's inventory," I noted in February.
As I reported previously (See: "South Korea: Upgraded F-16s Capable of Striking Key North Korean Targets"), the ROK Air Force currently is upgrading its fleet of F-16 fighter jets including arming the aircraft with bombs (e.g., the GBU-31 Joint Direct Attack Munition air-to-ground guided bomb) capable of destroying key underground targets in North Korea.
Japan operates around 215 F-15J aircraft (including the upgraded F-15DJ/F-15J Kai versions). However, despite various upgrades, Japan's military leadership has been concerned that the F-15J is no longer capable of deterring increasingly more advanced People's Liberation Army Air Force warplanes. As a consequence, Japan intends to procure over 100 new fifth-generation air superiority fighters in the coming decade.