Malaysia, Australia Talk Terror Amid Rising Islamic State Threat
ISIS was a key agenda item in discussions between Malaysia's defense minister and Australia's foreign minister.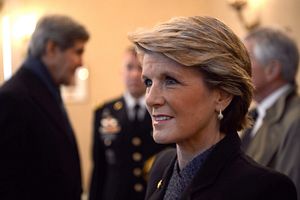 On Monday, Malaysian Defense Minister Hishammuddin Hussein met with Australian Foreign Minister Julie Bishop in Malaysian parliament. Though both sides took the opportunity to review the bilateral defense relationship more general, one of the key agenda items was how they could work together to combat the Islamic State (IS) threat.
Malaysia and Australia have a longstanding security relationship that in fact dates back prior to Malaysia's independence, with cooperation during World War II and the communist emergency. Defense ties have been anchored under the umbrella of the 1971 Five Powers Defense Relationship (FPDA) as well as the 1992 Malaysia-Australia Joint Defense Program, which commemorates its 25th anniversary this year. They are also part of a broader bilateral relationship that was elevated to a strategic partnership back in November 2015.
During their meeting this week, Hishammuddin and Bishop reviewed the Malaysia-Australia bilateral defense relationship, including joint exercises, intelligence-sharing agreements, and other military-to-military interactions. Bishop was in Malaysia as part of her tour of three key Southeast Asian states – Singapore, Malaysia and the Philippines – which has seen her meeting foreign ministers and other senior government ministers in these countries to discuss progress in ties as well as roll out some new initiatives.
But both sides also discussed the IS threat as well. That should come as no surprise. IS remains one of the top challenges for both Malaysia and Australia, and with good reason. Both countries have citizens fighting for IS abroad and have already foiled several plots and arrested suspects at home. Like the rest of the region, they also understand that Washington's rising assault on IS in its base in the Middle East could also increase the threat it poses to the Asia-Pacific as the group searches for new homes for IS recruits or alternative targets for attacks (See: "ASEAN's Islamic State Conundrum"). Indeed, Hishammuddin specifically mentioned this conundrum in his remarks to reporters after meeting Bishop.
According to local media outlets, some of the discussion between Hishammuddin and Bishop focused on ongoing initiatives, whether it be intelligence-sharing between the two countries or the trilateral patrols Malaysia is set to undertake with Indonesia and the Philippines in the Sulu-Sulawesi Seas (See: "Confronting Threats in the Sulu-Sulawesi Seas: Opportunities and Challenges"). There was also a mention of increasing collaboration on terrorism around existing mechanisms like the FPDA. Hishammuddin also said that Australia had agreed to provide additional technological support and equipment in efforts to combat IS in the region.
But Hishammuddin also expressed his desire for Australia to contribute towards an initiative by Malaysia and Saudi Arabia to set up the King Salman Center for International Peace, a center designed to counter narratives and ideologies and promote Islam as a religion of peace and moderation. As I have pointed out previously, though the center is expected to be launched within the next three months, little is publicly known about what its activities would include beyond the fact that it will be established in collaboration with the two defense ministries, the Islamic Science University of Malaysia, and the Muslim World League (See: "Malaysia, Saudi Arabia To Step Up Terror Fight").