Malaysia to Deploy More Terror Aid to Philippines
A second round of assistance is underway.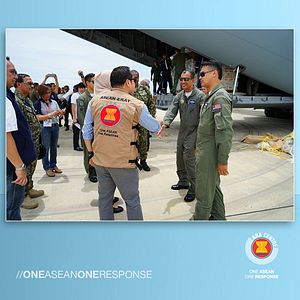 On July 22, Malaysian Defense Minister Hishammuddin Hussein said that Malaysia would send more aid to the Philippines as the government continues to battle Islamic State-linked militants in the southern city of Marawi. The announcement reflects both the growing assistance Manila is receiving from a list of outside actors as well as Malaysia's own fears about the potential radicalization of internally displaced people.
As I have noted previously, though the Middle East tends to dominate the headlines when it comes to the Islamic State (ISIS), Southeast Asia remains a key front in the battle against the group. Fears that the group, facing military losses in Iraq and Syria, could be looking to establish a caliphate base in the subregion from which to launch further attacks have only risen with the recent siege in Marawi, which has entered its third month with severe humanitarian consequences (See: "What Did the ASEAN Trilateral Terror Meeting Achieve?").
In response, a growing list of states have provided various forms of assistance, including those within Southeast Asia like Singapore as well as partners like the United States and Australia (See: "Singapore Gives Philippines Military Aid to Fight Islamic State Threat").
Malaysia has also been part of this list. Malaysian defense officials recognize that apart from the benevolence of assisting a fellow Southeast Asian state in need, there is also a real risk that internally displaced people, which according to Philippine official estimates number over 400,000, could also be radicalized.
Accordingly, The Diplomat understands that Malaysian military and intelligence officials have been in discussions with their Philippine counterparts about specific needs as well as the nature of the ISIS threat more broadly since the siege occurred. Malaysia has also been strengthening its military presence along the east coast of Sabah to prevent the infiltration of militants, apart from launching trilateral patrols with the Philippines and Indonesia last month (See: "What's Next for the New Sulu Sea Trilateral Patrols?").
Malaysian assistance kicked off publicly last week on July 21, with the Malaysian government providing assistance, including A400M military aircraft, to help the ASEAN Coordinating Center for Humanitarian Assistance on Disaster Management (the AHA Center) fly out some of its ASEAN relief items stored in the hub in Subang. Though the assistance was fairly modest, it was nonetheless critical to getting this kicked off.
But on July 22, Hishammuddin said that Malaysia would soon dispatch even more assistance in what has been termed a "second phase" following the delivery of relief items last week. According to Malaysian national news agency Bernama, Hishammuddin said that it would likely include water and medicine as well as a team from the military religious corps known as Kagat.
Though he did not offer any further details, he also reiterated his concern that the internally displaced people might be easily influenced by ISIS, and that it was necessary to "win their hearts and minds."