Overseas NGOs in China: Left in Legal Limbo
As many feared, the new law in practice seems designed to make life difficult for international organizations.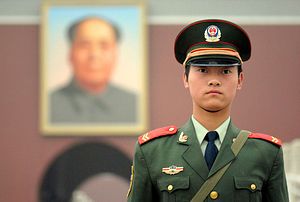 China's controversial new law on foreign non-governmental organizations (NGO) has been in force only a few months – and it's already heavily impacting and hindering operations by NGOs in the country. Since January 1, foreign NGOs, including foundations, advocacy groups, and business chambers, have had to register with the police and link up with an officially approved Chinese partner or "professional supervisory unit." But so far, only three dozen organizations, who had been registered under other labels before the law came into effect, have been able to complete the cumbersome process, among them the World Economic Forum, the Bill and Melinda Gates Foundation, and some business chambers, for example those of Russia, India, and Canada.
Many other foreign NGOs, especially those working in political sensitive areas like legal advocacy or political education, are left in legal limbo – and suddenly find themselves unable to pay their Chinese employees, access their Chinese bank accounts, or secure visa extensions for their foreign staff.
A round table discussion with a dozen or so mainly German NGOs in January – among them private and political foundations and church-related development agencies – revealed an array of obstacles that delay registration with the Ministry of Public Security (MPS) and the severe consequences for those waiting to complete the process. Under these circumstances, even mundane tasks can turn into all but impossible feats: Just to get an official to pick up the phone at the ministry can prove tricky, let alone finding one who can explain in detail the regulations under the new law. The website of the Bureau for the Management of Overseas NGOs under the MPS still lacks an English version, and accessing it is an "insecure connection," as some browsers warn.
The haphazard and fragmented way the new law is implemented seems to suggest a deliberate attempt to make life difficult for at least some international organizations operating in China. In fact, many foreign NGOs that operated in a legal grey area before the new law took effect are now being pushed into outright illegality.
Whether the bureaucratic inertia is by chance or by design, one rationale for the Chinese approach is undeniable: The "Overseas NGO Management Law" was initiated at the highest political level to counter what the Communist Party of China (CPC) calls Western infiltration. The party deeply distrusts foreign organizations and fears that their influence could undermine the legitimacy of its own leadership and the stability of the one-party system. The alleged role of "Western" NGOs in the so-called "color revolutions" alarmed many in the Chinese leadership.
Consequently, the new law puts NGOs under police supervision and makes them part of "national security." Yet at the same time, the government is keen to secure the continued support of those overseas organizations that support the Party-state's own development priorities. In fact, the government encourages some NGOs to provide expertise and spend their money in clearly defined fields, such as rural education, poverty alleviation, or water conservancy. But it prohibits them from raising funds in China, thus using them as cash cows for China's development goals.
Although the new law was approved back in April 2016, it took the government until November to issue detailed guidelines. Only on December 20 did the Ministry of Public Security publish a list of Chinese government organizations approved to supervise international NGOs and the areas these foreign organizations are allowed to work in. The list leaves no doubt who foreign NGOs are supposed to work with: ministries, government agencies, and party-led "mass organizations" – but no NGOs in the true sense of the word. The effect of the new approach was felt immediately: Many foreign organizations saw their Chinese partner organizations (i.e. "real" NGOs) end or withdraw from long-term cooperation agreements, not wanting to take any risks.
At the round table in Germany, NGO representatives expressed frustration and fear that the Chinese government wanted to progressively and individually squeeze them out of the country. Each organization seems to face different problems and obstacles, making it hard to join forces and lobby either the Chinese authorities or government agencies back home.
Securing their future in China appears slightly less stressful for those organizations that were already, under the previous regulations, registered with the Ministry of Civil Affairs. But out of an estimated 7,000 international organizations in China, only three dozen fall into that category.
Likewise, business associations and chambers of commerce also seem to face less pressure. When the authorities in Shanghai announced the first batch of newly registered organizations in January, four of the six were chambers of commerce.
State media in China celebrated these registrations as proof that the new law is implemented in an open and transparent way, but accounts by many international organizations suggest a different picture. Many foundations, think tanks, advocacy and international charity groups that have operated in China for years face an uncertain future. They must ponder whether to pull out, stay and hope for change, or adjust their remit to please the Chinese authorities. The next few months, they say, are crucial to determine whether they can maintain their operations in China. Meanwhile they all hope for help and support from their respective governments.
However, putting pressure on the Chinese government can probably only help in individual cases; it won't bring about fundamental change. The new NGO law is here to stay and it's going to change the way liberal democracies in Europe and other parts of the world engage with China. The space for multi-track relations – beyond government-to-government exchanges – has been further squeezed, and there are no signs of a let-up. China is unlikely any time soon to give more space to "civil society" beyond its narrowly defined goal of a "civilized society" under the CPC's guidance, leadership, and control.
Kristin Shi-Kupfer heads MERICS' research on politics, society and the media. She is an expert on media policy, civil society, religious policy and ideology in China. 
Bertram Lang is a research associate with the European China Policy Unit (ECPU) at MERICS. His research focuses on society relations between Europe and China, as well as civil society organizations and anti-corruption campaigns in China.