A Rare Rights Victory in China
NGOs helped convince China to end the arbitrary detention of sex workers. A crackdown on civil society will make future reforms harder.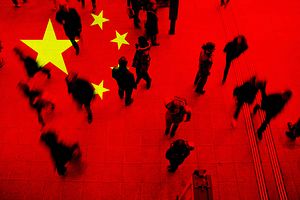 The Chinese government announced news last month that thrilled many sex workers and advocates at non-governmental organizations (NGOs) in China — the National People's Congress abolished Custody and Education (C&E), a system that for more than two decades allowed the police to detain female sex workers and clients for a period of up to two years without a trial.
It was a rare victory for a vulnerable group in China, and it came after a long campaign by civil society groups and foreign NGOs, which worked to bring the abuses of Custody and Education to light. But such progress is likely to become even more rare because China has cracked down on the very groups that helped to make this reform possible.
The arbitrary detention of sex workers was the first campaign I worked on after I joined Asia Catalyst, a small but dedicated U.S.-based organization whose goal is to provide resources and capacity building to support the rights of marginalized communities.
My research, conducted in 2013 with women who were formerly detained in C&E centers, revealed that these centers were profit-making machines for the public security departments. Working day and night performing menial labor without payment was routine for the detainees. They also had to pay for their stay in C&E centers, usually at excessive cost, along with paying for medical examinations and treatment. The centers often had strict rules in the name of education, such as restricting access to restrooms, which sometimes led to illness. What is more, C&E proved to be fertile soil for corruption and police abuse — sex workers were compelled to pay large bribes to the police, and verbal and physical abuse was common, my research found. Police also searched for and confiscated condoms as evidence of sex work, which made many sex workers too scared to carry and use them. The result was that C&E actually exposed sex workers to increased risks of sexually transmitted diseases (STDs) and HIV, rather than protecting them.
When Asia Catalyst started to work on this issue, very few people knew about C&E — even though it had been operating for decades. The main targets of C&E detention were women who work on the street, in small massage parlors or barber shops. This population, hiding from the public and the police, has nowhere to go. The only images of these women the public sees are in news reports or television programs about the success of anti-vice operations. Sex workers are usually shown handcuffed, squatting on their heels, with hands on their heads.
The campaign to end C&E evolved into a large and unprecedented movement in which NGOs, women's rights activists, lawyers, and government workers came together to demand its end. Asia Catalyst worked with Chinese groups and United Nations agencies to organize a national conference on how police behavior and detention centers were hurting efforts to stop the spread of HIV. We brought sex workers who' been sent to centers to talk about how it impacted their life. We organized lawyers and sex worker and women's rights groups to persuade 109 legal experts to sign onto a letter demanding the National People's Congress review the legality of detention centers. We started a conversation in the Chinese and international media questioning the legitimacy of the system. Our local partners did the painstaking and crucial work of issuing open records requests to get the government to release the number of centers and detainees held at them, along with how much money was made from the labor by the detainees, and how that money was spent. A young woman activist even took the Guangdong provincial government to court for refusing to release the number of detainees in the C&E centers, calling it as a "secret of policing work." Although the case failed, it brought national attention to these centers and triggered a national debate on the legitimacy of the C&E system.
The campaign highlighted the great power and potential of civil society and put years of sustained pressure on the government to defend the system. On December 28, 2019, the National People's Congress voted at last to dismantle it.
The abolishment of Custody and Education is a significant positive step in protecting the rights of female sex workers in China. While repealing C&E means sex workers will face less penalties, though, it does not change the government's approach and fundamental view on sex work. Sex workers still face administrative detention of up to 15 days and fines up to 5,000 RMB (more than $700). In addition, the most severe penalty for sex workers in the law remains. China maintains the criminal charge of "intentionally spreading venereal diseases," which only targets sex workers and their clients. The charge, which carries a sentence of up to five years in prison, has been used frequently in recent years — no matter whether a condom was used or not, and no matter whether a disease has actually been transmitted.
However, I don't think another campaign fighting for sex workers' rights like the battle that dismantled the C&E system will happen soon in China these days. While the number of NGOs is on the rise in China, the organizations that focus on human rights advocacy or receive foreign funding have been increasingly under scrutiny. The few that have continued to operate have paid a heavy price. They are subjected to non-stop police surveillance and must impose strict self-censorship. They must be careful about whom they talk to and work with, what kind of activities they participate in, and even the meetings and conferences they attend.
The current government has also significantly increased the use of criminal charges against NGO activists who work on social, cultural, and economic rights. Since 2012, there have been 14 criminal cases prosecuted against NGOs according to a study by Lu Jun, co-founder of the Beijing Yirenping Center, a leading advocacy group fighting against discrimination and social injustice that was shut down by the government in 2015. The charges send a chilling message, making collaboration across different sectors of civil society less possible.
And a 2017 regulation has made our work particularly hard. It limited the operation of international NGOs and the flow of foreign funding. Foreign NGOs that wish to provide funds or operate in China must register or obtain permission for their activities. The government imposed complicated bureaucratic procedures and greatly increased the administrative cost of working in China. My NGO, Asia Catalyst, invested enormous resources over the past two years for legal compliance. Despite this, we were ultimately not able to register and must now leave China.
The regulation doesn't just hurt foreign NGOs; it hurts Chinese groups, as well. Many Chinese NGOs rely on foreign funding for advocacy work, as the government and Chinese charities focus on funding the delivery of services. The new rules also cut off Chinese groups' ties to broader international civil society, which helped to introduce the value of human rights, public participation, and empowerment of communities to advocate for structural change.
As a result of China's restrictions, Asia Catalyst has to end its decade-long program in China. But we will use the lessons we learned in other countries. We are now working with women living with HIV, people who use drugs, sex workers, opium farmers, and other marginalized populations in Myanmar, providing critical support on documentation and policy advocacy.
After working for Asia Catalyst for more than seven years, I left at the end of February. I still have a strong belief in civil society, and that it can be a force for positive change in China. I will remain an active advocate, and grow together with my country.
Shen TingTing is an HIV/AIDS and human rights advocate in Beijing. From October 2012 to February 2020, she was the Director of Advocacy, Research and Policy at Asia Catalyst. Recently she joined RMW-Media as their China Fundraiser.