Pakistan's War on Atheism
Pakistan's anti-blasphemy crackdown is tightening the noose around nonbelievers.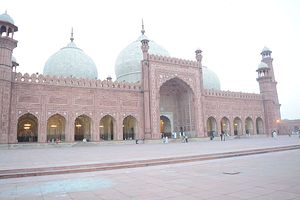 On Tuesday a High Court Judge in Pakistan's capital Islamabad reiterated in a hearing that "blasphemers are terrorists," as a petitioner sought a ban on social media pages allegedly uploading derogatory posts against Islam and Prophet Muhammad.
Justice Shaukat Aziz Siddiqui, who has broken down in tears in every single one of the three hearings on the case this week, on Wednesday asked the government to put "blasphemers" on the Exit Control List (ECL).
On Thursday, Siddiqui, who has represented Islamic State-sympathizing Lal Masjid cleric Abdul Aziz in the past, said he would summon the prime minister if no action is taken against social media pages that post "blasphemous" content.
The Islamabad police have since registered a case against the owners of these pages. The Senate has approved a resolution demanding strict action against "blasphemous content" online. Meanwhile, the Federal Investigation Agency has published ads in national dailies asking citizens to "help identify blasphemers on Facebook."
During the hearing this week, the Islamabad High Court (IHC) judge, implied that murder would be inevitable if the pages aren't blocked. He went on to add that "liberal secular extremism" is a bigger threat than Islamic extremism.
Pakistan's interior secretary assured Justice Siddiqui that the "entire government machinery would be set in motion" to address the issue. This was followed by the interior minister vowing to block social media completely if the issue isn't resolved.
Meanwhile, the Pakistan Telecommunication Authority (PTA) Chairman, in his defense, said that similar social media pages have recently been blocked and that it takes time to convince the Facebook administration to take action.
These blocked pages include Bhensa, Mochi, and Roshni, which have either been blocked or taken over by the Elite Cyber Force of Pakistan.
In January, secular bloggers and activists, many of whom were accused of being affiliated with these pages, were abducted from various parts of the country, with the well-coordinated maneuver accused of being a state-backed operation by many quarters.
While many were subsequently recovered, some fled the country immediately. One of these activists revealed on Thursday how the state had tortured him "beyond limits."
Almost parallel to the activists' release, the Jamaat-ud-Dawa (JuD) Chief Hafiz Saeed, accused of masterminding the Mumbai Attacks, was put under house arrest. Many believe the state's long overdue action against Kashmir-bound jihadists is being pushed by China, as it seeks security for the much touted economic corridor.
With the current ruling party forging political alliances with many of these jihadist groups, and the Army using them as "strategic assets" for proxy wars in Kashmir and Afghanistan, only external pressure can lead to decisive counterterror action.
But what this has meant is that both the civilian and military leaders now have to appease their heretofore Islamist allies to avoid collective backlash, as action against jihadist groups becomes inevitable. Pakistan's overt war against freethinkers might just give the state the respite that it needs.
Last year, Pakistan also passed its cybercrime law, which upholds identical punishments for Penal Code violations in the cyber-sphere. This means that "blasphemy" would be punishable by death,  even if committed online.
The immediate impact of January's abductions was a mass exodus of anonymous secular bloggers from the web. Satirical publication Khabaristan Times was also banned by the PTA, while a shift in editorial policies has been visible in many online and mainstream liberal publications.
This is why Justice Siddiqui's juxtaposition of "liberal secular extremists" and radical Islamists is critical. All state institutions echoing apologia for Islamists, and slamming secularists, is menacing for an already endangered species: the Pakistani atheist.
Delineating the ideological divide, which would result in any liberal ideals being thrown to the wolves, could've instigated Bangladesh-like violence had Pakistani freethinkers been a quasi-significant demographic. As it is, a few abductions, and banned web pages, were enough to silence many of us.
Ironically, it is the state's appeasement of radical Islam that has caused an upsurge in the number of atheists in Pakistan. This is why an official discourse on atheism has been going on in Pakistan, resulting in many expressing non-belief online, most doing so anonymously.
While one still can't officially register as an atheist, or opt for "No Religion" as identity for the national database, the number of atheists is believed to have increased following the advent of Internet and social media allowing isolated nonbelievers to connect.
Muslims abandoning Islam – even if not their Muslim identity – is a global phenomenon, and the apostasy wave is upsetting the Islamist cart in Pakistan as well.
In 2015, the hashtag #ایک_کروڑ_پاکستانی_ملحد  or "Aik crore Pakistani mulhid" (10 million Pakistani atheists) trended around Darwin Day, with thousands of Twitter users tweeting both for and against atheism. It trended around February 12 last year again. But we didn't see a repeat last month.
While 10 million might be significant exaggeration, a Gallup poll of 50,000 people found that 2 percent of Pakistanis self-identified atheists in 2012, which had doubled from the 1 percent in 2005.
Pakistani atheists – a broad term encompassing agnostics, the irreligious, deists, and humanists alike – have been lazily painted by the Islamists as "liberals and seculars," despite the fact that many believing and practicing Muslims identify as such as well.
Muslims openly identifying as atheist in Pakistan would be an open invitation to violence, considering the state's blasphemy laws are interpreted to outlaw apostasy, coupled with the National Database and Registration Authority's (NADRA) refusal to let citizens officially change Islam as their religion. Hence, the aforementioned "secular liberal" label also provides refuge to the atheists.
Even so, in websites and social media pages that are critical of Islamic theology, the Islamists at the helm of state institutions have found the filter to sift atheists. Justice Siddiqui himself was quick to clarify that non-Muslims shouldn't be considered in the ongoing case against blasphemers, clearly underscoring apostates as the intended target.
And while these atheists of Muslim heritage aren't an organized political entity – as is the case in Bangladesh – the IHC's verdict, and the capital police registering a case weeks after action against secular activists had already been taken, smacks of a thirst for blood.
Whether the episode is being staged to mollify Islamists amidst the crackdown on jihadists, or if there's a genuine clampdown against free-thought, remains to be seen. But the state seems more than willing to sacrifice its nonbelievers at the altar of its security failures.