Park Geun-hye's Impeachment, Through the Eyes of a Korean Millennial
Park Geun-hye's political scandal inspired a generation of students to political action.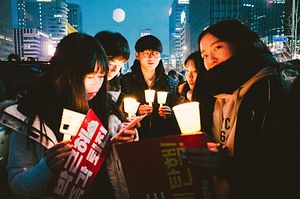 For Korean students, any class held on Friday, March 10, 2017 at 11 o'clock will forever be one of the most memorable. In classrooms across the nation, we watched one of the most monumental events in the modern history of our nation: the final impeachment of President Park Geun-hye. In my case, our entire Ethics class was fixated on the projector screen, holding our breath every time the poker-faced Judge Lee Jung-mi qualified her declaration with a "however" during the first 20 minutes of a nerve-racking declaration.
Finally, when Judge Lee announced, "The respondent, President Park Geun-hye, is removed from office," we erupted in cheers. The final, unanimous verdict proved that the millions of candles that Koreans had held up in protest every Saturday since October 2016 had not been in vain.
The day also reminded us that the Republic of Korea is a nation with a still-evolving democracy. Our presidential elections were not stabilized until the late 1980s, and corruption scandals persist, with Park's abuse of her office perhaps the most deplorable case. The persistence of such threats to democracy is indicative of our having been lulled into complacency with the fastest Internet connection in the world and various services available at the mere touch of one's smartphone. This is especially true for us students, who are encouraged to wear blinders and to give up our external interests in a maddening, exhausting, and often blind pursuit of elite college admissions. "A student's paramount duty is academics," adults repeat endlessly, diverting our attention from social matters that will later govern our lives.
This time, things were different; never had I seen student political participation so welcomed by society. While taking the subway to a protest last Christmas Eve, I saw groups of students discussing the development of the presidential scandal. During weekend protests, Seoul's Gwanghwamun Square was full of youth of all ages, from a child holding her father's hand to high school seniors who had recently taken the KSAT. On Mondays, my friends shared their experiences of having been to the square. Online, videos of middle and high school students crying out for democratic reform in public speeches went viral. For us millennials, it was the first time we have seen fellow students engaged so intensely in politics and protests.
Then again, we must remember that young students like us have always played crucial roles in Korea's political history by giving speeches and holding up symbols of revolution. The electrical candles (which "cannot flicker in any wind") we held last winter would have been Molotov cocktails thrown against dictatorships in the 1980s and '90s. They would've been hand-drawn Korean flags waved against Japanese colonization in 1919. Though the forms of protests varied, the spirit remained the same over the years. I am proud that our generation is carrying on the tradition with passion.
"What will come next?" a British Korean War Veteran with whom I keep in touch asked me. Expat teachers living in Korea post questions on Facebook. Reddit /r/korea is flooded with comments. The entire world is asking, "What next?"
On that, I can only speculate. Once the new president is elected this May, the new administration will prioritize examining the failed social and educational policies of the last few years. And the entire nation, now more politically aware, will scrutinize every move made.
With only a year until I leave the shelter of grade school academics, I can only hope that future administrations will improve the lives of all Koreans. Much work awaits. With the youth unemployment rate hitting 9.8 percent in 2016 and the rich-poor gap increasing, South Korea has earned its nickname of "Hell Chosun." After college admissions, we'll have job-searching, house-buying and plenty of other concerns. Some reject the prospect of raising children. Male peers worry about the harsh conditions of the mandatory military service. Even though we dug our way out of the tunnel, no light can be seen, not for now.
One thing is certain, however; We will work through it together. During a Children's Day event in 2015, former President Park told a group of kindergarteners, "If you yearn for something enough, the entire universe will come to your help." No, actually — Heaven helps those who help themselves. When it comes to shaping our future by righting the wrongs of our nation, it is none other than we Koreans who are capable. And I am sure that my generation and the generations to come will be at the front lines of the future fights for change, just like all the brave students that came before us. Our blinders are off.
Youngbean Kim is a senior at Hankuk Academy of Foreign Studies in Seoul, Korea.