South Korea's Authoritarian Past Echoes in Controversial Document
Seoul will be investigating a controversial plan to mobilize soldiers if protests against former president Park got out of hand.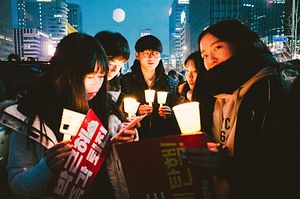 Much Korea-focused analysis over the last week centered on U.S. Secretary of State Mike Pompeo's visit to Pyongyang. Much like the Singapore summit before it, Pompeo's latest excursion to Pyongyang was met with widespread skepticism, above all for the apparent lack of any actual substantive progress on negotiations surrounding North Korean denuclearization. This, of course, has not stopped President Donald Trump or Pompeo from declaring otherwise.
To be fair, South Korea's President Moon Jae-in reiterated the same message, saying on Thursday during his visit to Singapore: "Negotiations between North Korea and the United States are now on the right track." Even without a concrete deal in place, reduced tensions and avoidance of escalatory rhetoric and actions is a necessary step toward further progress. In this sense, at least, talks are on track.
Setting aside the still fledgling U.S.-North Korea talks and the frustration and lack of substance attending them, another notable story this week saw echoes of South Korea's not-too-distant authoritarian past.
As reported in the Korean and American press, recent revelations have once again sparked controversy around the administration of former and now impeached and imprisoned South Korean president Park Geun-hye, and have brought echoes of South Korea's decades-long experience with military-led dictatorships.
On July 5, Democratic Party lawmaker Rep. Lee Cheol-hui released a document titled "Wartime Martial Law and Joint Action Plan," drawn up by the ROK military's Defense Security Command (DSC) before the Constitutional Court ruled on ex-President Park's impeachment in March 2017. In it, the DSC detailed plans for the mobilization of 4,800 armed soldiers, including special forces and members of the 707th Special Mission Battalion, to quell what the DSC expected would be large-scale, violent protests if the court rejected Park's impeachment.
As Kim Tae-gyu of the Hankyoreh Sinmun wrote, the plan was very specific, describing a gradual intensification of security measures as "the situation deteriorated and assigning three brigades to take charge of Gwanghwamun Plaza and one brigade to take charge of Yeouido. The document was submitted to then Defense Minister Han Min-goo by then DSC Commander Cho Hyun-chon." Although it would be illegal for the Army Chief of Staff, who is not authorized to issue military commands, to order troops be deployed in such a garrison command, the DSC document proposed use of the controversial "garrison decree" in order to get "the approval of the Army Chief of Staff first and the Chairman of the Joint Chiefs and Minister [of Defense] after that."
Although the main plan in the document called for use of the "garrison decree," it also reviewed the idea of issuing a martial law decree, which differs from the former by putting the entire government under military control. Former president and military dictator Chun Doo-hwan, who was commander of the DSC in 1979, utilized a similar garrison decree when he deployed the army during his December 12, 1979 coup, securing approval from Army Chief of Staff Chung Seung-hwa and President Choi Kyu-hah after he had executed his move. Both Chun and his predecessor, military-authoritarian dictator Park Chung-hee (Park Geun-hye's father), also instituted martial law, seizing complete control of the country by military decree.
Since the revelations, Moon Jae-in has ordered an independent investigation of the issue. On July 11, the Ministry of Defense appointed Jeon Ik-su, a colonel in the ROK Air Force, as head of the special team tasked with investigating the DSC and the leaked document. In addition, the Seoul Central District Prosecutors' Office assigned the case to its 2nd pubic security department. Former Defense Minister Han Min-goo, DSC Commander Cho, and Park's former Blue House National Security Advisor (and defense minister before Han) Kim Kwan-jin are all likely subjects of the investigation. Kim is reported by some to have ordered the drafting of the plan. The plan also called for the president to use her veto powers in the event the National Assembly successfully passed legislation to abolish the Garrison Act, and also devised methods to control the media through a combination of censorship and propaganda.