Reintegrating Extremist Prisoners in Indonesia: Easier Said Than Done
While government efforts at reintegration fall short, NGOs are filling the gap.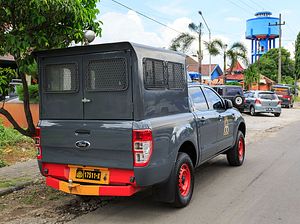 The latest bungled bombing in Indonesia involved the third former prisoner convicted of terrorism charges to have attempted or committed an attack in just over a year.
Yayat Cahdiyat detonated a small homemade device in a Bandung city park in late February before running into a sub-district government building and demanding the release of prisoners from local police cells. He was shot dead by police and nobody else was injured.
A police spokesman acknowledged this latest case of recidivism wasn't a good look for the nation's prison-based deradicalization project. But it also highlights the inadequacy of state efforts to reintegrate former prisoners back into society.
Blueprint for Aftercare
Indonesia's national counterterrorism agency, Badan Nasional Penanggulangan Terorisme (BNPT), outlined its approach to reintegration in its 2013 Deradicalization Blueprint. The idea was to manage a prisoner's transition back into society through psychological and religious counseling, while promoting self-reliance through life skills training.
Communities would also be offered assistance to facilitate the reception of a former terrorist in their neighborhood. "The most important thing," the blueprint states, is that resocialization efforts "remove suspicion and fear on one hand and develop empathy and mutual respect on the other."
While this all sounds promising, it may be a little ambitious. Following the Bandung incident, the BNPT admitted that 400 former terrorist inmates had not joined its post-release de-radicalization program as participation was voluntary. Details from two of the recent recidivists further illustrate the challenge.
Yayat Cahdiyat was sentenced to three years in prison in 2012 for robbery with intent to fund a short-lived jihadi training camp in Aceh in 2010, but was granted remission a year early for good behavior. After his release in 2014, Yayat moved with his wife and three children to the small village of Cukanggenteng, just south of Bandung. But a year later the family suddenly disappeared. The village head suspected it was due to disagreements with local people over religious views.
It is unclear where Yayat and his family went next, but for five months prior to the attack he rented a modest house for $20 per month in an isolated village in Cianjur Regency, roughly 60 kilometers east of Bandung. According to his landlord, he never mingled with locals and his wife and children were rarely seen.
Another former prisoner conducted an attack with a crude bomb in November 2016, which killed a toddler and injured three others outside a church in Samarinda. According to the Institute of Policy Analysis and Conflict (IPAC), Juhanda travelled to the East Kalimantan city shortly after his (early) release in 2014 on the advice of a pro-Islamic State (ISIS) prison mate, whose father had offered to put him up.
The host was a local ISIS-linked leader and found the former inmate a job as a "watchman-cleaner" at a mosque that turned out to be the "center of pro-ISIS activities in Samarinda." Juhanda reportedly kept to himself and in late 2016 began experimenting with explosives before one day deciding to take action.
Civil Society Support
It seems unlikely that Yayat and Juhanda received the type of support (or even supervision) outlined in the 2013 Blueprint. This is not surprising given the number of extremist prisoners released in recent years to various parts of the archipelago. Societal reintegration is a resource-intensive process, involving personalized attention and coordination among relevant stakeholders. But where stretched Indonesian state agencies have come up short, small but committed NGOs often fill the gaps.
Yayasan Prasasti Perdamaian (YPP) is one Jakarta-based organization that helps former prisoners get back on their feet by helping with business plans to secure loans for small start-ups. Employers are reluctant to hire convicted terrorists for obvious reasons, so modest entrepreneurial projects such as catfish farms and electrical repair shops are seen as constructive alternatives.
The motorbike taxi industry presents another potential option. Obtaining driving licenses has been an obstacle, but according to Dete Aliah of YPP, a group of former prisoners successfully persuaded the national counterterrorism police unit, Densus 88, to facilitate the process last year.
Aliansi Indonesia Dumai (AIDA) also attempts to assist with prisoner transitions. Project officer Laode Arhan described one case in which a former extremist was struggling to reintegrate with a community in Ambon, due to trust issues. AIDA sent people to intervene, and because of the NGO's legitimacy as a peace organization, people agreed to give the individual a chance to prove himself.
Finding people jobs and managing community relationships will not change an individual's convictions, but they are crucial preconditions for attempts to disengage former prisoners from violent networks.
In 2014, a United Nations report (PDF) stressed the need for governments to form partnerships with civil society and NGOs to reintegrate former extremists. Grass roots organizations such as those cited above can form relationships of trust with the anti-establishment individuals concerned and are best placed to provide assistance and build bridges with communities.
The Indonesian government should recognize the unique position NGOs occupy and look into ways of supporting their efforts.
Cameron Sumpter is an Associate Research Fellow at the Centre of Excellence for National Security (CENS), a constituent unit of the S. Rajaratnam School of International Studies (RSIS), Nanyang Technological University (NTU), Singapore.