South China Sea: Is China Considering Construction Work at Scarborough Shoal Again?
New signs emerge that the prospect of Chinese construction at South China Sea hasn't entirely faded since 2016.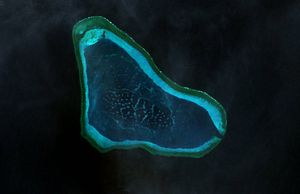 In the first half of 2016, before the July ruling by the Permanent Court of Arbitration-based tribunal, senior U.S. officials expressed concerns that China would start land reclamation activities at Scarborough Shoal, a South China Sea feature that it had illegally seized from the Philippines after a 2012 stand-off, prompting the former Philippine administration led by President Benigno Aquino III to file its case at the PCA in the first place.
Despite those concerns, Chinese work never began at Scarborough Shoal. Following the ruling, then-newly inaugurated Philippine President Rodrigo Duterte embarked on a period of rapprochement with Beijing. Setting aside the hostility between Manila and Beijing that had festered over Aquino's final years in office, Duterte visited China in late 2016, signing a range of bilateral agreements. In all this time, not only did China not escalate matters around Scarborough Shoal, but it even temporarily allowed Philippine fishermen access to waters near the shoal, allowing Duterte to claim a political coup. Duterte later declared a marine sanctuary and no-fishing zone within the Scarborough Shoal lagoon in turn.
As The Diplomat's Shannon Tiezzi has explained, there are lots of good reasons why China decided not to proceed with any kind of reclamation work at Scarborough — particularly in the second half of 2016, when it became clear that Duterte would offer an unparalleled opportunity for Manila-Beijing rapprochement. That said, the idea of reclamation or construction work at Scarborough hasn't fallen off the radar for China.
A Chinese state-owned newspaper, the Hainan Daily, quoted Sansha Communist Party Secretary Xiao Jie as saying that China would build environmental monitoring stations across multiple South China Sea features. (Sansha is the Chinese administrative unit responsible for the disputed South China Sea features.) That in itself isn't new; Beijing has, since 2015, used meteorological and oceanographic research as a pretense for its ambitious and unprecedented reclamation work in the Spratly group. What was interesting about Xiao's quoted remarks, however, according to the Wall Street Journal's Chun Han Wong, was that the Hainan Daily quoted him as saying the monitoring stations would be built on six features, including Scarborough Shoal, which China calls Huangyan Dao.
That in itself would be big news, had Hainan Daily not gone on to delete the reference to Scarborough, raising more questions. The Chinese government has not officially addressed the report and it's not clear if Xiao meant to include Scarborough on the list. Any reclamation work at Scarborough by China would not only violate international law and the Association of Southeast Asian Nation's 2002 Declaration on the Conduct of Parties in the South China Sea, but would offer a serious setback to fast-improving China-Philippine ties under Duterte. The Philippine president has drawn "a red line" at Scarborough Shoal over any Chinese reclamation work. The Philippine defense minister has also expressed concern over the possible emplacement of Chinese oil exploration rigs in the waters near Scarborough.
Construction work at Scarborough represents a different case from the seven headline-grabbing artificial islands China has constructed in the Spratly group. Beijing seized Scarborough through coercion in 2012; the Spratly features had previously been occupied by Beijing since the 1990s. Other South China Sea claimant states have also conducted construction and reclamation work on possessions they occupy (though none at the pace and scope of China's work since 2014).
It's unclear if we'll get any official Chinese comment on Xiao's comments, which came on the sidelines of the National People's Congress in Beijing, but, if he didn't misspeak, the prospect of China seriously escalating the status quo at Scarborough Shoal may resurface soon.