Trilateral Sulu Sea Patrols Set to Kick Off
Indonesia, Malaysia and the Philippines could inaugurate the much-anticipated initiative as early as next month.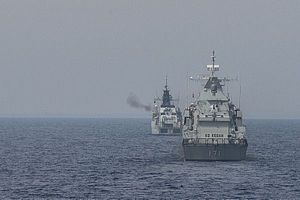 Even though Indonesia, Malaysia, and the Philippines had reached an agreement on limited, coordinated trilateral patrols to tackle security challenges in the Sulu-Sulawesi Seas between them last year, the patrols themselves have yet to take off.
As I've written before, that is no surprise to seasoned observers. Carrying out patrols in the one million square kilometer tri-border area – long a hub for transnational organized crime and terrorist threats – is a much more complex arrangement than some sensationalist media accounts have suggested (See: "Confronting Threats in the Sulu-Sulawesi Seas: Opportunities and Challenges").
But there are now signs that we could finally see patrols take off in the next couple of months. The clearest public indication of this has come from Philippine Defense Secretary Delfin Lorenzana, who said last week at a news conference that patrols would be inaugurated sometime in April or May (See: "When Will Sulu Sea Trilateral Patrols Begin?").
This week, we saw a bit more in the way of specifics from the Malaysian side as well. In an exclusive interview to Channel NewsAsia on Tuesday, Malaysia's navy chief Admiral Ahmad Kamarulzaman said that the three sides were looking to launch the "first joint operation" from Sandakan sometime in April.
Perhaps more importantly, Ahmad also reinforced the point that the vision for trilateral Sulu Sea patrols was not just individual patrols out at sea, but a set of them that would also be in the air and along the coastlines. This gets to the heart of what the Sulu Sea patrols are about which the headlines often miss: not just an immediate and temporary response to security threats but a more strategic attempt to replicate the network of patrols conducted by the littoral countries in the Malacca Straits, a critical waterway which carried more than one fourth of the world's commerce and half its oil.
The Malacca Straits Patrols (MSP), which commemorated its 10th anniversary last year, began with trilateral coordinated sea patrols initially by Indonesia, Malaysia, and Singapore (and later Thailand too) back in July 2004. It has since grown to include three components: the Malacca Strait Sea Patrols (MSSP), with coordinated patrols done alongside information sharing between ships and the Monitoring and Action Agency (MAA); Eye-in-the-Sky (EiS) air surveillance using maritime patrol aircraft; and an MSP Intelligence Exchange Group (IEG) to support the sea and air patrols which then led to the development of an information sharing platform called the Malacca Straits Patrol Information System (MSP-IS). What began as a set of patrols eventually evolved into something much more robust, leading to a massive decline in the number of piracy incidents.
While the desire to emulate the Malacca Straits is laudable, the Sulu Sea comes with its own share of unique complications, from lingering disputes between the countries involved to sensitivities over sovereignty that could pose challenges. At this point, it is too early to say whether these patrols will eventually evolve into something like the MSP. But the commitment by the three countries to this and the early signs of its implementation that Ahmad and Lorenzana have talked about suggest that there is definitely some promise.