4 Trends Influencing Chinese Real Estate Developers in 2016
Data from the 2016 property market is a good news/bad news scenario for developers.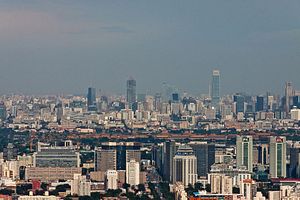 In March, China's real estate developers reported their results for 2016, a year in which government policy and future prospects changed dramatically. Here are four main trends that shaped the industry and impacted developers' results.
Skyrocketing sales and prices, weakening margins: Research by Centaline, a China-based real estate agency and consultancy, showed China's top 100 developers booking 2016 sales of RMB 4.8 trillion ($695 billion), up 52.5 percent year-on-year (yoy), while average prices were up 12.4 percent yoy at the end of 2016. Despite, this average net profit margins tightened by 0.5 percent compared with 2015 and fell to 11 percent. Vanke's experience stood out, with it booking a 39.5 percent yoy increase in sales to RMB 364.7 billion ($52.9 billion), but seeing net profit margin falling to 8.7 percent in 2016, compared with 9.27 percent in 2015, and 10 or more percent in 2014.
Larger players reduced their debt loads: Forced by a cutoff in bond issuance and the steady growth in interest rates in the last year, China's larger real estate developers have slowed debt accumulation and shifted to building up cash reserves. Country Garden, China's third largest developer by sales, is one example, having dropped its net debt ratio to 48.7 percent at the end of 2016, down 11.7 percentage points from the end of 2015, and built up cash holdings to RMB 96.5 billion at the end of 2016 from RMB 48 billion at the end of 2015.
Land competition heated up: Developers have shifted their focus from selling out inventory to building up their land banks to assure market share in the future and put pressure on competitors. China Overseas Land is an example. Having dropped from the fifth largest mainland developer in 2015 to sixth largest by the end of 2016, it has a planned land budget of RMB 100 billion in 2016, more than double its RMB 40.6 billion outlay in 2015, according to China Financial & Economic News. With a scramble for land, larger players are on the lookout for takeover targets, and 2017 will likely see heightened M&A activity, as higher interest rates, increased land prices, and purchase controls put smaller players under pressure.
Lower-tier cities became the main sales battleground: China's top 100 developers saw second-tier cities emerge as their main sales contributor, accounting for 56.9 percent of sales in 2016, with first-tier cities — China's largest by population — accounting for 27 percent. This stands to reason for two factors: firstly, there are many more second-tier cities than the four first-tier cities, and, secondly, first-tier cities like Shanghai took the lead in policy tightening last year before lower-tier locations. However, this also marks a developing trend. As China's first-tier locations tighten hukou rules, China's lower-tier cities are seeing stronger population growth, meaning huge opportunities for those developers taking a proactive, aggressive approach to land purchasing in those locations.
2017 is shaping up to be a challenging year, with interest rates on the rise and property purchase restrictions tightening across the country. That said, major developers like Country Garden and Evergrande remain bullish, with both having raised their sales targets for 2017. Quite how conditions in the real estate market impact the economy remains to be seen, but I'll be analyzing the upcoming numbers for GDP and other major economic indicators in the coming weeks.