Cambodia Boosts Ties with China Amid Anxiety
A sister cities agreement is only one component of a relationship with significant opportunities and risks for both sides.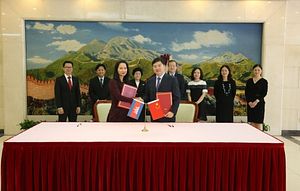 China and Cambodia are moving to tighten their diplomatic relationship further with Beijing expected to bestow sister city status on Phnom Penh and through a separate agreement struck with Shaanxi Province designed to bolster trade and tourism.
Neither deal is earth-shattering. But they do underline the strategic importance China has attached to its much smaller neighbor, which is currently being gripped by anxiety amid fears in some areas of the economy as well as in politics as elections approach.
On the economy, one of the key concerns appears to be in the property sector, where horror forecasts project that massive property bubble of recent years is about to burst.
"Based on the market trend analysis, supply and demand, we at E Penh believe that property prices in Phnom Penh, Cambodia are going to fall by 50 percent. Proportionally rentals will also fall by at least 30 percent if not more. Technically a Property Crash," an analysis by E Penh recently noted.
Much of the building boom in Phnom Penh has been carried out by Chinese construction companies, which too often tend to hire their own citizens for better paid skilled work, leaving the more menial jobs for the locals who can take home as little as $3 a day.
E Penh said the number of vacant properties in the Cambodian capital continues to rise.
"Real estate companies continue to hold this inventory in the hope that prices will continue to rise. This definitely is not going to happen," the report said.
"This is not a good time to buy. Construction is also going to slow down and construction related industries are going to see a bad year with less and less construction projects being undertaken and existing ones will mostly likely be consolidated or postponed."
Official figures say Cambodia's economy continues to grow at slightly above 7 percent. which by traditional economic standards is barely enough to soak up the high number of school leavers that have grown-up in a period of post-war prosperity.
A property crunch and economic downturn is also arriving at a bad time politically for Prime Minister Hun Sen, his ruling Cambodian People's Party (CPP), and their business partners, with commune elections due on June 4 and a national poll on the horizon, due in July next year.
The CPP has ruled since the Vietnamese invaded and ousted the Khmer Rouge in late 1978, with Hun Sen at the helm for more than three decades. But their popularity is dwindling, with the younger generation demanding change and siding with the opposition at the last election in 2013 which the ruling party only won by a narrow margin.
They have political clout and are demanding real jobs and higher standards of living.
Following an end to three decades of war in 1998, Cambodia relied heavily on Western donors. But their largesse has waned as reconstruction gained momentum.
Chinese soft loans and investment did fill the breach, but doubts persist over future commitments given the state of the economy in China and a recent clampdown on outbound foreign investment.
Cambodian real estate agents have put on a brave face and insist investment in Cambodia had not been included in Beijing's new regulation.
"Whether the cash flow restriction has affected Cambodia or not, and to what extent, I guess we'll have to wait and see," Kuy Vat, Chief Executive Officer of Century 21 Cambodia, recently said.
Figures from both countries often lack credibility, but two-way trade between Cambodia and China is expected to top $5 billion in 2017.
Last year, $1.29 billion worth of two-way trade was recorded between Cambodia and Shaanxi, underscoring the importance of the recent memorandum of understanding signed with provincial officials.
The sister city deal between capitals is more window dressing, however. Again it's the economic rationale behind the paperwork that matters.
"The main purpose of being sister cities with Beijing would be to support each other… to cooperate economically and to promote cultural exchange," Wang De Xin, chief of the Chinese Embassy's political section, reportedly said here.
It's also the type of relationship that Cambodia could do with more of.
Luke Hunt can be followed on Twitter @lukeanthonyhunt