China Gifts Military Equipment to Laos
Transfer of unspecified equipment typifies the defense relationship between the two countries.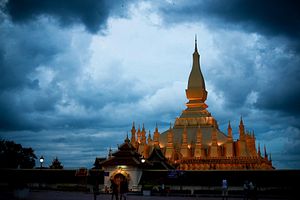 On April 11, China presented defense equipment to Laos in another sign of the enduring importance of the security relationship between Beijing and the tiny, landlocked Southeast Asian state.
Though China and Laos first established diplomatic relations back in 1961, it was only in the post-Cold War era that ties really began to take off. Laos, like other Southeast Asian states, saw a rising China as an important partner to advance its economy, while Beijing viewed Vientiane as a key regional friend from various lenses, whether in tackling transnational security threats or advancing its broader regional ambitions in Southeast Asia. But as I have noted previously, the current leadership in Laos is also trying to diversify the country's relationships beyond neighboring China, which has led to some interesting shifts in how Vientiane has managed some aspects of its economic relationship with Beijing (See: "Laos in the ASEAN Spotlight: Opportunities and Challenges").
That said, China and Laos are still committed to preserving a cooperative relationship, including on the security side. Traditionally, this has mostly involved the usual elements of any military-to-military relationship, including regular visits, exchanges, and some assistance, the details of which are often not fully disclosed. This has also included resolving transnational problems like infectious diseases and cross-border drug and human trafficking. Indeed, both sides just held their annual meeting on border security cooperation on March 27 in Luangnamtha Provincial Military Headquarters where they discussed various issues including the current state of joint border surveillance collaboration.
On Wednesday, Xinhua reported that the Chinese embassy in Laos had presented equipment to the Lao Ministry of Defense a day earlier. According to the report, the handover happened at a ceremony held in Vientiane that was attended by Zhao Chenggang, the charge d'affaires of the Chinese embassy in Laos, and Lao Deputy Defense Minister Onsy.
Few details were provided as to the exact nature of the "office equipment" that was delivered to Vientiane this time around. But for those familiar with Lao-China defense relations as well as Beijing's security ties with other mainland Southeast Asian states like Cambodia, this lack of transparency comes as no surprise. Xinhua paraphrased Zhao as saying at the ceremony that the Chinese embassy was "willing to work with Laos to promote bilateral cooperation in the fields of defense and security." Onsy, meanwhile, pledged to "make full use to the office equipment" as well as to "continue to maintain close communication with the Chinese embassy."