China, Laos Hold New Defense Meeting
A closer look at the first-ever high-level frontier meeting between the two sides.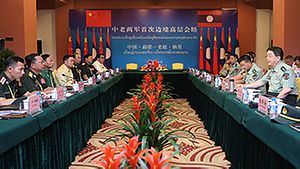 Over the weekend, China and Laos held the first iteration of a new defense consultative mechanism. The convening of the so-called high-level frontier meetings, led by the defense ministers of both sides, has been billed yet another step in the development of security ties by Beijing and Vientiane despite some of the recent challenges inherent in the relationship.
As I have noted before, though the current leadership in Laos is trying to diversify the country's relationships beyond neighboring China, both countries still enjoy a close relationship (See: "Laos in the ASEAN Spotlight: Opportunities and Challenges"). Laos, like other Southeast Asian states, continues to see a rising China as an important partner to advance its economy, while Beijing viewed Vientiane as a key regional friend from various lenses, whether in tackling transnational security threats or advancing its broader regional ambitions in Southeast Asia.
That extends to the security realm too. Traditionally, defense ties between the two sides has mostly involved the usual elements of any military-to-military relationship, including regular visits, exchanges, cooperation in resolving transnational issues like infectious diseases and cross-border drug and human trafficking, and engagements such as an annual meeting on border security cooperation (See: "China Gifts Military Equipment to Laos").
But China has been seeking to strengthen its defense ties with Southeast Asian states, and Laos is no exception. One recent manifestation of this was evident last weekend, when Chinese Defense Minister Chang Wanquan and his Laotian counterpart led the army delegations of the two countries for the first ever iteration of their so-called high-level frontier meetings. The meetings were part of an effort by both sides to implement the consensus reached between Chinese President Xi Jinping and Lao President Bounnhang Vorachit to further strengthen the ties between the two countries, the two Communist parties, and the two armies as well as to "promote practical measures to ensure border security and stability".
According to Chinese state media, the two ministers and their army delegations gathered in northern Laos' Luang Namtha, Oudomxay, Moten border and China's Yunnan's Mengla, Mohan border for the high-level frontier meetings on Friday and Saturday. During Chang's weekend visit to Laos, he met with Lao officials and had a number of other engagements, including visiting Kaysone Phomvihane National Defense Academy and paying tribute to a Chinese martyrs cemetery.
Following Chan's visit to Laos, which concluded on Saturday, the two sides issued a joint statement. The statement noted that both sides would seek to improve cooperation and coordination, including on border security, and would organize regular activities such as joint patrols and counterterrorism initiatives. China also said it was ready to support Laos' army building and development, including continuing to provide military assistance.
Few specifics were offered as to how exactly all this will be carried out, even though both sides readily acknowledged the first high-level frontier meeting as "a full success." But for those familiar with Lao-China defense relations as well as Beijing's security ties with other mainland Southeast Asian states like Cambodia, the lack of transparency as well as the striking contrast between rhetoric and reality comes as no surprise.