China, Singapore Launch Maritime Security Drills Amid Port Call
A Singapore Navy frigate's visit to Qingdao this week provided an opportunity for some exchanges and exercises.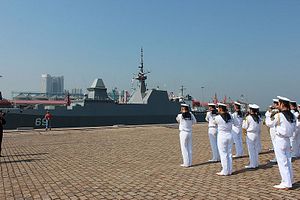 This week, a frigate from Singapore's Navy made a port call in China in what the city-state's defense ministry said was a testament to the bilateral defense relationship.
Despite lingering differences that sometimes surface publicly during high-profile incidents – from China's approach to ASEAN on the South China Sea question to the seizure of nine of Singapore's Terrex Infantry Carrier Vehicles – China and Singapore maintain a defense relationship that has expanded in some aspects. Indeed, the two countries held their first military exercise in May 2015 and continue to have such interactions (See: "China, Singapore to Hold Naval Exercise").
From April 23 to 26, the Republic of Singapore Navy (RSN) Formidable-class frigate RSS Intrepid, which is on a four-week Midshipman Sea Training Deployment (MSTD) interacting with personnel with other navies, made a port call in Qingdao, China.
The port call saw several interactions between the two sides. Personnel on board the RSS Intrepid were welcomed by officials from the People's Liberation Army Navy (PLAN) in celebration of the PLAN's 68th anniversary. There was also an exchange of ship visits between personnel of both ships, with the crew on Intrepid visiting the Chinese Type 054A frigate Yancheng and the Intrepid also hosting a reception and visit for PLAN personnel.
Both ships also conducted a passage exercise, which comprised maritime security drills and the practicing of the Code of Unplanned Encounters at Sea (CUES), a series of protocols negotiated back in 2014 at the Western Pacific Naval Symposium for the safety of vessels meeting at sea. As I have indicated previously, the expansion of CUES has been touted by Singapore, the United States, and others as one of a series of interim steps to defuse tensions in the South China Sea (See: "Singapore Wants to Defuse South China Sea Tensions With Naval Protocol").
"Such regular professional interactions and strong people-to-people ties are testament to the warm and friendly bilateral defense relationship between Singapore and China," Singapore's defense ministry (MINDEF) said in a statement.
Following its current port call, the Intrepid will continue on with another port call in Laem Chabang, Thailand from May 5 to 8 before returning back to Singapore. Singapore-China defense interactions are set to continue as usual, with the PLAN expected to participate in the International Maritime Review as part of the RSN's Golden Jubilee celebrations next month.