China's Media Foothold Expands to the Gulf
USILK, which provides Arabic-language Chinese programming, is just the latest move in China's media expansion.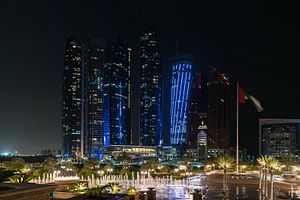 In January this year, exactly on the Chinese New Year, an Abu Dhabi-based Arabic TV channel launched a series of new Chinese entertainment and cultural programs for the first time in the Arabic language. The line-up, entitled USILK, broadcast different programs and series not only on China's culture and entertainment, but also on China's politics and new strategies under the Xi Jinping leadership.
The move indicates China's willingness to expand its media footholds and to better communicate China's messages to the region.
The USILK programming consists of five different themes. "Wonders of China" will run a five-part documentary that focuses on the interaction between Chinese people and modern society, from biodiversity expeditions to the promotion of Wudang Kung Fu. "Back to the Village" sheds light on life in rural China, while "New Face of China" aims to highlight the development of contemporary China and its new strategies in politics, economics, and environmental sustainability."Changing Times" broadcasts a 10-episode documentary on various aspects of Chinese culture, from Kunqu opera to martial arts. The last program, "Modern Life in China," is a series that tells stories about people striving to achieve their dreams.
The programs that sit within the Quest Arabiya USILK initiative came about as part of a strategic alliance between one of China's largest production organizations, China Intercontinental Communication Center, and an Abu Dhabi-based production company, Image Nation, to strengthen a partnership in film industry in November 2016.
The agreement also resulted in the establishment of a $300 million global film fund, named the Culture China-Image Nation Content Fund, which is aimed at investing in commercial film and television from China.
The agreement, as well as the initiatives that came from it, showcase that the Chinese are aiming to imitate what the United States has done, which is to rise through diffusing its popular culture. In recent years, Chinese President Xi Jinping has frequently said that soft-power is an important part of China's present-day foreign policy and has affirmed China has to become a "cultural superpower."
The objective is simple; to tell China's own stories and better communicate messages from Beijing to the world. More importantly, China must present itself as an emerging peaceful and civilized power, which will in turn disprove what China calls "the threat theory." To achieve these goals, Beijing has exerted considerable efforts and resources to establish regular channels of communication, around the world, particularly in places that are of importance to China.
In recent years, the Gulf region has become important for Chinese foreign policy. Besides growing trade, China is heavily dependent on energy resources from the region and this trend is expected to increase in the near future. Policymakers in Beijing also view the Gulf not only as a potential region for its markets and lucrative investments, but a hub to expand to the wider Middle East.
Due to the region's significance, the government in Beijing realizes the need to promote itself as a reliable partner for the region and to strengthen cultural understanding. To that aim, a crucial step will be fostering China's media presence and partnerships.
As early as 2003, CCTV signed a cooperation agreement with Al Jazeera under which the latter attained permission to open a representative office in Beijing. Even though some controversies flared up few years ago which led to the office's closure, realizing the significance of media ties the government in Beijing decided to lift the ban in 2014.
Also in 2014, China's official press agency Xinhua met with Deputy Director General and Chief Editor of Kuwait News Agency to explore means of cooperation and to plan the opening of KUNA's bureau office in Beijing.
In addition, CCTV has been airing in Arabic, now named as CGTN Arabic, since 2009 and the Arabic version of China Today has been circulating across the region to spread the word about China-related news, culture, arts, as well as Chinese activities in the Middle East.
It is of note that both sides' media representatives frequently meet and exchange, particularly at the Chinese Arab Media Conference in Cairo in 2016 and at the Chinese-Arab Media Cooperation Symposium in Bahrain in 2010.
It is also important to note that the recent initiative has a lot to do with China's "One Belt, One Road" (OBOR) initiatve, which has began to take shape in recent years. According to the OBOR Vision and Action overview produced by the National Development and Reform Commission (NDRC), "media cooperation" is one of the important platforms.
The Gulf region, although it is not specifically included on the planned routes, holds strategic position and importance in China's eyes. USILK, given its Silk Road-themed name, could be an indication of that. With OBOR currently being put into effect, the people of the Gulf should get ready for more Chinese movies and Kung Fu on their televisions.
Muhammad Zulfikar Rakhmat is a Ph.D. researcher at the University of Manchester.