Indonesia Air Force Chief Highlights Corruption Menace Amid Anniversary
Air Marshal Hadi Tjahjanto had a sobering message for the service even as he joined them in annual celebrations.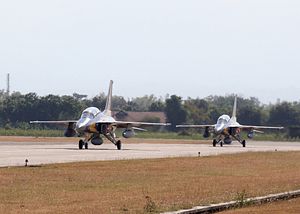 On Sunday, the Indonesian Air Force (TNI-AU) celebrated its 71st anniversary with a spectacular display of its aircraft. But amid the celebrations, Indonesia's new Air Force chief also used the occasion to send a more sobering message about the need to root out the corruption menace that continues to dog the service and Indonesia's military (TNI) more generally.
The anniversary celebration, held at Halim Perdanakusuma Air Force Base in East Jakarta, was marked with the usual grand display. Indonesia Air Force spokesman Vice Marshal Jemi Trisonjaya said that celebration activities included the traditional components such as an Air Force Day parade, a flypast and maneuver, and performances by groups. The ceremony reportedly featured 132 jet fighters, helicopters, and transport aircraft – from the Sukhoi fighters to Hercules C-130s – along with some 1,600 personnel.
Indonesian President Joko "Jokowi" Widodo also attended the ceremony and offered his greetings to the TNI-AU in the cockpit of a Sukhoi, thanking the service for keeping Indonesia's sovereignty intact. He also boarded several other fighter aircraft.
But Indonesia's Air Force Chief Air Marshal Hadi Tjahjanto, who was sworn in to his position in January and presided over the celebrations for the first time, used his address during the anniversary to highlight the need to root out corruption within the service.
"The TNI-AU must be free from corruption and must be dignified," Tjahjanto said according to the state-run news agency ANTARA. "It should have good planning, abide by regulations, be transparent, accountable and in line with the existing laws."
He also added that while the development of a modern air force requires funding and support from the government as well as the public, modernization would be useless if those managing the service and operating the equipment are neither professional nor loyal.
Tjahjanto's focus was not surprising. As I have often noted, a series of military incidents in Indonesia – from accidents to scandals – have raised questions about both the state of equipment as well as the decisions governing their purchase and operation. This includes a public controversy that erupted in February over the purchase of the AgustaWestland (AW-101) VVIP helicopters soon after Tjahjanto had assumed his new position (See: "Indonesia's New Air Force Chief Visits Singapore").
Furthermore, as I pointed out earlier this year, following his swearing in in January, Tjahjanto had himself said that one of his focus areas would be on having a transparent purchasing program for weapons and other military equipment and ensuring proper oversight (See: "What Does Indonesia's New Air Force Pick Mean?").