Indonesia, Russia Ink Defense Protocol Amid Fighter Jet Deal
Both sides continue to work out ways to advance military ties amid existing challenges.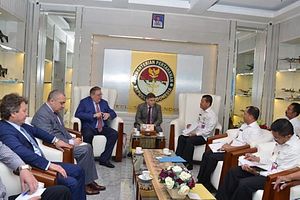 Last week, Indonesia and Russia held the latest iteration of their talks on military technical cooperation. The dialogue, which saw the signing of a protocol agreement, comes as both sides consider ways to further boost their defense collaboration even as they manage existing challenges.
As I have noted before, as Indonesia modernizes its military, Russia, currently Jakarta's largest military supplier, has obviously been part of the conversation. But though both sides have been mulling several deals as well as broader advances in defense cooperation over the past few years, they have also had to factor in their priorities, which on the Indonesian side includes a greater insistence on developing its domestic defense industry (See: "An Indonesian Defense Revolution Under Jokowi?").
From October 10 to October 11, the two countries held the thirteenth iteration of their talks on military technical cooperation (MTC). During the talks, officials as well as defense industry representatives from both sides discussed several issues, including areas of potential cooperation as well as overcoming challenges.
Unsurprisingly, one of the areas of focus was how to ensure that ongoing defense collaboration between the two countries is in line with Indonesia's existing procurement laws and its policy objective of developing its domestic defense industry. Indonesia's Law 16 specifies that offsets, local content, and countertrade should be worth no less than 85 percent of the value of the contract, with local content making up no less than 35 percent of this.
One outcome from the meeting, the Indonesian defense ministry disclosed in a statement released thereafter, was the inking of a draft protocol. The agreement, Indonesian defense officials said, would facilitate not only the purchase of defense equipment from Russia, but also the strengthening of broader defense ties including areas like joint development and joint production as well as maintenance, repair, and overhaul (MRO) through technology transfers.
The military-technical agreement comes as both countries continue to make progress toward the inking of a long-mulled Indonesian purchase of Sukhoi Su-35 multirole combat aircraft. As I have noted repeatedly, the deal has faced repeated delays since Indonesian defense minister Ryamizard Ryacudu first announced Indonesia had decided to buy the aircraft in September 2015, including over procurement regulations (See: "Why is the Indonesia-Russia Fighter Jet Deal Still On Hold?").
As of now, though Indonesia is not expected to build the aircraft or parts of it by itself, both sides have been working out the structure of the deal to include MRO, countertrade, and offset opportunities, including Indonesian export of commodities and defense products. Though specifics are still being negotiated, Indonesian officials have previously said that, within the $1.14 billion expected deal for 11 Sukhoi jets, around $570 million will be paid for in Indonesian commodity exports such as palm oil, tea, and coffee, with around $400 million sourced through an offset program, and the remaining paid for through cash.
Thus far, Russia, which is eager to make further inroads in the defense realm in key Asian markets, has been willing to factor in Indonesia's domestic priorities into the discussion. This pattern continued at the dialogue held last week with the Sukhoi deal still on the horizon, with the latest date of finalization set by Indonesian officials as November.