Indonesia Blows Up 81 Ships in War on Illegal Fishing
317 vessels have now suffered this fate since President Jokowi has come to power.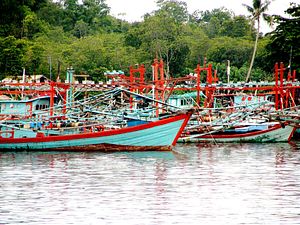 Over the weekend, Indonesia blew up and sank 81 vessels caught illegally fishing in its waters, Indonesian authorities confirmed over the weekend.
As I've written previously, Indonesia under President Joko "Jokowi" Widodo has launched a tough crackdown on illegal fishing in Indonesian waters (See: "Explaining Indonesia's 'Sink the Vessels' Policy Under Jokowi"). That has resulted in a series of highly public sinking of boats from neighboring countries – part of what Jokowi has described as a "shock therapy" approach in spite of concerns among some of Indonesia's neighbors.
On April 1, Indonesia conducted its latest round of sinkings involving 81 vessels that had been apprehended for fishing illegally. The move was carried out in 12 separate locations and involved the Maritime Affairs and Fisheries Ministry as well as other security agencies such as the police and the military.
Indonesia's Maritime Affairs and Fisheries Minister Susi Pudjiastuti confirmed the details and emphasized that the ships were sunk using the controlled use of explosives to ensure that it would not affect the environment and the navigation of ships. She also once again struck what has become a familiar defiant note about Indonesia's need to conduct these sinkings to show that it was serious about its commitment to eradicate illegal fishing.
Of the vessels sunk, 46 were from Vietnam, 18 from the Philippines, 11 from Malaysia, and six from Indonesia, which reflects the general mix of countries involved in previous rounds of sinking as well. Notably, none of them were from China, which is testament to the continuing sensitivity of Chinese vessels (See: "Indonesia Sinks First Vessel from China Under Jokowi"). Up to this point, only one Chinese vessel has been publicly blown up.
With the 81 vessels sunk this week, the total number of boats that have met this fate thus far since Jokowi has come to office is now up to 317. Most of them have been from Vietnam, followed by the Philippines and then Malaysia.